Charivari – Bath, England, United Kingdom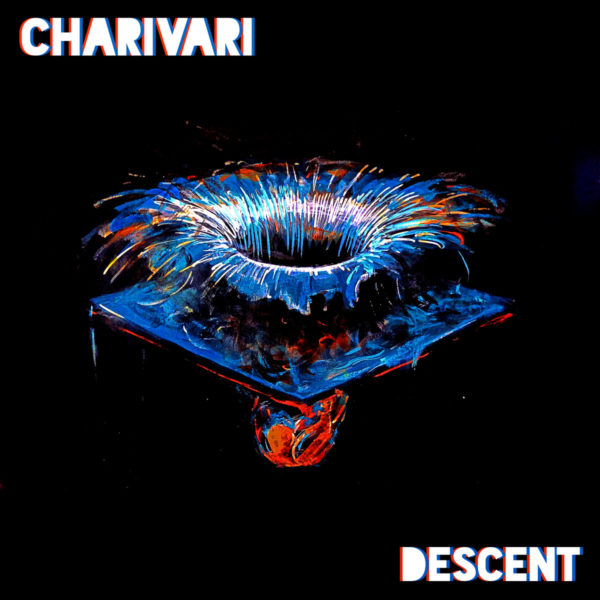 The world of Progressive and Instrumental Rock, Post-Rock and Post-Metal is one that's seen exponential growth in these recent times. Charivari and their Descent into this imagery inducing, dramatic realm of instantaneous and enveloping sound is one to take note of. The band hail from Bath but for their debut release have been adopted by one Worst Bassist Records from not too distant Germany.
With music in this expansive vein, it's very much best to start quickly. Although not overly prevalent within such a genre-scope as the above, Charivari make use of subtle, down-trodden yet melodic vocals set to a slow Shoegaze dream-like-ebb in 'When Levithan Dreams'. Shoegaze, despite its evolution from within Alternative and Indie-Rock, has become quite the attractive genre-crossing stylistic and it is no wonder that it's often found to be synonymous with music such as Charivari's dream-like state. The band's opening sound on 'When Levithan Dreams' is drawn-out, slow and subtle in its use of simple layers and long-droning notes. Charivari invite you to their lucid and relaxed ethereal existence.
If you're aware of such bands as P S O T Y or White Lion Parade of the UK Post-Rock and Metal scenes then Charivari are a perfect addition to your collection of sonic epics. 'Lotus Eater' enters upon playful drumming as a foreboding air contrasts the slightly playful twang on the higher notes. 'Lotus Eater', much like the above, makes use of vocals that are only really half-present and subject to the contrasting layers. This second track embodies Drone in its overarching tone but also the doom and gloom of Post-Metal but without its visceral tom-riffery. At the 5:14 mark and following on from a gradual build of intense uncertainty, 'Lotus Eater' finally and wholly cathartically releases with a whirling distorted crescendo.
These closing notes effortlessly ebb away but resurface via an unexpected but in-continuity blast of hybridised Alternative Rock and Post-Hardcore. Charivari make this change into the shortest track on the release without losing one ounce of their Shoegaze gloss. 'Aphotic' sees the band repurpose their intensity. In a stark yet simultaneously intrinsic move, Charivari opt for Math-Rock highs and rumbling lows. The band then fall back on Post-Rock aided by yet more ominous effects and withdrawn vocals that only further the immersive nature of Descent.
The eponymous 'Descent'* flows like a fog creeping over the hills in two shades of grey. The band embody Drone the most on the all-important title track. Admittedly, I had expected an all-out blast of catharsis set to the band's heaviest work. But, did I feel any remote disappointment when this didn't come to fruition? Initially, but it didn't last. The namesake-track is crucial to this debuts continuity and although it could have resulted in the aforementioned wishful thinking, I and likely you will be glad that it ultimately didn't.
'Alexandria' is an intricate web of layers individually present from its low-rumble onward to its twinkly Math-Rock, middling-vocals and gentle progressive tempo. In fact, the penultimate is perhaps one of the most impressive technically. Charivari are subtly covert but 'Alexandria' has a great deal "going on" before its sudden self-nullification. 'Alexandria' playfully builds its complexities in such a way that you are only really in a partial state of awareness as this sonically illustrative world passes you by.
It is towards the end of the record and during the 11:04 of 'Scavengers Of The Wind' that the issue of vocal-led Post-Rock resurfaces. There are indeed purists who believe such an implementation shouldn't be so and to be fair, it's an arguable point. However, bands such as Charivari simply wouldn't be without it. The band as a whole put on a needlessly said incredible performance but it's only right that Gary Say's vocals be commended.
'Scavengers Of The Wind' lulls you into a false sense of security with its Math-toned Post-Rock and its flutter of dynamic drumming. The track does so in a manner falsely-indicative of a song that has decided its fate. Charivari include short refrains to change pace but at no point do they elude to the stark, cumbersome and overpowering weight unto which the track puts on your shoulders. The band opt for crushing, vintage Post-Metal and it not only satiates your desire for explosive immersive catharsis but instils hope of the band revisiting such a play further into the timeline.
To be succinct, the band have crafted a record of immersive brilliance.
*'Descent' is only available on the CD and digital versions of Descent.
Charivari and Their Descent is out now via Worst Bassist Records.