Burning Flag – Halifax/Macclesfield, England, United Kingdom (Again, please?)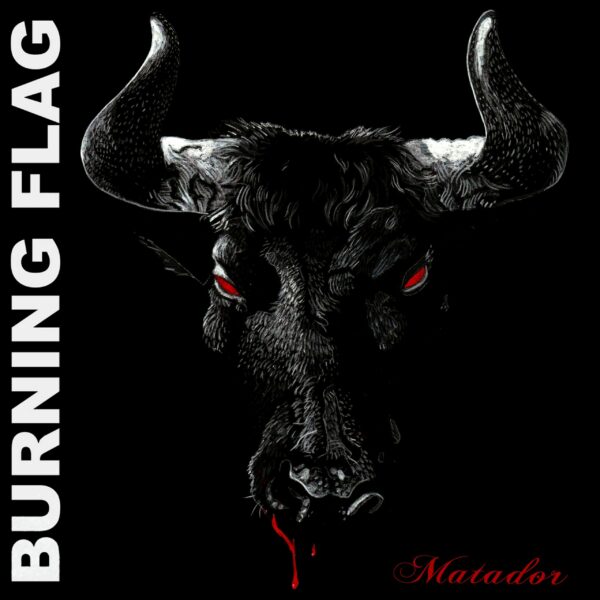 After releasing their first new noise on Christmas Day 2020, Burning Flag and Matador are soon to be upon us. The band's time away hasn't been idle. Since their 2017 release the world has been turned upside down more times than its doomed-bipedal folk can count on their worn digits. There is a terrifying new normal and it's strengthening. People have had enough. There is a global pandemic, established toxicity surrounding social issues, gender, race, the environment, capitalism and more have lost their control and the bubbling magma beneath is immolating traditional facades. This is the backdrop that Burning Flag defiantly oppose. Despite everything, the band's Hardcore Punk cross-reference has endured, honed itself and acquired a new voice box. So, with that in mind, shall we?
'Thrown Out' eerily ambles forth in what can only be described as a dystopian-sponsored, filling you with unease ahead of 1:11. At this 1:11, Burning Flag announce themselves. Low ridden, thick reverberating riffs charge the band's drummer before he hurtles off in classic Hardcore catharsis, interchanging with tight notably powerful fills. Burning Flag are not one for frills. With their new voice box leading the way, the band's three other beings flex their Punk-Rock muscles, unleash and limber up in track ones raw display.
'Man Up' is obvious in its societal target and shameless in its aggravated lambasting. The band's charged, not quite NYC-riff-core but also not quite DC tempo or Post-Hardcore crunch either owns track two. Burning Flag are a Hardcore Punk band that wrote their own homework syllabus and I doubt any specific school could hold them. This vibrant and varied 'core is headed by Holly's vocal urgency that cleverly stays within walking distance of contemporary screams, with a wayfinding set of jabbing, and brilliant backing injections standing between. This continues into 'Ghost Skin' where the band fall into a brooding and cycling discordant mass of Post-Hardcore Punk in a standout point on Matador. Punk and Hardcore do not need to prove their ubiquitous rage through tenacious tempo all the time you know. Given its lyrical approach, this again stand-out number chose its soundtrack well.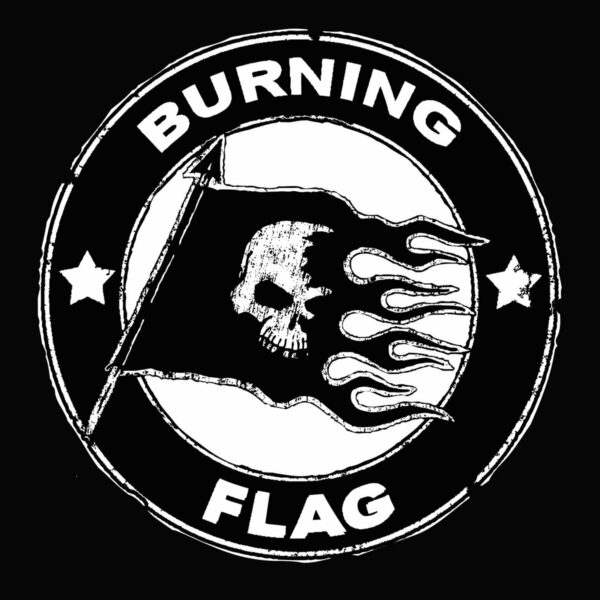 'Broken Britain' after a speech by a dangerously sentient proto-fascist duster, brilliantly twists the band's approach so far. Brexit is the topic caught between the aggro of tracks one and two, a charged spasmodic ode to track three and a heavy-set drive towards serrated Metallic Hardcore. Again, the closely-knit vocal delivery of Holly is urgent and balanced. The vitriolic tones of both Matt and Jonesy are at their best on 'Broken Britain' and contrast even more so with Holly's lead taking a different road from 3:06 to 3:30 leading the trudging and meandering refrain off into the dark future.
In the eponymous 'Matador' the band's fuzzed-metallic Post-Hardcore returns. Here, I would argue the band to be for fans of War On Women almost across the board. It is also here that the band's choice not to favour ripping melodic leads is bonafide. When Burning Flag wish to apply a touch-lighter tone, they have two methods. It's either a marginal head round the metallic door in an obvious but not overt manner or via warped, discordant and maniacally toned Post-Hardcore. 'Toxic By Design' favours NYC-isms via north-west England to another standout and alternating drumbeat as it grapples both humanity and its incredulity toward its own hubris. Neither Burning Flag nor Matador are fucking around.
'Eat The Rich' ups the tempo ante and you can find a full review – Here. In a nutshell, however, just because Burning Flag contort old-school Hardcore, it doesn't mean they don't still venerate it. 'Eat The Rich' and 'Vendetta' are the required classically-inclined wings of this hybrid and key Matador's flow. In fact, without them, the streamlined but still dirge-subsisting, defiant 'Step Back' in all of its Sick Of It All adoration would categorically not exist. The penultimate blast also openly owns its contrasting and interchanging Punk-Rock melodic lacquer as it coats the chorus. In fact, 'Step Back' despite its veritably vintage and Punk-Rock-centric sound is no less than fantastic. If the band had gone all-in on the heavier end of their repertoire on 'Step Back', then the tracks poignant but accosting assault would not be as fantastically volatile as it is.
Throughout this review, I have struggled to articulate one aspect of Burning Flag 2021. That being yet another aspect to their Hardcore tirade. The oozing stylistic of Sludge. The band's Metal is open and confident throughout Matador but there is something else. The manner in which this third album is diverse is always bare-all and yet champions a seamless subtlety simultaneously. What Burning Flag do is stark, the confidence they exude while doing it however makes it look subtle. It is in the harrowing and pandemic-centric, Black Tusk-esque 'All The While' that all of this comes to a head.
I'll soon tire of saying this but here is yet another release to consider for your existential-dread-enducing end of year lists. Burning Flag and Matador will release everywhere digitally and on CD on the 16th of April. Vinyl will follow later in the year. You can pre-save the album on Spotify – Here.