Burning Flag – Halifax/Macclesfield, England, (The Not So) United Kingdom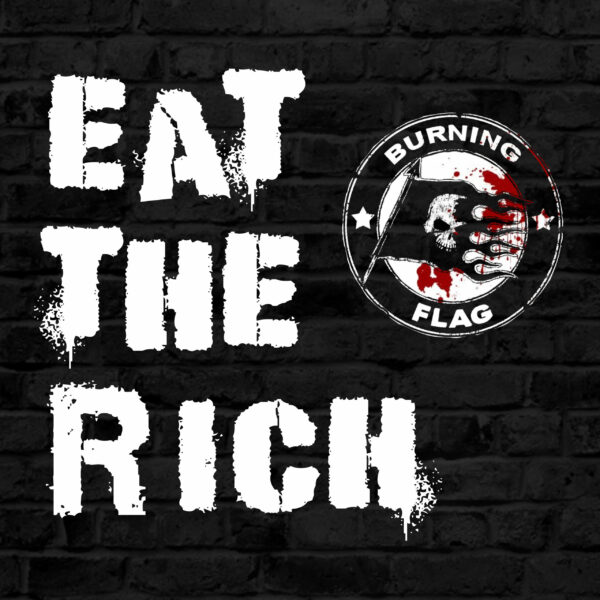 I hear you! Matt, "Eat The Richmass: Burning Flag and Eat The Rich", why are posting about "your punk rubbish" on Christmas Eve? Well, in a succinct nutshell itself as much of a poignantly-punching and persistent projectile as the song you're about to have broken down and maybe even hear; I shall say this. 2020 has been a year of unparalleled strife for near everyone. Its been a year of unprecedented woe and loss and yet despite all this, classwide – although some prefer to be obsequious and willfully incredulous – one thing has remained prominent throughout. The sheer level of power, influence, privilege and fiscal hegemony of the few has only hardened it's by now needless and insatiable acquisition of wealth. Enter, again, Eat The Richmass: Burning Flag and Eat The Rich, via somewhere in and around Halifax and Macclesfield.
Now, chances are, if you're from the UK, watching the Queen's Christmas address to the plebians is something you've had to endure on account of your older family members. Alternatively, you may have simply watched it in sardonic jest at the sheer level of the audacity of the whole thing. Do you remember the golden piano of 2018? Pepperidge farm remembers. The monarch addressed the nation in front of the glistening and grandiose lavish noise box of "why". The theme of such criticism was "out of touch" and that is exactly why, two years on, Burning Flag are releasing 'Eat The Rich' at 3 pm (GMT) as the ever-so corraling nature of patriotism moves to remind the lower orders of their place.
Straight to it, then. Burning Flag's previous Hardcore Punk is streamlined and as classic as it is relevant. The archetypical blast of multiple eras and scenes can be heard throughout their back catalogue and now in 2020, they have new blood. Vocally, that is. Deck the practice space with screams and Holly would be an appropriate term. 'Eat The Rich' opens in a cycling fashion as the blood begins to flow. Burning Flag ride low into a reverberating chord progression and rhythm. The band are solidly Hardcore in their Punk albeit with a mild-influence and tone stemming from the seminal Post-Hardcore period. Much in the way of early Hardcore Punk was spasmodic directly as a result of its adrenalized and sonically eviscerating nature but here, Burning Flag supplement this with that refined precision as their aggression builds.
The band's traditional inclinations are still felt, however, lovingly calling back to their roots. That said Burning Flag are still on the relentless forward. The four-piece's first near-two-minute stint from their forthcoming album simultaneously teases front-facing Hardcore, as well as the riff-heavy NYC-legacy and that crucial and again subtly refined precision. 'Eat The Rich' indeed begs the question of how far in these directions the album itself will go.
Vocally, this is also, is it wasn't obvious, the first foray of new vocalist Holly. This new voice box although noticeably different by default is so to a fitting degree. As accosting marxisms and the defiance of the lower-orders are verbally hurled via the newer vocal tone, they are contrasted by contemporary screams; combustive, present and pissed off. 'Eat The Rich' is visceral musically, but vocally, further odes a time where Hardcore vocals weren't simply vocal-chord breaking for the hell of it. Burning Flag have a message and through the classically-orientated vocal and verbal assault, make this their magnum opus.
Burning Flag and 'Eat The Rich' will release everywhere at 3 pm on Christmas day. However, above as you've likely discovered, the track can be heard now via South London Scum Collective. AGE OF SHADOW (a benefit compilation) is a charity release loaded with underground Punk and heavy music released in an effort to assist SLSC with their ongoing costs that haven't relented in the same way live shows sadly have. Find them and Burning Flag below!
'We are the class that you fear, we are the proles that see-through'
'Eat The Rich'? Something a little less conventional this year it is then!