Brasher –  Bristol, England, United Kingdom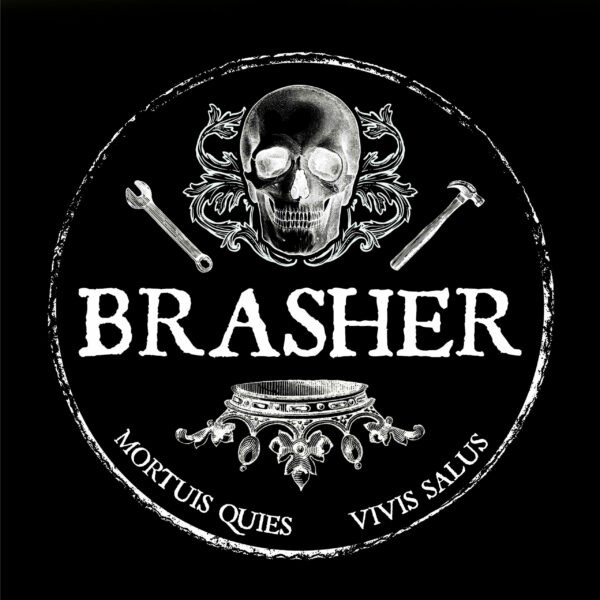 Soon, Brasher and 'Live At Axe And Trap' Double A-Side will enter 2020 a year after the band's debut into the underground Punk and Hardcore scene. The Bristol-based rag-tags, each from varying backgrounds both in and out of music, epitomise where modern Punk is going through their make-up, politics and grass-roots love of the scene. In short, they are a community Punk band, born from and dependent on the UK and European Punk music culture as it progresses, irons out the creases and betters things for itself and imperatively, everyone.
The band are soon set to release their new single; that much is obvious. The asterisk will also be explained later in direct relation to this but, for now, there is one point I feel I must accentuate. The Brasher of 2020 have situationally evolved. So, this double A-side then?
I once described – Here – the band as 'visceral and characteristically southern-flavoured-Hard Rock-riffed-Garage-Hardcore Punk'. Now, as much this is indeed true, Brasher-2020 pushes this to its limit. The band's Hardcore Punk is their core, but in 'Death Is Temporary, Class Is Permanent' it is the hegemonic magnum opus. The brash (pun intended) Garage Rock-twang is only just surviving here. Track one interchanges in and out of the band's fastest tempo yet. The riffs are harder, cut lower and anchored by a hauntingly angry bass tone. The legacy of The Bronx among others is ever at the forefront of the Brasher influence list.
The sheer level of aggression found in 'Death Is Temporary, Class Is Permanent' is beyond anything the band have conveyed yet. Max's vocals have always been playful yet defiant. That was the case, but now, they are overclocked, transfixing and terrifying. 2020 has got to the band and their combustive vent is beyond even itself. The accentuation of the band's straight-cut Hardcore Punk is in no small part bolstered by a crisp, raw and intrinsic production that completely captures the live recorded setting. It is no surprise then, that one Scott Middleton of Cancer Bats was responsible.
'Death Is Temporary, Class Is Permanent' is high-octane but cleverly rotates variety through stellar, near-perpetual and complex cycling drumming. This unrestrained veracity is notably and crucially contrasted, however. Brasher cleverly use this to magnify this inherent rage by well-placed refrains between 1:37 – 2:29 and through the fast-Hardcore outro. 'Death Is Temporary, Class Is Permanent' is a headstock to the face.
This newer or rather plus-side to Brasher merges more so with their debut album in 'Omnidirectional Filth Machine'. Brasher rescind to a more familiar pace, retain the grit and tease momentary melody through playful intrusions from guitarist Mel. This is the Brasher of Everything but in a world where they would have debuted now. 'Death Is Temporary, Class Is Permanent' pushed a more decided directional change. Track two merges that into a seamless-symbiosis. In a nutshell, if Brasher have had enough of this year, then 'Omnidirectional Filth Machine' is the exact rant beset on all sides by the eviscerating level of contemporary confusion and hypocrisy.
'This is some kind of catharsis, these recordings a pressure release valve from living through these last few weird and awful months. This is a tease and a taste of all that could have been, and what will be again. Come sink your teeth in with me and get a mouthful of all this noise.' – Max, Vocals.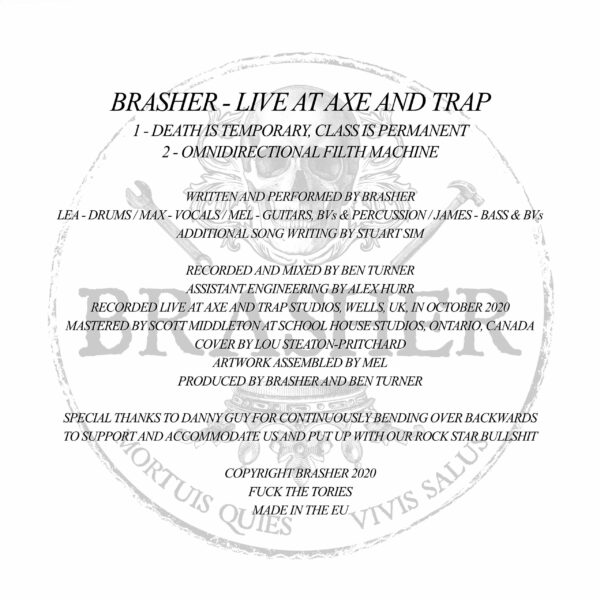 But yes, this asterisk. Now, although the digital distribution of the release is set for the 11/12/20, you can support the band directly by purchasing it now via bandcamp. The release will remain on bandcamp past the full digital release but if you want to hear the ferocity of the band's unambiguous best yet, then you know what you must do.
Brasher and 'Live At Axe And Trap' Double A-Side. Follow the links below!