Aiden Hatfield – Leeds, England, United Kingdom.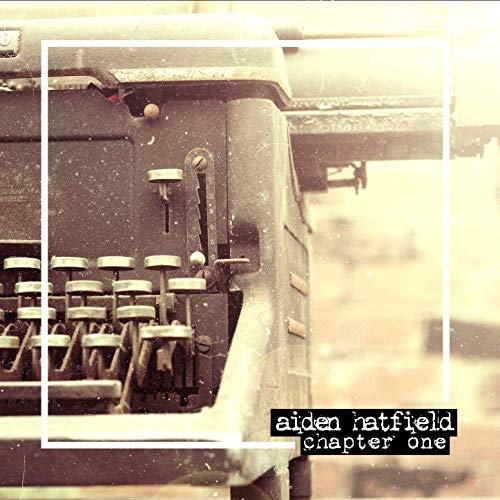 Hailing from Leeds, Aiden Hatfield is an individual who has his respective fingers in a numerous amount of respective pies. He runs his own clothing label under the moniker of In Music We Trust which donates half of its total profits to Mind who could not be more relevant in todays dismal world than they are now. In short, these are both names, causes and clickable reasons for you to do a little exploring post-reading this review of one more reason to check out Mr. Aiden Hatfield, his debut EP from this year, the aptly titled Chapter One.
Objectively from the off I will say that regardless of any genre locale, I have a great deal of respect for the life of solo-artists embodying the "full-band" dynamic, for outside of having a little help from friends, doing the "whole-lot" in a studio is quite the task. With that out the way, it's time to discuss the focus of this EP for Mr. Hatfield's work and passionate support for increased mental health awareness and assistance for those suffering is intrinsic to his music and his debut is blunt in its approach to such.
Modern Alternative Rock guitars and rhythms plied with Pop-Punk and dare-I-say Emo sensibilities populate an opening track that despite the youthful exuberance of the artist, lean far more towards mature modern Rock. 'This Is Never Ending' is blunt in its outlook and would not be quite so notable without its melodic guitar-line permeating the huge and cumbersome melodic Alt.Rock chorus.
'Say It Again' amplifies the pace gradually but not overtly as the EP begins a more concentrated move towards contemporary Pop-Punk, without losing the soaring and melodic Rock sound of the previous. This is easy listening music but not so that it is in anyway boring or banal.  The order in which tracks are placed and the stylistic changes within releases in general is something that fledgling artists absolutely do not want to make a mess of on their debut release and with Chapter One I can safely say that this isn't an issue. The middling track ('I Never Cared') boasts more of their Pop-Punk/Emo/Alt.Rock sound with clear influence from "self-titled era" Blink-182 and the lonely excellence of that ONE Box Car Racer album. I'm not bitter, I promise.
Aiden Hatfield's choice and placement of his guitar tones, lines and if anything general use is something notable on this release as it allows his tracks to lean towards the aforementioned more youthfully exuberant sound one second and the relative maturity of his brand of Alt. Rock the next. The term "mature Emo" in many ways is one fitting here I might add, especially with his soaring melodic vocals and the northern accent stoically standing tall as relatable issues resonate as they are sung.
Closing with perhaps his most anthemic sound to date comprised of a cross-section of melodic 90's Punk, Pop-Punk of the now and charged yet still adequately crooning Emo, we have 'This Horror In Me'. From its low ridden Punk-Rock bass-lines, Skate Punk-esque guitar-tones and Pop-Punk and Emo sensibilities set to repetitive but not unwelcome Alt.Rock sonic-weight, Aiden Hatfield shows himself bare not just in his emotional catharsis but his accumulative influences from years of enriching his hearing with a wide spectrum of Alternative music and you can't fault that.
In the most cliche way possible because why not, I shall end this by saying that Mr. Hatfield is one to watch.
Updates:
Music:
In Music We Trust: