Vampire Slumber Party – London, England, United Kingdom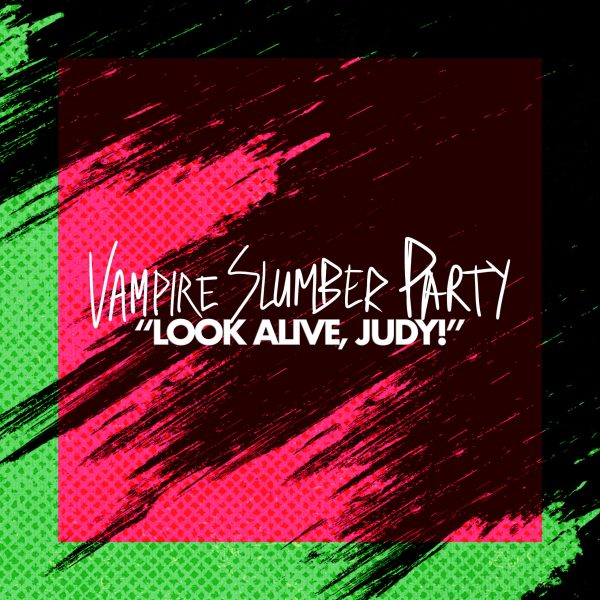 Today and in a relatively expedited fashion (this is me) we have the video premiere of Vampire Slumber Party and 'Look Alive, Judy!' The London based band have been featured on Ear Nutrition before as one of the key entries of "May Have Missed Volume 8", which you can find – Here, amongst a host of other bands also substantiating the tenacity of the DIY and underground scene.
But, for those who don't know, who are Vampire Slumber Party? Well, the band's approach to contemporary Punk and Pop-Punk music is one epitomising the "heart on sleeve formula". The band's craft is fluidly comprised, inspired and fuelled by life experiences conveyed in a tuneful but conversational and honest depiction of ageing and all that it entails. That was a long sentence, but so are many of our days, or, at least, that's how it can feel. In a nutshell, VSP are a band negating any cliché when it comes to evocative life-affirming music. The concept "Growing up" is for the life it is encompassed by.
Cascading through gruff, melodic Punk onward to Indie or Emo-spun Pop-Punk and sometimes forays into comparatively harder wings of the greater "Punk tree", Funeral Pop is a required and worthwhile listen while the band progress to whatever is next. Now, on that note, on good authority, I can happily relay that progress towards this "whatever is next" is being made. However, for now, 'Look Alive, Judy!' is here to tide us over.
The band's underpinning Yusuf Laher takes command of the meandering guitar work and contrasting, vintage Pop-Punk bass tone joined by Pippa Krishnan of Werecats fame (Here) and their harmonic tones while one Jess Watson provides a marching beat to the existential fatigue of 'Look Alive, Judy!'. Vampire Slumber Party, through this gruff but melodic Pop-Punk cathartically release in a way that encapsulates a feeling that many in this dooming and beleaguering modern age of anxiety and dread experience daily. 'Look Alive, Judy!' is a track that will resonate.
The single releases on the 20th May in all the usual places, but for now, the real reason why we are here can be found below. Enjoy!
Well, that was the video premiere of Vampire Slumber Party and 'Look Alive, Judy!'. Vampire Slumber Party are a band to keep your ears tuned to, find all you need, including the pre-save, below.