Utopia Now – Berlin, Germany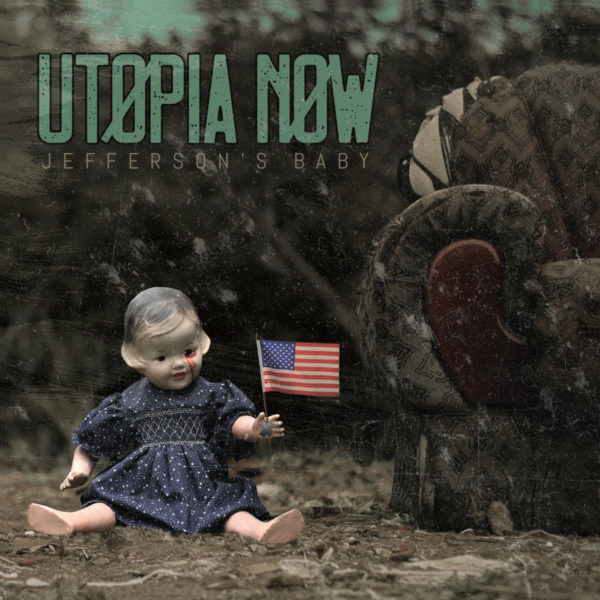 After many moons away, in these new dark ages of no substance and woe, Utopia Now return with Jefferson's Baby in a quest to decipher it all and ultimately find their true north. The Berlin melodic Punk project has seen something of a reemergence these past two years. In preparation for its eventual entry into 2020 with Jefferson's Baby, the entity of Utopia Now dusted off the fruits of its moniker between 2007 and 2010, of which three of the four releases were written and recorded by sole original member, Stephan Serowy. The band themselves, as a full-unit, shared stages with such esteemed company such as Lagwagon, Venerea, No Trigger and Anti-Flag and since the reformation into a one-human project, have continued to be inspired the legacy of '90s Punk-Rock. This, in a melodic far from a bpm-devoid nutshell, is where we find ourselves now.
Utopia Now and Jefferson's Baby made said entry into this hear 2020 via People Of Punk-Rock Records and this, this is how it went.
'The Embers Of Reason' acts as a bonafide mission statement of this records intent and modus operandi. Compositionally speaking, as well as in vocal style and lyrical delivery specifically, its hard not to hear both direct influence from Bad Religion themselves but also their legacy as a whole. As a side point, when you are finished here if you haven't already, southern California's Chaser may well beckon on your interest. Track one, akin to the seminal reference above, sets its full power to its soaring chorus as the death of reason is realised and intellectualism wanes.  Although streamlined and classically melodic as per its inspirations, 'The Embers Of Reason' does hint at underlying and future tempo deviations and odes to UN's harder and comparatively jagged past.
'The Problem With Judgement' presents as the hybridised love-child of both The Gray Race and True North. This modern variant of Utopia Now has benefitted from contemporary production values and it shows. Track two feels comfortable, refined and toasts the legacy of melodic Punk music. This is indeed nothing new but it was never stated to be. Such a mode of existence will either entice or have the opposite effect but this isn't an issue for Utopia Now, for the project is existing naturally to itself.
'Janus Town' cuts UN's tempo to near half and despite this, does mark itself as a release highlight. The musical accompaniment may pigeon-hole Utopia Now into this very territory, but it is the lyrical displays that are the true selling point. Musically, this is very much the modern band you would show those dated Punks who haven't listened to anything since the late '90s. The eponymous 'Jefferson's Baby' further odes the chugging and jagged nature of the projects past and yet contrasts this with the streamlined Skate Punk at its core. However, notably, the title track does indeed tread lightly on the Pop-Skate Punk fringes of the esteemed No Use For A Name.
In 'Teach The Controversy' Utopia Now move to amalgamate. The fifth foray falls back on gritty, youthfully exuberant Punk in contrast to the refined melodic Bad Religion-adherence seen throughout. This is not to say influence from the projects idols are not felt, as they are, but in manner cherry-picked and more striking. The Pop-Punk-isms of the age so notorious are again out in force and this time are comparatively more at home. 'Teach The Controversy' is resoundingly comfortable marks the best of a release that clearly needed to happen. Jefferson's Baby is again, by no means anything new or genre-breaking but it is a release born from conviction. A release played the way that is most natural to its architect and that, that you can't argue with.
'(Wake Me Up) When Substance Reigns' returns to and furthers the onset mid-tempo of 'Janus Town' for the most part. Track six sets forth on the back of trudging grit and juxtaposing soaring harmonies and despite its topically depressing and true analogy of the now, is less remarkable. However, what track five does well, is to again maintain Utopia Now's sharper-edge in its verses and Skate Punk-esque refrains.
'The Oak' rediscovers itself and the EPs flow to close. The final blast lambasts complacent ignorance and a dangerous interpretation and obsession with the past. Musically, 'The Oak' is another for those who ode for the golden days of the genre and blueprints it left for those making their own mark now. However, I cannot stress enough how Utopia Now's lyrical prowess is again the strongest element here. The tightly-knit onset Skate Punk is simply its transport and guide.
'Let's kiss the modern age goodbye' for it is too focussed on the past and rife with conspiracy. This is the message of Jefferson's Baby. A message that is out now via People Of Punk-Rock Records.
Updates:
Music:
People Of Punk-Rock Records: