Unsigned – Trowbridge, England, United Kingdom.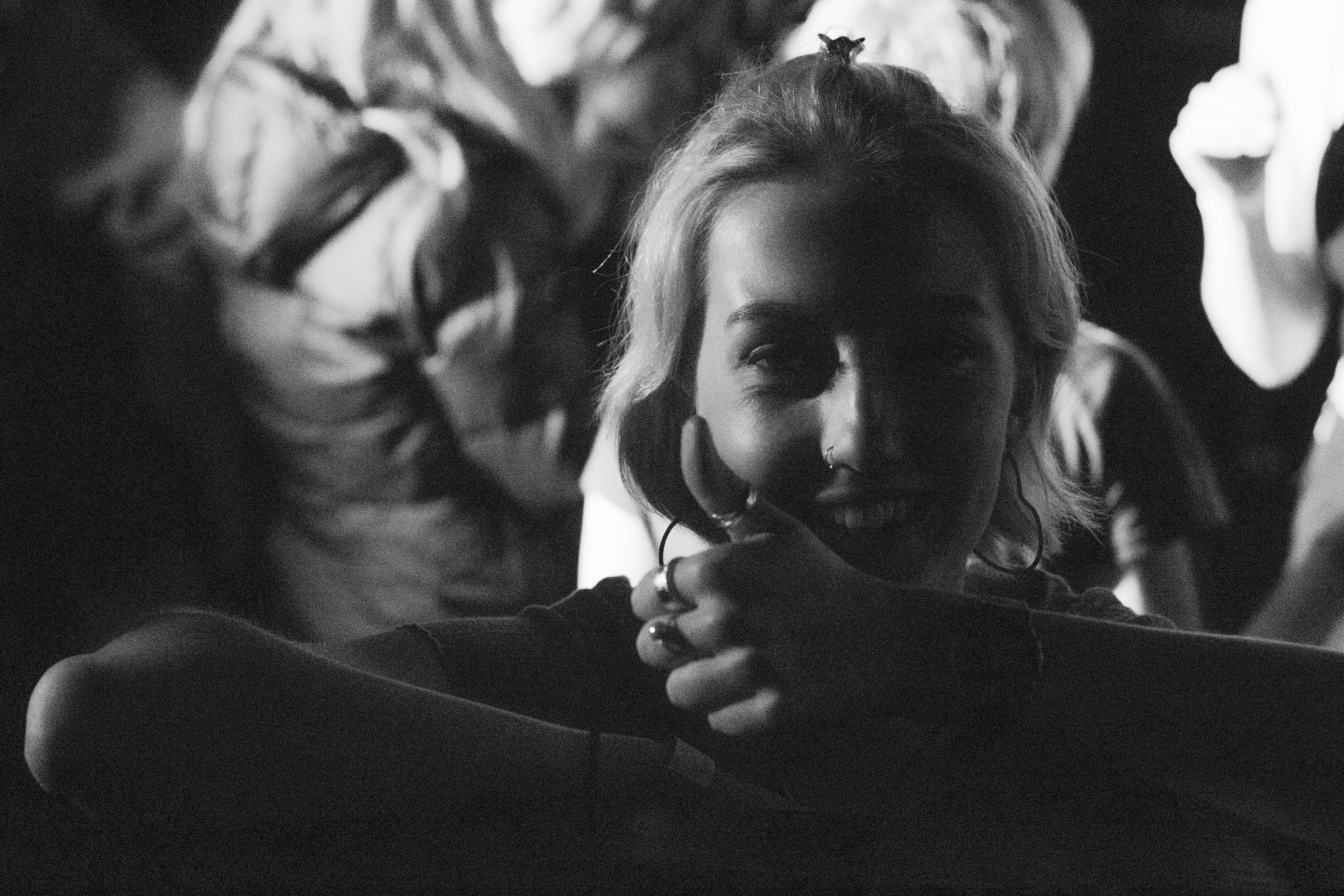 Find a feature on the previous Unsigned – Here.
Photography credit: Kate Feast Photography – Here.
It was another night where the temperature was far less then preferable as people once more began to crowd into Trowbridge town hall, for another night bluntly displaying the talent on offer in the younger echelons of the underground music scene.
The triumphant return of Unsigned and a little bio to such a project and event can be found above. The previous night's output very much proved it's purpose from the very first notes of the first act and this was something resoundingly present, albeit stronger and more confident this time round for Unsigned 2, where alternative versions of what is deemed "mainstream friendly" easily blew those deemed out of the water.
It was an underground night, a grass roots event and it went a little like this.
EVES began as the room began to warm with more and more people, many of which were recognisable from the prior event, began to trundle in and relax to the warm environment. EVES played her crossover singer-songwriter sound supplemented with loop-pedals accentuating the warm atmosphere and aesthetic generated by her melodic vocals and their impressive range. This was only made more immersive with the progressive and notably stand-out layers adding that difference to the one-human-one-acoustic-guitar dynamic.
The old and again fitting location of the dark wooden court room and the sporadic lightening enhanced the mood once again as a notably larger crowd with a larger array of cameras and a crowd more diverse then before. EVES had succeeded in warming the crowd before she would reappear later on.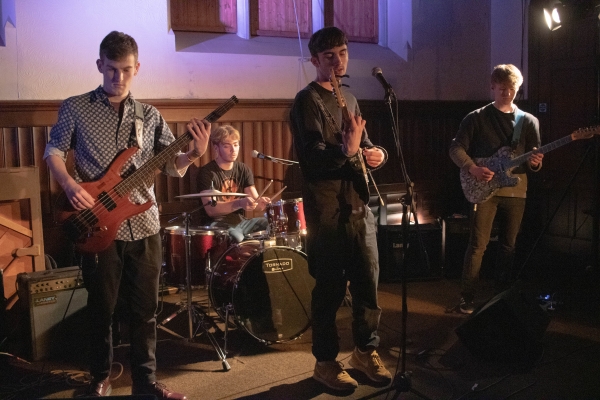 Oll Korrect write  – 'Songs about sheds, substances and sexuality', which to some extent explained their classically gritty and infectious nature after taking the stage. The band's sound was/is eclectic to say the least with my immediate response likening it softly to Grunge one moment, the quirks and Surf-Rock tones of everybody's favourite weirdos Weezer and then soft, groove-laden Jazz the next.
The band were nothing but entertaining as the weaved their chilled, intricately layered sound over sombre, reserved Post-Punk-esque vocals that began to dominate. The most appealing aspect of the band in fact, was their very brash, raw, low-fi nature that was playfully purveyed in a very danceable (not for me, obviously, I don't dance) classic subtle and again intricate sound. The band were clearly a little shy but grew slowly into being more comfortable as they warmed an evening with a sound that would have suited a chilled summer evening.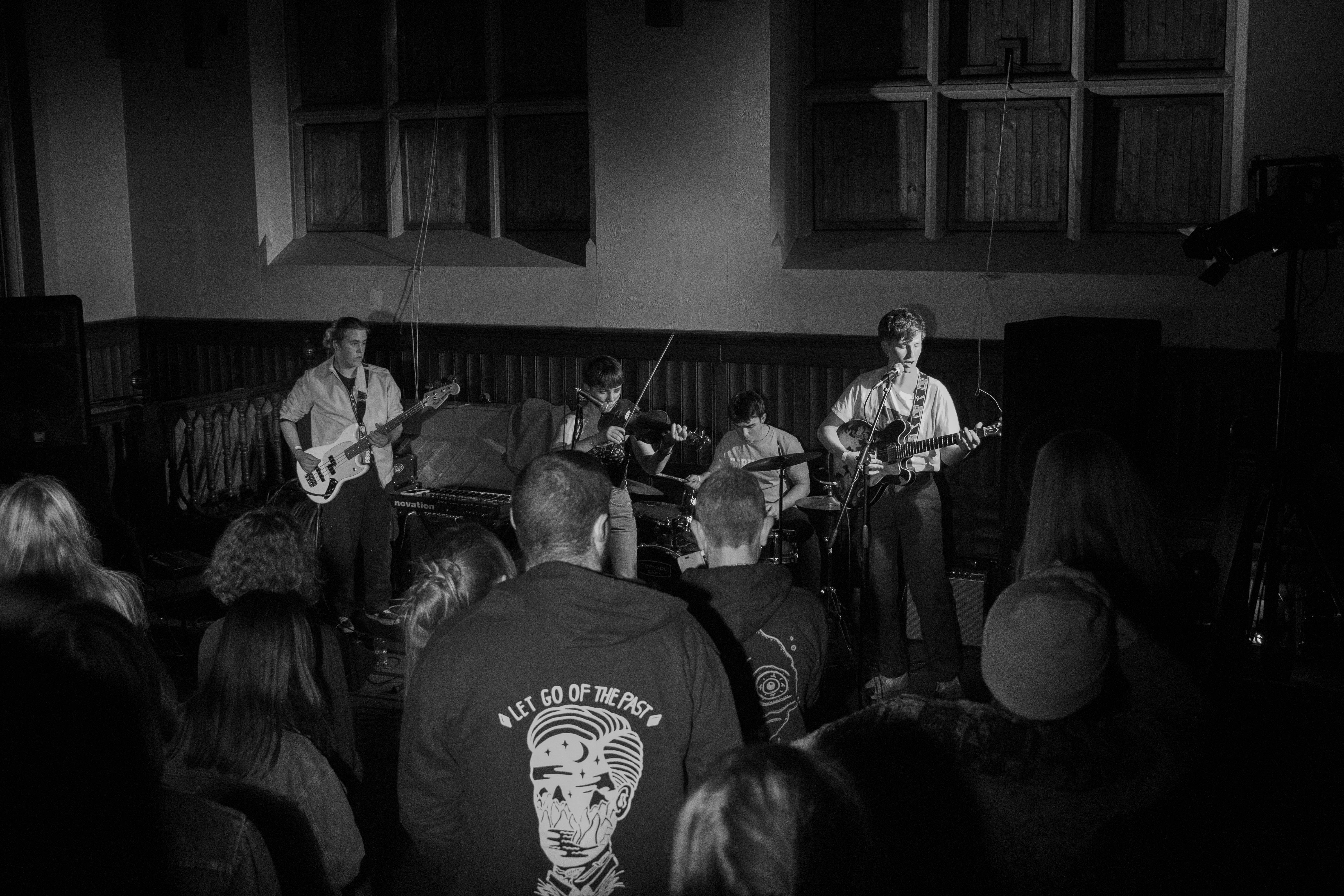 AtticOmatic took to the stage accompanied by EVES who showed her skill further with both keyboard and violin adding a greater depth to the sound of a band very well labelled as Post-Punk but actually very much playing an expanded variation of such. This is very important as they are currently recording.
The band to be fair, do indeed carry a lot of Post-Punk stylistics and "isms" but it is only either a conditioning or a foundation based on where the band are within a song or per song. AtticOmatic pulled a crowd that began at the stage and ebbed gently towards the back of the room as their melodic juxtaposed up and down-beat sound fitted the ill-lit room. The band showed signs of classic Punk influencing their more typical Post-Punk elements as it journeyed on through and towards Indie-Rock and a bluesy-Alternative Rock sound that itself saw the band shine in a very deceptively heavy manner, with some drawn out brooding instrumentals only aiding this.
Sadly, AtticOmatic's stellar performance also saw the start of troublesome technical difficulties that would plague the rest of the night, however said set wasn't negated in the slightest.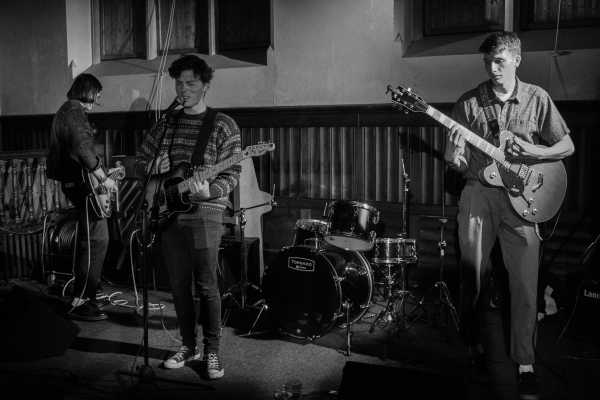 Two nights in and Unsigned is already displaying the strength of the scene it is both drawing from and trying to create. A prevailing "old-school" and classic sound is coming from it's bills, with Post-Punk, Rock n' Roll, Blues, Jazz and Garage Rock among others displayed by young bands and artists refreshing these dated but influential styles as much as they are twisting them into something contemporary and signature.
Waved Albatross very much suit the sounds of Unsigned. Their tribute and emulation of these classic styles took them down an expected but enjoyable Post-Punk/Indie path again touching on Surf-Rock in tone adding to an evening exciting but certifiably relaxed, something aided by the band's intricate yet raw sound. Despite the again technical difficulties plaguing the use of the band's drum machine (itself not negatively impacting their presence at all) which only assisted a performance that despite in-line with the aesthetic of Unsigned, stuck out for all the right reasons.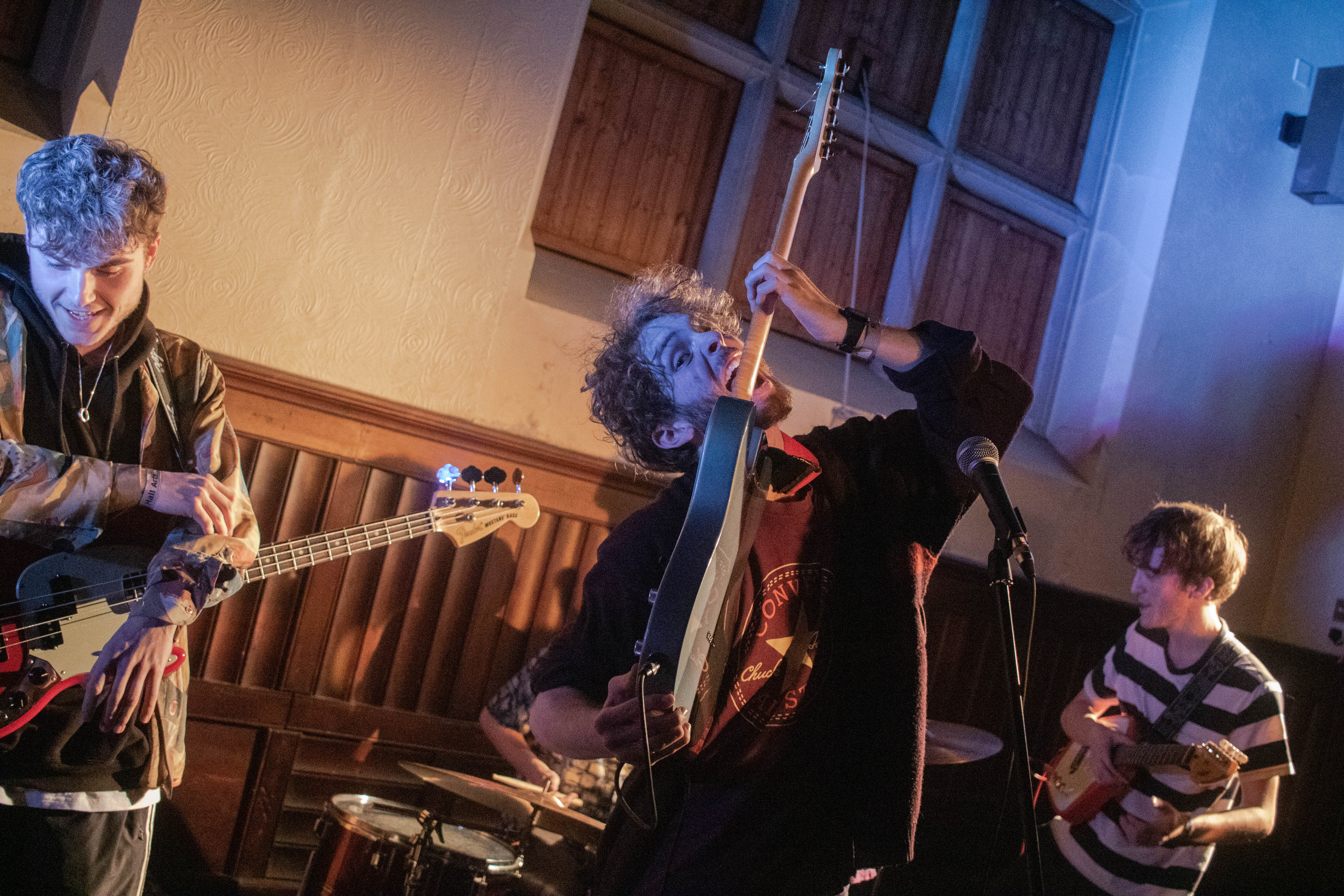 Meandering bass-lines were something of a feature over the course of the night and that was exactly how Hum Fuzz opened and continued to operate. They treated the crowd, now at it's largest, to more of the night's themed intricate, low-fi and raw sounds their way via huge pop-hooks and sensibilities edged with groove-laden Jazz tones in perhaps the most animated and engaging performance of the night.
The band's technical ability was notable as they transcended genres momentarily before falling back on their tried and tested bluesy Jazz-Rock, which would then at a moments notice, fall back on it's own fluttering Indie-Rock. Hum Fuzz knew what they were doing, which was shown even more when the PA finally gave in, seeing the band entertaining the crowd until a new one was found and they could finish their set. I won't lie and will risk sounding old here but with this penchant for Jazz-esque sounds, I half expected an appearance for Mr. Burgundy and his "yazz-fluuuttte".
Hum Fuzz closed another Unsigned and like all those who played this night and it's predecessor, did their bit to support and propagate a scene full of those who genuinely give a shit about underground music.
It was insanely hard to pick just the one track from the night to finish on, but here we go anyway.