Unsigned – Trowbridge, England, United Kingdom.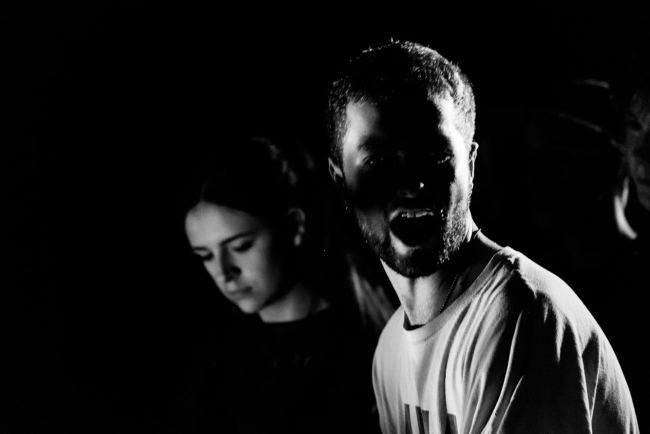 Photography credit: Dom Agar / George Jackson.
Now, you may think that Trowbridge is the last place you'd go on a Friday night but that is entirely the point, Unsigned is a night that wants to make such an unusual and prospective concept a usual and celebrated one.
Unsigned is a night has been revived recently and handed over to the next generation of those with a voice to be heard and a talent to celebrated and propagated into a growing movement. The night is a community based project bringing together it's organisers, punters and of course those playing together in order to promote the talent available in the small towns often forgotten as they sit parallel to larger population centres and music scenes.
Unsigned had it's first revival night on the 5th October and although in it's barebones form, was set perfectly in the age-old meeting place of a community town hall in what turned out to be a dated, but bluntly really quite cool, eerie old court room where an impressive turn-out gathered round and hung on the words and notes of those those playing. You'd be inclined to assume such a place to be gentrified but that really wasn't the case with the exception of one over-dressed couple… of chairs dressed in a fine suit and shawl.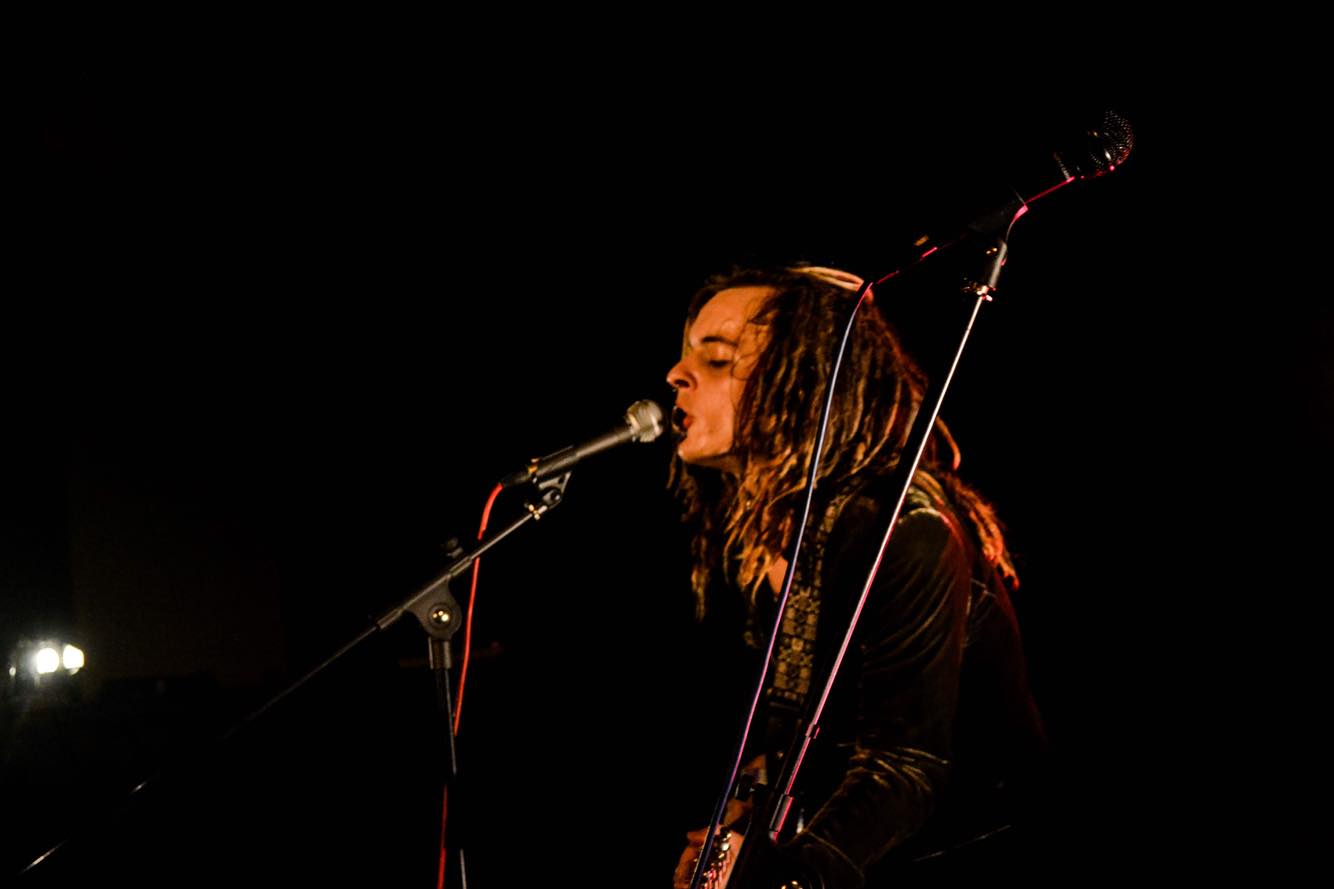 The Hound On The Mountain opened proceedings with an impressive head of hair, a guitar and a casual exchange with the sound-man itself indicative of the casual environment unsigned is trying to build. Within the the first note the dog fond of crisp mountain air had the then small crowd hanging off his every word as they gathered round him in earnest. The young man that had played all the instruments on his recording had control of the room with just his one electric guitar, matched with the dim-lighting within a room almost entirely comprised from dark wooden frames.
Musically, The Hound On The Mountain showcased an Alternative Rock foundation trundling off into fuzzy, distorted and sometimes psychedelic Grunge with a brooding Spoken Word/Punk delivery. The lyrics then primarily focussed on fantasy-styled scenes hinting at a socio-political edge and a tortured soul as long instrumentals and near completely quiet parts of the set helped to envelop the crowd even more so.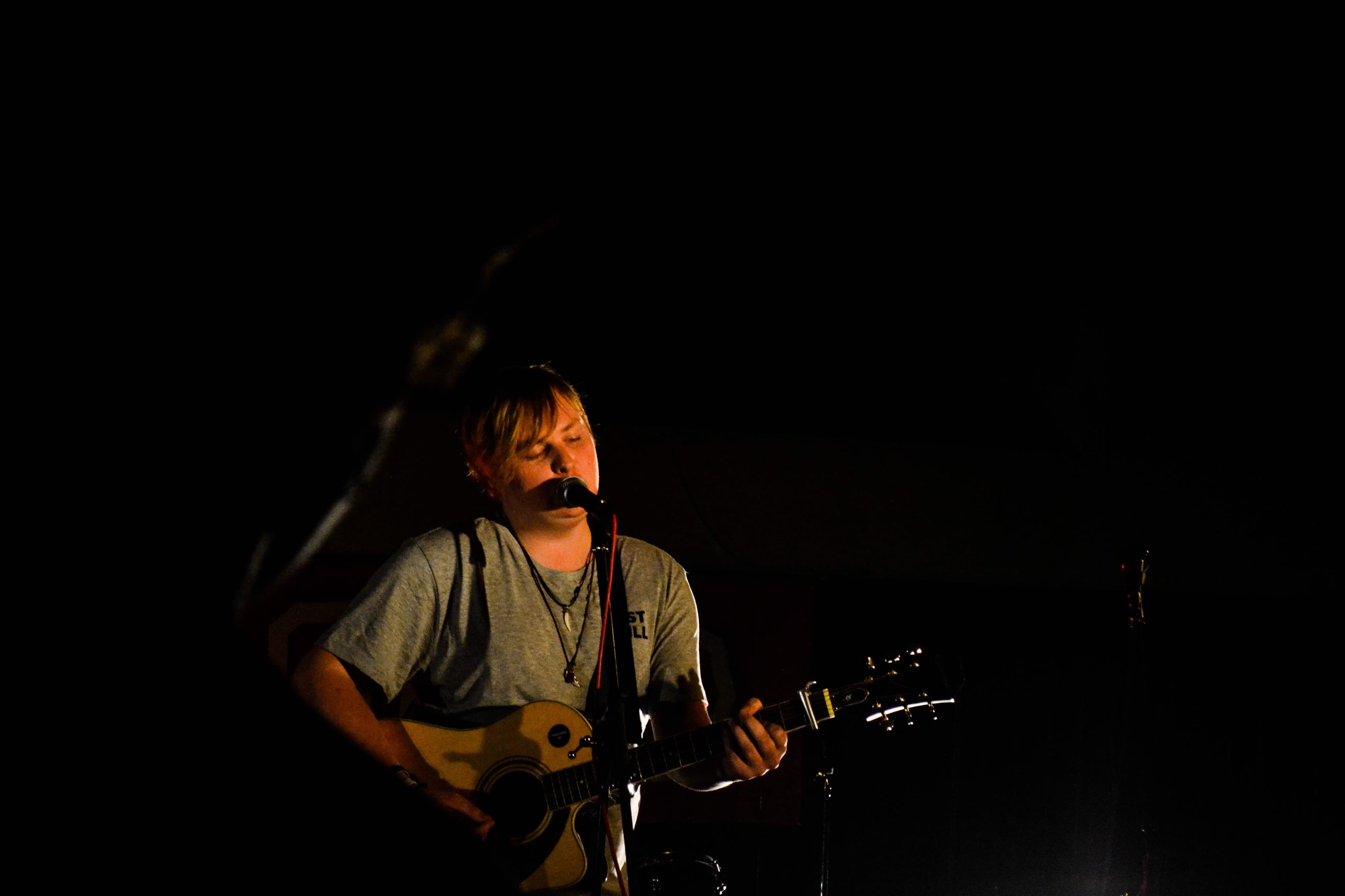 After a warped variant of the classic singer-songwriter formula, Unsigned continued as it meant to go on. Ellis Tucker took to the stage with some of his original material, that of this old band that had played the previous incarnation Unsigned and some covers. The refreshing contrast was in proportion enough not to effect the balance of the night and the atmosphere wasn't lost as people casually came and went from cigarette to music and back again.
Mr. Tucker's set was more simplistic and lighthearted following on with a more Acoustic Pop-Punk line, with enough Folk thrown-in without overplaying the singer-songwriter stereotype too much as very well-written songs effortlessly flowed between humorous interludes.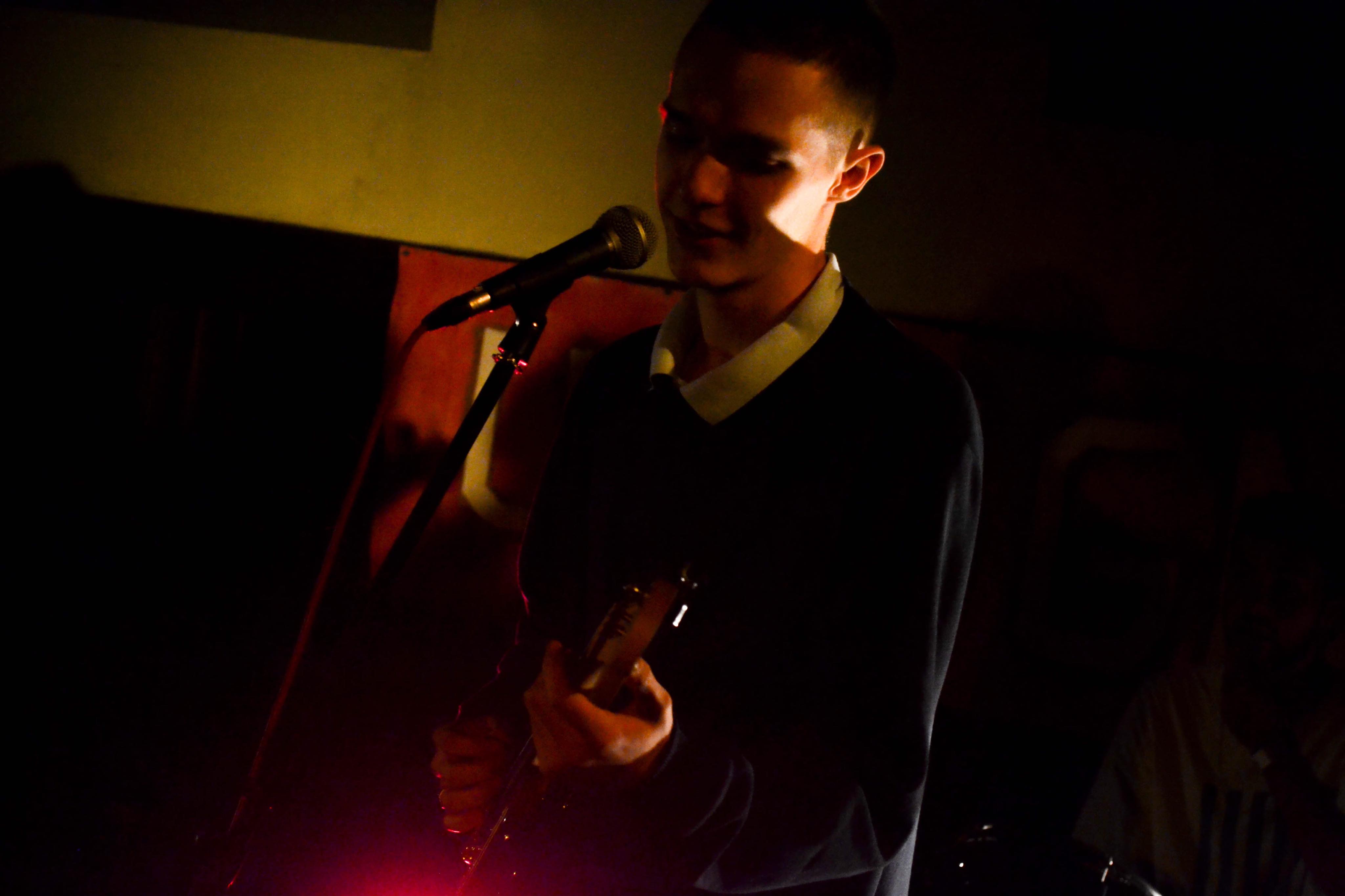 By this point in the night, the room was filling steadily and wherever you were stood a successful scene chock-full of smiling laughing people dominated your view as it encapsulated a night proceeding on from good to better. The very foundations of a scene were starting to entrench themselves and this was especially clear as Herbie Bone took to the stage.
A band/project clearly in it's infant stages at first look managed to completely dispel such an illusion with a hybridised Low-Fi sound transcending Surf-Rock and Indie-Rock alongside Jazz and a vocal-style as dated as the 1930's and 40's but at the same time reminiscent of the chilled friendliness incarnate of Jack Johnson.
Herbie Bone and his accompanying band were nothing but impressive and surprisingly versatile in a way in which no part of the set could be predicted. In a manner that would in hindsight level the playing field for the next on the bill, the band began to weigh-down with their approach with a fast and comparatively heavy Indie-Punk sound that not only went down insanely well and sounded like Kings Of Leon before they weren't monotonous and boring, but did so while still maintaining continuity.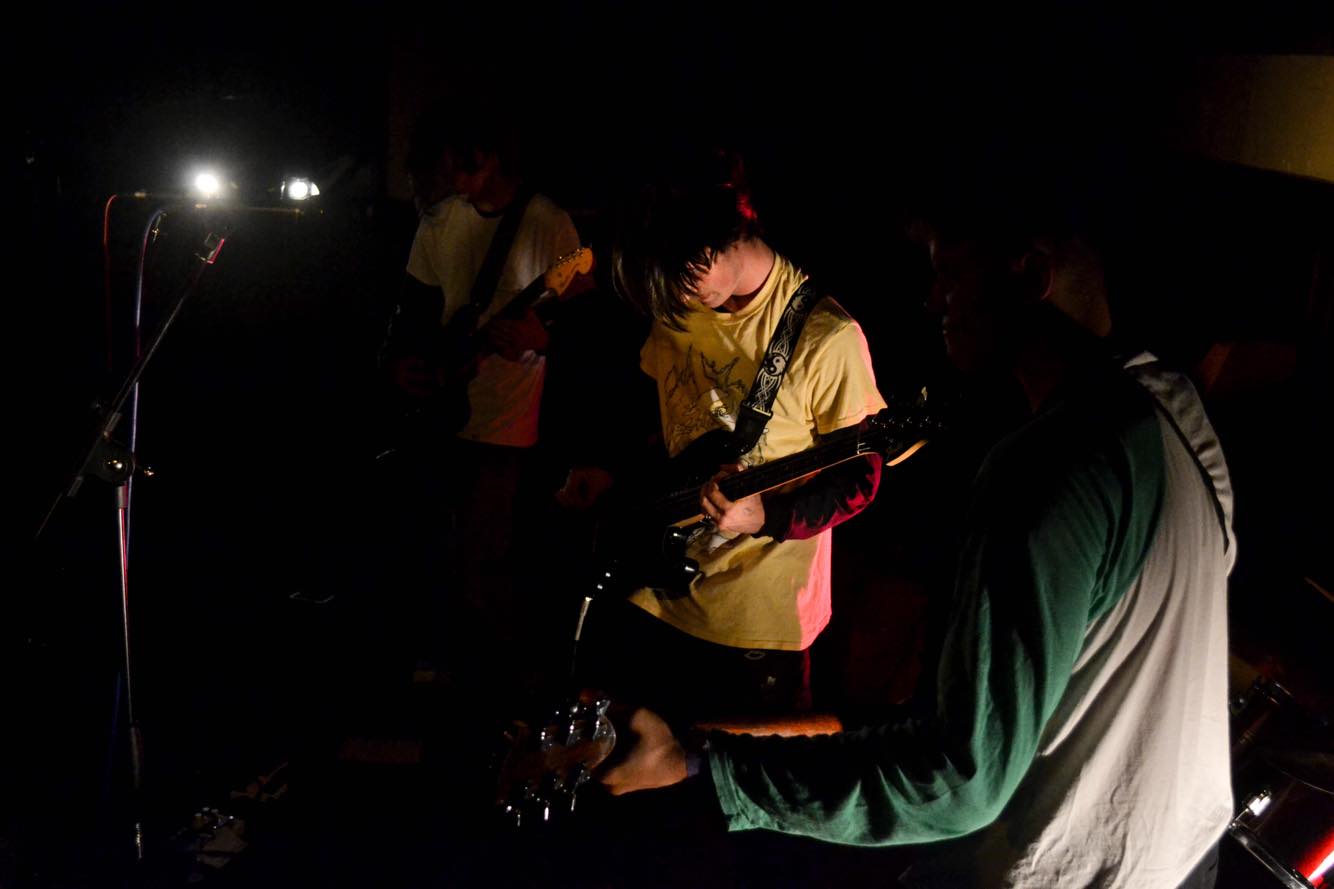 The stage was set for Vrillon. The night had gone exceptionally well thus far and it had all been accumulating to this point where this first edition of the new Unsigned had gone full-circle back to the distorted Alt. Rock ad Grunge of it's beginnings. This, although hard to put into words, captured the aesthetic of the night perfectly, the room was full and the guitars were plugged in.
Nirvana are clearly a huge influence on the band with the more subdued and brooding melodies and warped-pop-hooks showing themselves bended to Vrillon's uses. The young band's sound was simultaneously grounded and rough but chilled and approachable enough to appeal to a wider audience. Vocally there was contrast between a heavier gruff approach and a more contemporary Indie-Rock flare and that added to the 90's-centric appeal of Vrillon as the crowd were being drawn further in.
As much as this mainstream applicability of the band is a huge selling point, Vrillon effortlessly would transcend into this heavier stylistic so well and enjoyably on their part that the crowd's reaction while they were singing along and propagating a mosh pit, was perhaps most picturesque and indicative (again) scene from a night set to only grow.
Unsigned have plans for their future, they believe that living in such close proximity to the larger scenes can damage the output of smaller towns and that this detrimental disregard of smaller locales needs to stop. There is talent out there and regardless of location, relative size or even association with arts and mediums it should be promoted and celebrated.
More to come, keep an eye and an ear free.