United Defiance – East Bay, California, USA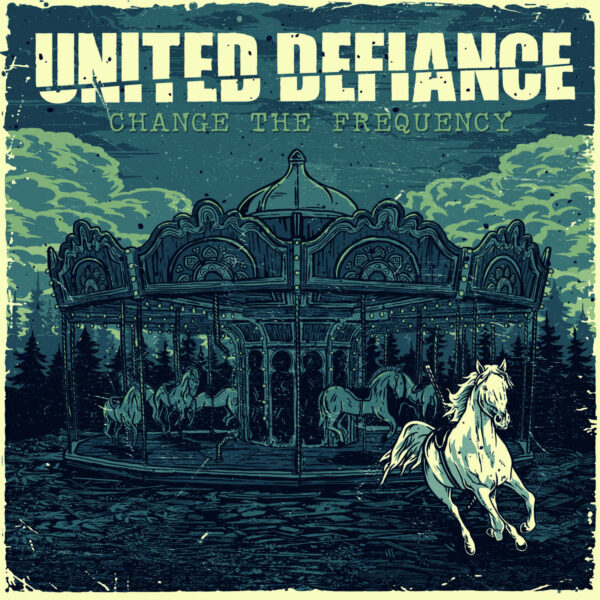 Ah yes, United Defiance and Change The Frequency. A band from the East Bay Area of California that in more ways than one, epitomise the existence of a DIY Punk band. United Defiance, a band that through multiple formats, personnel changes, loss, uncertainty and a plethora of other setbacks have endured. A band that have stuck to their guns without dwelling on the past and have rather focussed on defiantly and indomitably moving forward. A band that now, as of about two weeks ago as per the time of these words, have released their third full-length on Thousand Islands Records of Canada.
'Running Out Of Time' instantaneously bolsters the decision vocalist Noles took to abandon his guitar in favour of vocal freedom. He and the band's rhythm section similarly, still, and quite importantly, especially for fans of their earlier work, maintain a ubiquitous grit. The forlorn struggles of 'Running Out Of Time' are very much and unapologetically so despite the intrinsically contrasting and pervading melodic coating, tied to coarse Punk-Rock.
'Daemons' matches an internal struggle to fast Skate Punk in a vintage blast of Bad Religion cut with early Good Riddance. Two matches the cathartic urgency of the genre and does its job of maintaining the momentum ahead 'Cool Kids Club'. For a full review of the lead single that sardonically and sarcastically debunks scene flaws, go – Here. However, I will say this, the namesake defiance of the Bay Area band smiles in your face and in that of the elitists over brash, yet melodic and honest Punk-Rock.
Moving on. There is and has always been a hidden fire to United Defiance, one that's penchant for serrated Melodic Hardcore and even a focus on the latter part of that Punk-variable, never stays controlled for long.
The 1:00 'Frolic In The Darkness' pertains again to the theme of Mental Health. Akin to 'Daemons' and charged beyond its confines, track four tells of an encumbered cranial rut. UD are impeded mentally on four and the small space at which they are sequestered is populated by a ripping lead, a sad smile of guitar-Ska and borderline Hardcore Punk. However, contrary to popular belief, not everything is about speed. Despite being a canonically fast band, UD are often at their best when alternating in speed or juxtaposing it entirely. See the standout, 'Please Don't Crash'.
'Empty Advice' makes use of the latter charge of 'Please Don't Crash' as it pulls from UD's experience as a band once more carried over into life in general with a rousing chorus and further Bad Religion-esque harmonisations. The album is then altered in 'Taps'. Until now, the early to mid-'90s Punk has sufficed but in the considerably more technical and spasmodic 'Taps', the late '90s proto-Tech-Punk surfaces. This newfound abrasion and layered tenacity persist in the "fuck it all off and live it" anthem that is the aptly titled 'Show The World'. If you're looking for the incomprehensibly complex and streamlined production so rife now in the scene, though UD are still a part of the greater whole, they are not going to tick that box.
And rightly so. Regardless of opinion, again, United Defiance sound like United Defiance. Shamelessly so. 'Sing With Me' marked the last single ahead of the release and despite it being the expected crowd-energising anthem, its message stands. Speaking of messages, United Defiance, though steadfast and resolute, are also a band that openly look to the future. This is the message of the eponymous 'Change The Frequency' in its Hardcore-nuanced Skate Punk. 'Spy Vs Spy' then takes a punt at a serrated, Thrash-infused Hardcore adjacent sound in its rhythmic and frantic drive through hindsight and looking onward. Again, the five-piece just get on with what they want in a decidedly forward motion. Change The Frequency may echo the albums of yore but it is firmly in the present.
'My Resignation' is driven low, down-tempo and reflective. Jabbing guitars and powered floor-driving rhythms soundtrack a tale of pain but also of those best left behind and closes the third album's original output to the same message that has persisted and self-perpetuated itself throughout. Only you can make the change. There is but one more foray, however.
The five-piece close fully with a misleading, cowbell-jingle ahead of the '90s Punk they know in a rendition of a song you may know. Featuring one Jason DeVore of Authority Zero, United Defiance close Change The Frequency with a cover of Twisted Sister's 'We're Not Gonna Take It'. It is tradition to finish their records on a cover and this one is injected with the fast, unapologetic Punk that continues to sustain itself and the East Bay band.
United Defiance are survivors and they refuse to change in any way unnaturally accosting to their being. Moreover, Change The Frequency is nothing new, there is nothing groundbreaking on it but its existence is intrinsically and defiantly so. If it isn't broken, Punk-Rock it in united defiance.
United Defiance and Change The Frequency are out now digitally via Thousand Islands Records with vinyl and CD available to pre-order below.
Updates:
Music:
Thousand Islands Records: