UGLYBONES – Chicago, Illinois, USA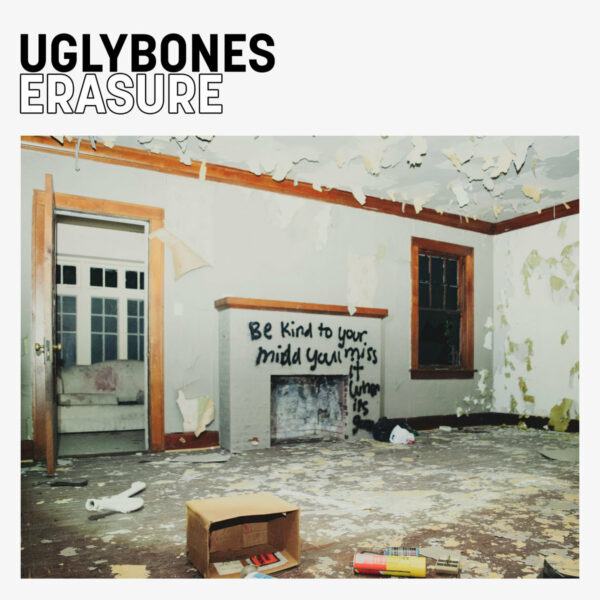 UGLYBONES and Erasure. These are words together in unison that I have been meaning to address. UGLYBONES, in a nutshell, were one of the first US Hardcore bands alongside those such as This Is Hell, that outside of the "greats", were early indulgences as I began to traverse the modern genre. A band that, for a decade now, have cut a vitriolic wedge into the Chicago Hardcore scene and beyond. The four-piece's back catalogue crosses 'core applicable to either end of the US coasts as well as arguable and actual forays into Powerviolence, Stoner Rock, Thrash, Sludge, Post-Hardcore, Beatdown, Crust and D-Beat. I could go on disambiguating Hardcore Punk diversification and affiliation but I won't, for UGLYBONES have returned with Erasure.
For a tidied-up version of a review of the band's 2018 Sunshine go – Here. There is also an even older review of the 2016 Growing Pains on a site that I no longer reference despite its integral foundation to Ear Nutrition. I'll apologise for the prose of those two now, for its time for Erasure. How apt.
The 0:57 internal cranial maelstrom of 'A Promise' cleverly shows UGLYBONES as they are now after a decade in the game. The band violently cascade through the inner diversifications of the genre. Starting with a lumbering New York Hardcore, they then populate the middle with an aggravated D-Beat and Crust before falling somewhere between it all. The clever use of Thrash-esque licks maintains a prevailing metallic edge throughout before fading into the eponymous 'Erasure'. UGLYBONES have returned.
A meandering and corrupted lead makes itself known in the Post-Hardcore-esque and arguably the most modern-sounding Hardcore the band have unleashed. UGLYBONES are a band of experience and on 'Erasure' and two tracks in on Erasure-proper, they display it. 'Erasure' depicts the poignant hellscape of the mind and in its final display alters the Post-Hardcore-esque tirade in fierce, abrasive Thrash-infused east coast Hardcore. Fans of anything from This Is Hell, Time and Pressure to Sick Of It All will find something here.
'Gasoline' is haunted further by that corrupted lead as the band hold nothing back. Lev's vocals have always self-subsisted on their own rage but now in 2021, they have reached a new increment of power. 'Gasoline' allows Tony off the leash whilst both Viaj's floor shattering bass and Fil's guitar clear a path and leave nothing but dismembered ear canals in their destructive wake. Track three is perhaps a highlight of Erasure and follows on to the maniacal and chaotic single 'Hoax', which I'll leave for you to digest yourself.
'My world is, my world is a hoax'
'Growing Season' battles itself through a mass of needlessly monstrous riffs equating the mental strife and destruction. I say "needless" but I don't think I mean it. – 'Decode an algorithm for being hurt, complete loss and absence of hope'.
Erasure is brash, chaotic and abrasive but also a record of growth. The band are watching their peers grow and change. They are reluctantly following on and in their own words 'Erasure, is the culmination of years spent recklessly partying. It's the sound of a fire burning out yet still raging'. UGLYBONES still have their youthful exuberance and energy. That much is true but it has been corrupted by ageing, experience and this dismal world. Anger is still anger, even it is from a mature place. You don't "grow out" of it. 'Choke' sees it all through anxiety-ridden eyes.
'Choke' holds the album in place musically but its true power lies in its lyricism. 'Cheetah' then, encompasses and draws its energy from both. Track seven's Sludge-core rhythms give way into a disjointed near-Noise Rock refrain as the cry for help is dwarfed and dampened by the depths of its origin.
The band's earlier work was characterised by a faster and stripped back approach. As they have progressed, this pace has been constantly interchanged and intertwined with the spasmodic, tightly knit, tightly wound and comparatively complex approach but that doesn't mean it's not there. 'Positivity', akin to previous work, injects this tenacity but does so from the extreme end of the genre when it needs to.
'Night Sun' closes a record that has no low point; in quality anyway. The fifteen minutes and forty seconds ends on the spasmodic and complex Post-Hardcore display the band have grown adept at. There is more to 'Night Sun' therein, however. Cleverly and with great ease, UGLYBONES cut across their sound yet again. The aforementioned progressive spin, the thick latter-day Black Flag and Black Tusk riffs, the timely deployed and warped melodic leads, the violent Crust and D-Beat, the thick Beatdown riffs; 'Night Sun' has it all.
UGLYBONES and Erasure are another uncontestable and knowledgeable force within a fantastic year for Hardcore Punk. May it continue! Don't Panic Records & Distro are handling this. I probably didn't need to write this much. Oh, well.
Updates:
Music:
Don't Panic Records & Distro: