Thousand Oaks – Rome, Italy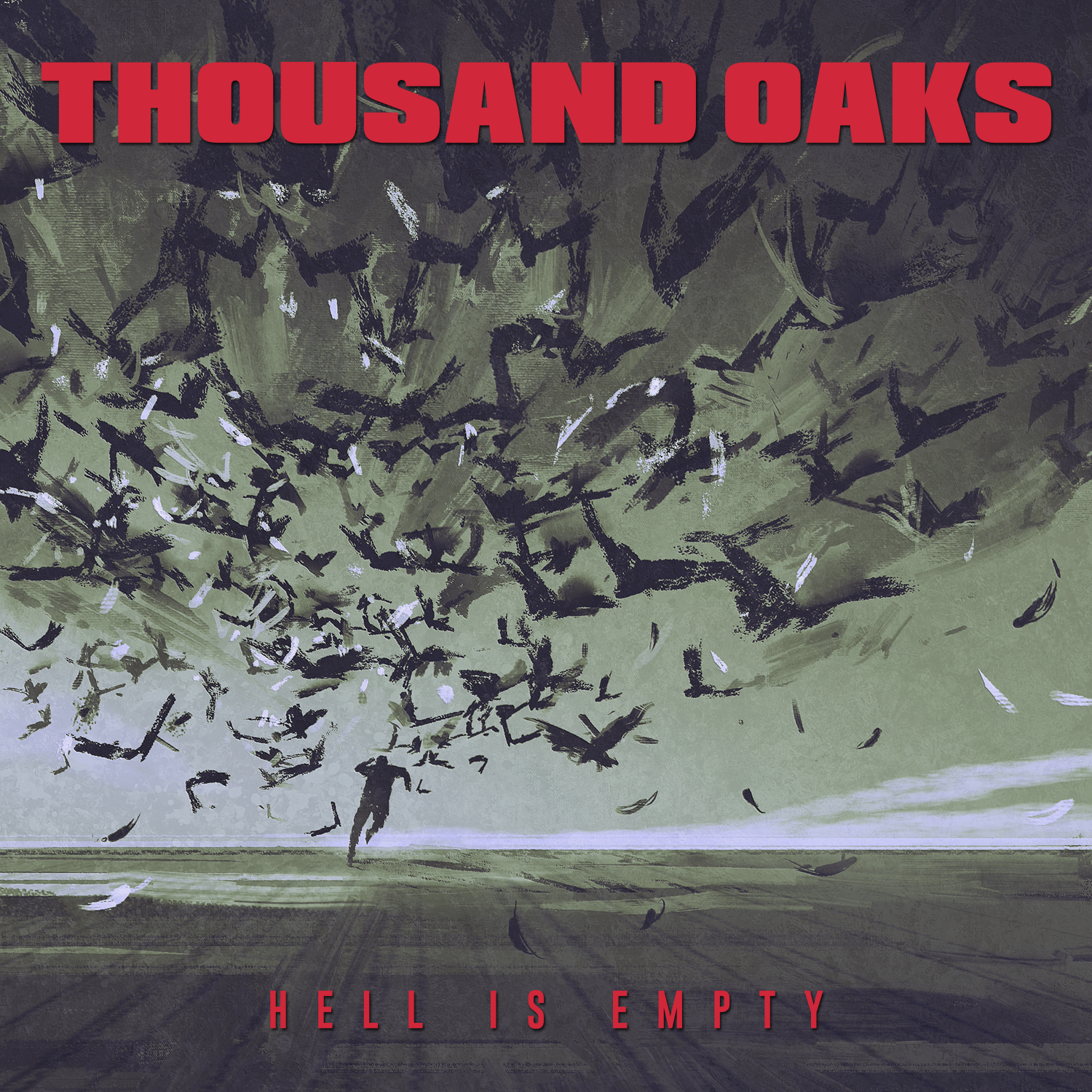 Thousand Oaks and Hell Is Empty. The former is a band of blistering technical Punk-Rock and the latter; a statement that is no longer as outlandish as it once blissfully and idly was. Mud Cake Records are on board and pushing the mainline vinyl run of the latest from the harmonised, precision Skate Punk and Melodic Hardcore tempo-junkies that are Thousand Oaks this coming November. The German label is also enlisting some help with CD release, more info on which will be left at the end. So, in a projectile nutshell, moving through the air at an uncompromising, unrivalled and unequivocally high velocity, it is safe to say that Hell Is Empty is covered.
But, to be succinct, is it any good? I had Hell is Empty early and this is how it went.
The '90s Skate Punk longevity and legacy is nothing short of impressive. Despite the now deep-rooted Post-Hardcore and Thrash-precision so inherently and intrinsically infused, the seminal blueprint remains the same. This, I am pleased to comment on, is where the tightly-wound 'Backfiring Bait' stands tall, defiant and unquestionably confident in its ability. Thousand Oaks effortlessly adhere to the quality of the now but not without a strong focus on the late '90s and early 2000s. A time where Adhesive, Cigar, Mute and Belvedere were setting the genre on its now self-sustaining journey. Hell Is Empty then moves onto what Bound For Destruction owned.
The four-piece are resoundingly dedicated to the way of harmonic melody. 'Barren Hearts' falls back on the band's skill at vocal-arms while their impressive onset technical skill runs parallel to comparatively simpler fast melodic Punk. Thousand Oaks, again, are firmly planted in the now but don't for a second forget their roots. However, there is a third play to this symbiosis. The band employ harder, slight, but noticeable and cleverly placed Melodic Hardcore to run between their two-variants of Skate Punk and it waits forebodingly in the wings. The eponymous 'Hell Is Empty' is placed slap-bang and central. Normally, this would be a potential arrangement risk, but, in this case, Thousand Oaks have made the correct play.
'Hell Is Empty', much akin to the band's work to date, is emotive, cathartic and poignant. This inherent poignancy so intrinsic to Thousand Oaks to no real surprise, for an EP releasing this year, is over-flowing here. The band's compositional and technical skills are again also on form. Thousand Oaks balance their technical nature and contrast it with blasts of traditional Skate Punk and Melodic Hardcore. The latter, despite the tracks harmonic, sad, sombre and unfortunately emphatic revelations of societies abject fall being harmonised and frictionlessly fed into your ears, ups its ante. It is in this contrast that 'Hell Is Empty' both marks a natural deviation in the record but also the best of itself overall.
Truthfully, if track four had not been placed as thus on Hell Is Empty, it would have been a tragedy. 'The Bottom Of A Bottomless Pit' is fundamental to the EPs flow. The progress toward the heavier catharsis finalised by 'Hell Is Empty' reaches its boiling point. Four is a track of two-thirds early 2000s Melodic Hardcore rife with rage incarnate and complexity, tempered but not diminished by Thousand Oaks-brand melodic delivery. At this stage, if it wasn't already, the lasting influence of Propagandhi and A Wilhelm Scream assert their smiling complexities.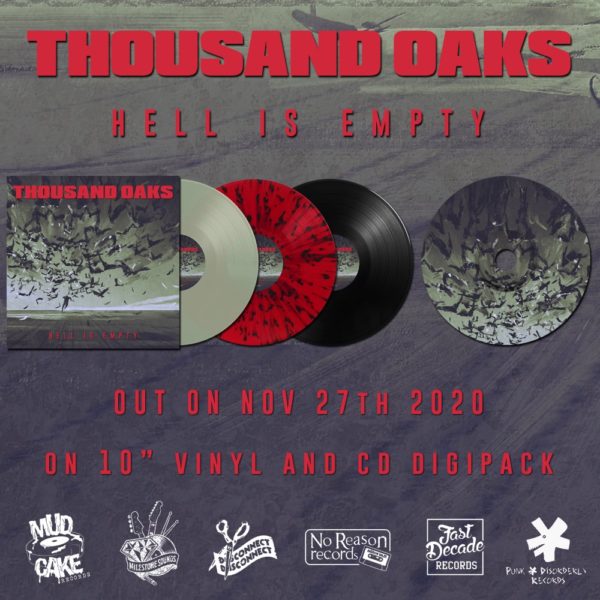 Despite a fall back on late '90s Skate Punk again, Thousand Oaks' collective accolades shine. This is particularly shown, as per the EP as a whole by the inexhaustible and thundering power behind the kit. 'Hunt The Haze' purposely serves its mandate and moves on.
Akin to the likes of Propagandhi and others such as Fullcount, many will flock to the Italian four-piece for their instrumental ability. Now, given the way people digest music, this is indeed perfectly reasonable. However, if 'Oakenshield' and Hell Is Empty prove anything, it's that Thousand Oaks are just as evocative and intelligent musically as they are with their socio-political commentary. This latter remark is an indisputable and major selling point on Hell Is Empty.  Why? Well, to be concise, 'Oakenshield' and it's determined battle-cry is indicative of this to the highest degree. It is fitting then that Thousand Oaks present a symbiotic accompaniment here. 'Oakenshield' boasts sharp Melodic Hardcore led by dual and harmonised vocals, soaring Skate Punk and lacing melodic guitar lines. This melodic maelstrom is held down by a looming bass-rumble and collectively, with its vigorous skin-beating, ends the band's best work.
Thousand Oaks and Hell Is Empty released via Mud Cake Records on the 27th November and via Disconnect Disconnect Records (UK), Fast Decade Records (Finland), Milestone Sounds (Japan), No Reason Records (Italy) and Punk & Disorderly Records (Canada) on CD.
Updates:
Music:
Mud Cake Records: