This Is Not A Drill – Sheffield, England, United Kingdom.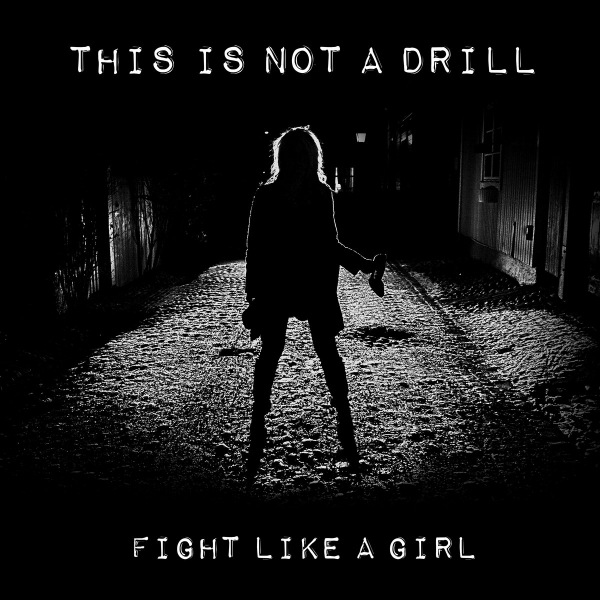 If you've heard the first album from the Sheffield three-piece This Is Not A Drill, then you may know what's coming, if you haven't then you may wish to heed this following collection of words. In simplified description, the band fall under Hardcore Punk but in truth they are so much more than that. Hysteria​/​Hypocrisy​/​Lies (2017) offered such as a base alongside flashings of Skate Punk, the warped melodies of Crust Punk, the sharp nature resulting from of an awareness of Thrash and the overall and unambiguously, unmistakeable bluntness and accosting honesty found within British Punk music.
However, with an eventful time elapsing between the then and the now 2019, much of which has encompassed and become the catalyst and fuel to Punk-Rock – the sonically visceral This Is Not Drill have returned with the ten track Fight Like A Girl.
After an intro and sample worth heeding over eerie near-haunting strings (Via Shelley Slater of MPRV News) This Is Not A Drill start with 'Victimised'. Merging an aggy, dirgey, unforgiving tone of 80's underground Punk with sharp Thrash Metal strings. 'Victimised' wastes absolutely no time in bashing the fallen idols and former pseudo-heroes. Aside from this main point, the band follow 80's Punk further with a warped Crust Punk guitar-tone that is cutting yet melodic onto the tracks end with the band screaming 'NO MORE WHITE LIES'.
'Feels So Right To Me' maintains the grit but dispels the dirge, plying one decade of Punk stylistics with another more melodic and 90's orientated. Find it – Here. Onward and back to sonics far more comprised of Street Punk and Hardcore, the three-piece show off their eponymous concoction via 'Fight Like A Girl'. Frantic drumming is matched with tinny-overly fuzzed guitar-work sampling Thrash riffage once again but still firmly built across a general sample 80's Hardcore, while a shamelessly vintage rumbling bass does its thing. – 'Your white male privilege, your simple life, you've never had to kick and scream and fight, fight like a girl' are words impossible to be anymore apt and they haunt you to a strong realisation that theres still a long way to go.
From Sexism and Feminism to malignant Racism, This Is Not A Drill live up to their name as they continue to speak the truth and cathartically release. This time the band opt for a chord-progression and structure far more inclined with the earliest of Punk forerunners filtered through more vintage Hardcore rage, this is supplemented further with more truthful samples showing how great ENGERLAND really is in 'This House Is In England'.
'Twisted Fixation' blasts crusty Hardcore into oblivion and sits very well – Here as it lambasts Punks who include "all but *insert name here*". The band's penchant for classic Skate Punk rages and simultaneously flourishes in 'Senseless' as This Is Not A Drill look through privileged eyes to make a point.
The three-piece also make a second point of sorts here. Stylistically, despite its power, if the band only stuck to and crashed through their varied but still wholly Hardcore Punk-Rock sound with no other variety, Fight Like A Girl would certainly fall flatter. 'Equality' is the perfect (positive) continuity filler track while 'Master Race mocks white power and all its fallacies and starting with a sampled intro bordering on hilarity.
The band edged closer to a melodic finish with 'Master Race' and ultimately choose finish on such in the cover of Irrational Act's 'Community'. This Is Not A Drill have cut path through Hardcore, Street Punk and Skate Punk with a clear and open desire to point out what the fuck is wrong with everything.