The Liverpool Punk-Rock All-Dayer – Studio 2, Liverpool, United Kingdom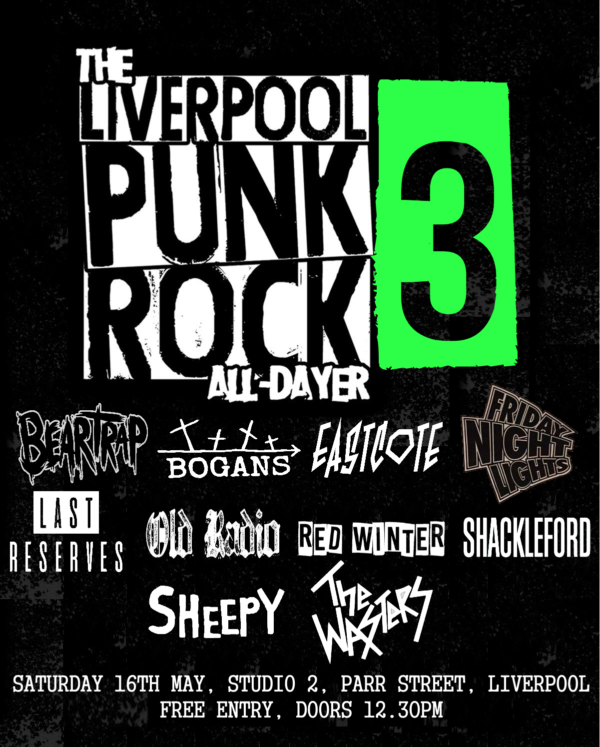 The Liverpool Punk-Rock All-Dayer 3: The Bands #2 – It's really very self-explanatory why we are here. However, if this is the first instance of which The Liverpool Punk-Rock All-Dayer 3 or the event as a whole has graced your ability to decipher characters into words and then sentences, themselves denoting to some sort of subject matter, you can mosey (Mersey?) on over – Here – for the first announcement and some back story on the event.
All up-to-speed? Excellent, for we have the final five bands set to play this year's event at Studio 2 Parr Street.
The Liverpool Punk-Rock All-Dayer 3: The Bands #2 – here we go! Phasers set to Punk? Good. Am I typing my forced resignation letter, as a direct result of continuous digression and lynch-worthy puns? Sadly, yes.
In the interest of having not just a good time, but an unquestionably good-er time, filled with smiles and all the dancing Punk-Rock fans enjoy beyond the stereotypical eyes of the mainstream world, we have, Sheepy. The Liverpool natives play an off-shoot of the Punk-tree dedicated to those Garage Rock and Power-Pop blueprints the Ramones followed, with the famous families own Pop-hooks. Sheepy culminate this into a hybridised Pop-Punk style, which in its quite notable emulation of those '60s that the cities natives enjoy so much, is not something to miss. Something-something insects. Come and dance.
Eastcote are befitting of the more melodic-wing of this bill. They arrive with hook-laden everyday-life singalongs and enough "woah-ohs" to appease the ubiquitous spirit of the '90s. The band's heavy, mid-to-fast Green Day-esque Pop-Punk is beyond the over-done North American cliches yet more than welcome in sound towards those partial to that age of the genre. The band's 2019 single 'Waste' saw their melodic sound edging towards the Alt. Rock maturity that was the omnipresent force always pining for more representation. However, the fellow output from 2019, 'She's Nobodies' toyed with the band's Weezer influences as much as the Pop-Punk they shamelessly can't contain. In short, Eastcote requires your presence.
Right, so, answer me this. What is LPRAD 3 currently missing? A cover of the Lagwagon classic 'May 16th'? Well, yes, but we don't know what's going to happen there; yet. The answer is Ska Punk and in this case, it has transcended sonics and materialised in the form of more native-Punk catharsis in the form of Old Radio. The band's cutting Ska-Punk yields groove and will likely incite much movement, however, it would be nothing without its charged penchant for melodic '90s Punk and fellow juxtaposing vintage Street Punk-grit. The band have been quiet on the noise-release-front since 2013 but with strings of shows now accumulating, you may as well come and see one!
Friday Night Lights hail from Leeds and this year bring their own Punk-based sound to LPRAD. Forming in 2010, taking a break for a while and then returning in 2016, Friday Night Lights have maintained what they set out to do. The band's Emo-esque, Pop-Punk/Post-Hardcore crossover takes cues from the likes of Hot Water Music and Jimmy Eat World without losing their British quirks. Friday Night Lights are layered and precise, abrasive and cutting yet also welcoming in their melodic catharsis. FNLs add welcome variety to the LPRAD bill with tracks such as 'Shaking Up The Scene 'or 'Neon' while fitting right-in with tracks such as 'Kites'. You know, I might actually come along.
And now to Bear Trap. The four-piece band and their choppy, buzzsaw Pop-Punk and '90s Punk-Rock sound has been lucky enough to be at the very core of LPRAD for three excellent years. That said, the band haven't an easy time these past three years, with personal health and amicable yet sad departures of original members, the Manchester band have endured much.
Although no new music has been released to the public since 2017, at live shows and appearances at the rising Kesbri Studios the band have shown that despite it all, writing has gradually, undisputably lingered and slowly grown to fruition. Below, one of such tracks sees the band's Pop-Punk and Skate Punk sound begin to mature and harden. However, what stands this stage of Bear Trap's short career even more notable, prominent and crucial is that with a new drummer and former loan-bassist Will Atkinson (Hummer, ex-Flat Back Four) now full-time, Bear Trap are back at it for the foreseeable.
Find the event, the photographers and all else below! The Liverpool Punk-Rock All-Dayer 3, Studio 2 Parr Street, Lagwagon Day 2020. Be there!