The Liverpool Punk-Rock All-Dayer – Studio 2, Liverpool, United Kingdom.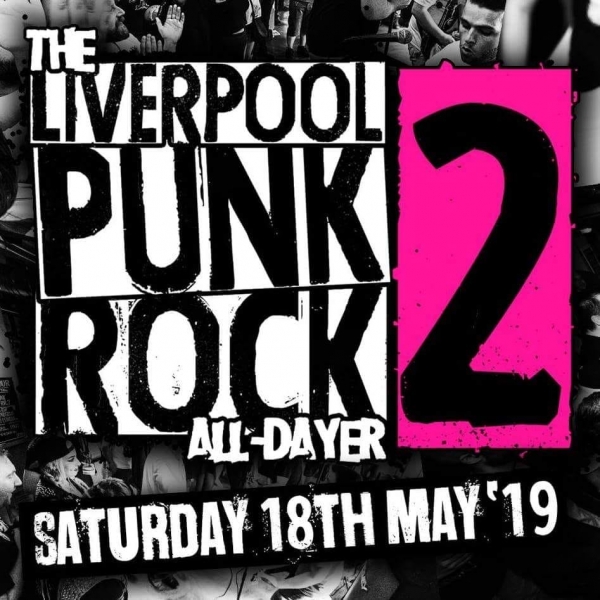 Announcement Part One – Here.
Announcement Part Two – Here.
Saturday the 18th may 2019. Firstly it's a Saturday and I can see it now, a few days before, you're off, you live in the North(ish) or anywhere for that matter and you're sat their after work, tired and thinking – 'Urgh, I'd rather sit on a cactus and sign-up for Threatin's next project that have another Saturday off sat there staring at my washing machine spin for what seems like an eternity'.
Well, the good news is, as unequivocally fun and enthralling as that sounds, you won't need to worry too much because Ear Nutrition, Some Kind Of Events and Liverpool Punk-Rock, alongside Studio 2 and Fireball UK have quite the showcase for you. Part one and two are above, so it's ago-go for part three!
SKO and LPR are very much very much requiring a little dancing this year, which is precisely why the jagged, but oh so rhythmic and danceable ensemble of Broken 3 Ways has made the list. The band have been releasing their lighthearted, humorous way of purveying their take on this dismal society since 2014 and with the latest very much at and entitled At Full Mast sitting (dancing-ish) they way it does, they will sure prove crucial to the forthcoming proceedings. Socio-political Ska-Punk in full-force – HEADLINING.
The excellent thing about this year's incarnation of the all-dayer is that many of the trailblazers of last year have returned. Hummer and their self-affirming, cathartically expressive and intelligent crossover of melodic 90's Punk, gruff-British realism and the over-the-pond stylistics of the likes of The Lawrence Arms and Hot Water Music, provided one of last years biggest crowds and most enjoyable performances. Hummer are in it for life, as they trundle through life playing what can only and proudly be purveyed and described as "Life-Punk". – 'Two engineers and an academic playing catchy, melodic Punk music.'
Last year Three From Above were the band that brought the edge and that crucial difference from their position on the other end of the Punk spectrum. Their gritty, Rock n' Roll-Garage-Punk-Rock with a dash of Grunge came into it's live sonic best later in the evening, contrasting the pre-dominantly 90's Punk music sound of the day. However, for part two, with the bill heavier and more diverse for this coming May, the band's excellently gritty and refreshing take on the old-school will with no ambiguity have any negative standing.
This Party Sucks are new band both on the scene, the bill and this announcement. The band have been steadily playing up and down the country with some names as notable as In Evil Hour as they move ever towards a debut release. The four-piece to date have but two demos of rough-cut predominantly 90's appreciating Pop-Punk music taking influence from the likes of Green Day, Blink 182, Masked Intruder, Less Than Jake, The Story So Far, New Found Glory, NOFX, Sum 41 and the Ramones to name a few.
SKO and LPR never intended this to be a one-time event, don't plan for it to be a two-time event and certainly don't plan to fizzle out on the fateful number of three. They plan to support scene legends, popular mainstays and those still within or indeed freshly past the cutting of their musical teeth. This is why This Party Sucks are on the bill and why both dedicated groups do what they do.
Liverpool Calling next May!