The Domestics/Pizzatramp – Modern Drudgery, United Kingdom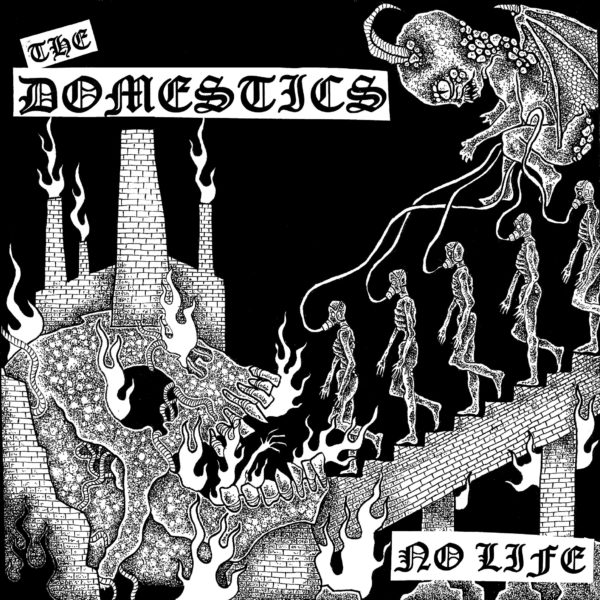 As of today, clarity regarding The Domestics x Pizzatramp – No Life/This Is Your Life 12″ has reached emphatic transparency. In other words, the cat is out of the bag. During its pre-order period, no real hint was given to the format of this UK Hardcore tirade. The only real truth was that it pertained to yet another split involving two household names of underground dirge. Absolutely nothing was said regarding the fact that both bands dominated their respective embossed side of the waxed disc with but one track. Yes, that is correct, two of the fastest bands in the UK, known throughout the land to blast through tracks at a moments notice, were given just over 11 minutes each. Does that concept sound familiar? It should. For both parties were tasked with a side-each 0:57 5″ record in 2018. Again, yes, that is correct, find more – Here.
Of course, I knew, but who really cares what I think. Well, hopefully, one or two. Kibou Records, TNSrecords and Sick World Records from New Zealand also knew for obvious reasons. And so…
A foreboding hum not so unaccustomed to underground UK Hardcore opens unto an eerie groove itself backed by a mess of strings slowly finding their purpose. Had you no prior knowledge, you'd have no idea this was The Domestics until 1:39. Once this reverberating, grooved, false-sense of security lulling ebb has closed, archetypal East Anglian-Hardcore reigns apparently ala the norm. However, the very beginning of clear change begins to itself ebb at a reduced pace to allow vocal refrain dictation. The band markedly slow the tempo as the lacerating hard-edged point is sliced home via unfortunately resonating and contemporary existentialist doom. Despite their fame resultant from explosive tempo, longer instrumentals and sporadic cuts in pace hold their own. James Scott, or rather the indomitable voice box on offer, describes 'No Life' as a 'listen while you follow the lyric sheet' situation. To be honest, although it isn't needed and that 'No Life' is an unambiguously emphatic barbed wire slash across the face, doing so wouldn't hurt.
The Domestics deviate in a frequency, to a point, in the same manner unto which Black Flag experimented back in the day. So it goes without saying that the "get on with it" Hardcore types might feel a little irksome. The band's new-found groove adheres to a Hardcore less common to the band but inline with the recent Kibou Records block. The 6:39-7:16 mark may well prove to be one of those "too weird" moments that will divide the die-hards. Said mark introduces a lyrically intense key-led section where 'No Life' and it's hard to swallow chronicle approaches its most dismal. To be succinct, this is 70% the band you know and 30% a repurposed explorative venture.
The band of course still channel their crisp, tightly knit Hardcore but their intended deviation is still dominant and in many ways superior to the usual. That said, 'No Life' still risks being a little contentious and is a very much a sonic dichotomy. But again, considering the band's brand of Hardcore Punk, an adrenalised display of JUST that would have arguably outgrown itself considerably prior to its eventual end. 'No Life' may divide opinion, but it's an achievement for the band regardless of subjectivity.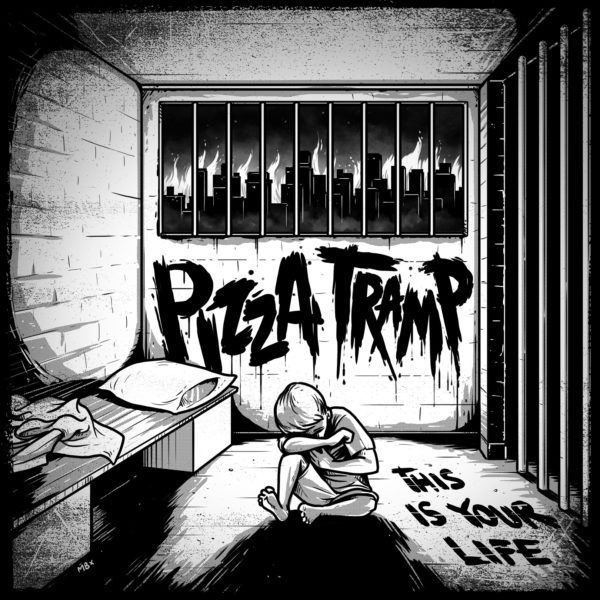 The Domestics and Pizztramp are two different sides of the Hardcore Punk coin although encroach over the coins edges toward each other enough for this split to balance.
The Welsh band's Hardcore has flirted with Skate Punk and Thrash more that once over the years but is ultimately cohesively held together with very low-ridden and heavy floor-pounding Hardcore. Both bands are known for existentialist, political and social tirades, and though Pizzatamp are also known to fuck-about somewhat, that isn't the case here. They are still very much a serious band committed to progression as much as they are truthful discourse. 'This Is Your Life' is an 11:34 blast of in continuity Pizzatramp. The band have deviated less than their split-mates and yet, deserve little (reasonable) criticism for it.
Why? Because Pizzatramp are undeniably tight and doing what they do best. The increased instrumentals and harder breakdowns prove the band are just as adept at drudgingly dragging along their disdain as they are running at full pelt in escapism or at full offensive charge. 'This Is Your Life' is a painfully accosting extrospective observation. The Domestics tackled the day to day and Pizzatramp the general, global axis context. 'This Is Your Life' denotes to the self-destructive, financially driven, societal-wellbeing disregard of the contemporary system. WE are fucked, because of repetition. Fields and fields of seeds are sown and reaped with a hard to understand bewilderment yielding no definitive change. To be blunt, 'This Is Your Life' is arguably some of the best the band have put to words.
Despite the band's business as usual approach, Pizzatramp have delivered. This is the case both within the context of 'This Is Your Life' and in contrast to 'No Life'. The three-piece, much like the band on the other side, tread nowhere near tedium. The band utilise enough tempo and dynamic changes that allow this cohesive blast to flow in a manner that allows you to forget its duration almost entirely due to unsolicited enthrallment.
The Domestics x Pizzatramp – No Life/This Is Your Life 12" is exhausting but necessary. This split is not only a welcome addition to the UK Punk scene but also the bands respectively. To reiterate, its an achievement regardless of opinion and also a gut-wrenchingly thought-provoking polemic on the damned trajectory we call the living now.
The Domestics:
Pizzatramp:
TNSrecords:
Kibou Records:
Sick World Records: