Stay // Asleep – London, England, United Kingdom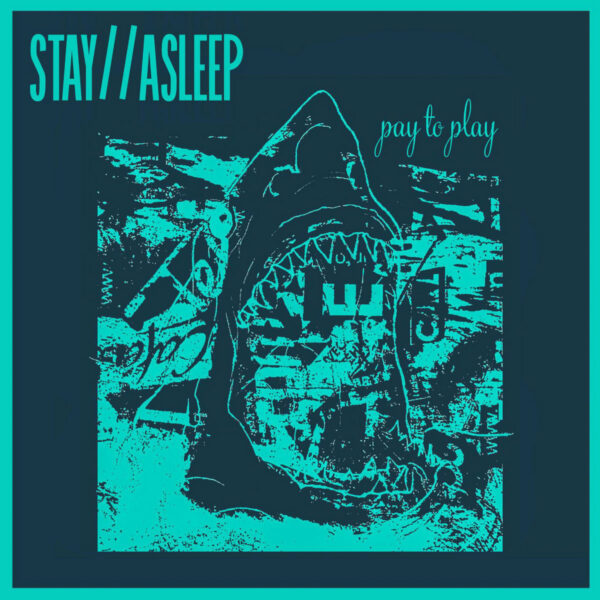 London's Punk scene seems to be perpetually churning out new bands and Stay//Asleep and 'Pay To Play' are one of the very latest post-churn bounties thrust into the Punk spectrum. 2020 saw the band debut their UK Conservative party targetted 'Speak, Lie, Repeat' in its low-ridden Post-Hardcore lacquered rumbling Punk. Stay // Asleep meandered in and out of lyrical rage in a Hot Water Music-esque line and a contrasting, airing melody rounding their deep, jabbing and cutting Punk-Rock. The band's noise, much akin to the Caution-era of the above staple, added a brooding mood to their otherwise melodic and vocally harmonic displays. However, we aren't here for that, 'Speak, Lie, Repeat' can be found – Here but it is time to move on.
Through their own DIY label, Undead Collective, Stay // Asleep are set to populate March, April and May with three singles that will go about introducing a latter EP further into 2021. 'Pay To Play' is the first of these singles. Shall we? To London!
Stay // Asleep focus not on the Tories this time, but on the flawed aspects of the modern music industry. Instantaneously, the band move away from their majority-melodic Punk. The five-piece hurtle further into their Post-Hardcore and Alternative Rock influences soundtracking the aggy-yet-clean Punk-spat vocals. The individualisms of the band's debut are exponentially more defined and complex, as they run parallel at a distance but perfectly in sync. 'Pay To Play' rages, lambasts and yet hopes.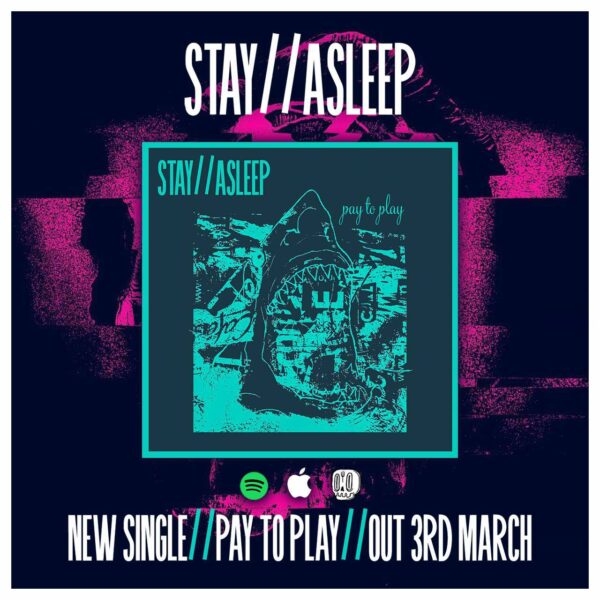 The band attack the faux-support and nefarious-wing of music streaming, PR agencies and the like, separating the clandestine negatives and displaying them all for all to see as they make their final point. This being of course that sometimes, taking it into your own hands and making these systems work for you as much as possible is better than leaving it to others so blindly. Is the ease really worth it? There are always sharks circling a body dripping with prospective wealth.
Musically, again, the band push another aspect to their hybridised Punk. Their aggressive spoken-word leaning and spitting vocals rule the verses whilst harmonic secondary voices temper the impact but not the message. 'Pay To Play' perpetually and persistently wrangles you in on melodic guitars, only retreating to allow a harder-cut to do very much that where required. The track may not be the single straight-running clout of their debut but ala the method of Post-Hardcore-Punk repurposes its cycling energy expediently.
This second single jabs incessantly at its target instead. 'Pay To Play' alternates it's power, it's tempo, and it's intertwining individual complexities into an again layered whole that can fracture and come back together in seamless synchronicity at any given stage. That said, at any point, within this rendezvous, you can focus and hone-in on any of the band's efforts with streamlined precision. In a nutshell, Stay // Asleep have a lot going on in 'Pay To Play'.
Stay // Asleep and 'Pay To Play' releases on the 3rd March and you can find the band as well as all pre-save/pre-order information linked below. Just remember there is still more to come. The band also have a podcast and a clothing label that operated through Undead Collective.
Updates:
Music:
Undead Collective:
On Repeat Podcast: