Spillage – Manchester, England, United Kingdom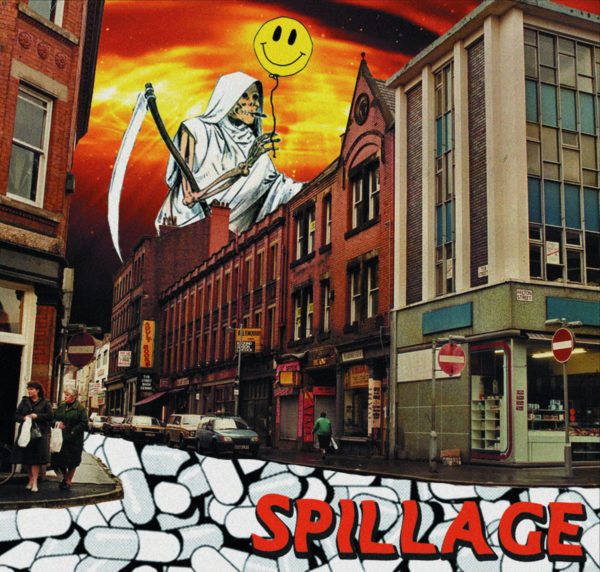 The open and inherent disdain of Punk-Rock as a medium has increased exponentially in 2020. Spillage and their debut Self-Titled enter such a time to be alive (negatively) in a flurry of disdain and entrenched grit in a cross-reference of infused melody via Rad Noise Records. The Manchester four-piece who boast some of the best pseudonyms I've seen this year, mark one of two bands on the Rad Noise Records roster with a penchant for juxtaposing their rough-cut approach with British quirks and '80s Punk deviation.
Freighttrain, Cinnamon Bun, Tutti Frutti, Breadstix create questions by their very names but is not why we are here. I for one would love to know these origins but seconds into 'Morning Song', it becomes irrelevant. For now. The 1:17 of 'Morning Song' catapults itself through cycling early-Hardcore reverb at pace that made Punk dangerous again in the early '80s. 'Morning Song' juxtaposes its own tone in excellent contrast. Despite the Minor Threat-isms in a perpetual cycle and adrenalised by nature, Spillage employ backing vocals and lay-off the archetypical aggression momentarily as their Hardcore shows its awareness of what would follow. The band then slam-hard against this with a second contrast beset with a deeper latter Hardcore tone that cuts through the shit.
'Mort420' maintains the intensity of early Hardcore within its "this time" west-coast US rhythms before a key alternation. The short chorus of track-two echoes Brain Baker's Dag Nasty-axe and an open-hearted penchant for the early variations of proto Melodic Hardcore and Skate Punk respectively. Vocally, Freighttrain throughout this EP and here especially treads the line of Punk's Hardcore past and its melodic future as if he was shouting his way through the mid-to-late '80s. Spillage's Self-Titled finalises in just under seven-minutes and 'Mort420' owns its stature as the longest.
Post 'Mort420', Spillage maintain the formers thick, cutting abrasive nature by default but relents the pace one more level. The balance is then kept with further focus a melodic Punk default. The crucial part of this era was its ability to still intrinsically fit into the legacy of what came before it and yet still, stand markedly different. Spillage achieves this to an excellent degree in 'Culture Of Indifference Pt. 1', where the ridiculous nature of the contemporary ill-informed person is lambasted cleverly. It is as this release begins to edge towards its close, that the band's citation of Leatherface settles seamlessly.
As with the debut from Bruise Control (Here) also via the fledgeling Rad Noise Records, Spillage executes a four-track EP of both subtle and forthright variety. 'Culture Of Indifference Pt. 2′ is perhaps the band's best. Initially, I had expected another blast of Hardcore Punk for the closer but in reality, the band will get to that in time. To be clear, this is the only way this EP can be reasonably criticised and within the narrowest of parameters at that. To be concise, the melodic deviation much like the era that inspired much of Spillage's efforts plays out naturally.
In 'Culture Of Indifference Pt. 2' Spillage balance their aggression held tight via notable performances from Cinnamon Bun's bass and Breadstix ironically robust drumming. Tutti Frutti resoundingly owns the mid-Dag Nasty git onward to the mildly discordant melodies that would go on to shape the '90s. Finally, it is here that Freighttrain's vocals are at the best and most melodic. However, through this markedly more melodic display, it adds further weight to the fact he can effortlessly own either of his outputs.
Done.
Spillage and their debut Self-Titled are another key part of the 2020 Punk-a-sphere. So, now my waffle has been finalised, you can peruse all things Rad Noise Records and Spillage digitally and physically below.