Smash Mouse Records – Newport, Wales, United Kingdom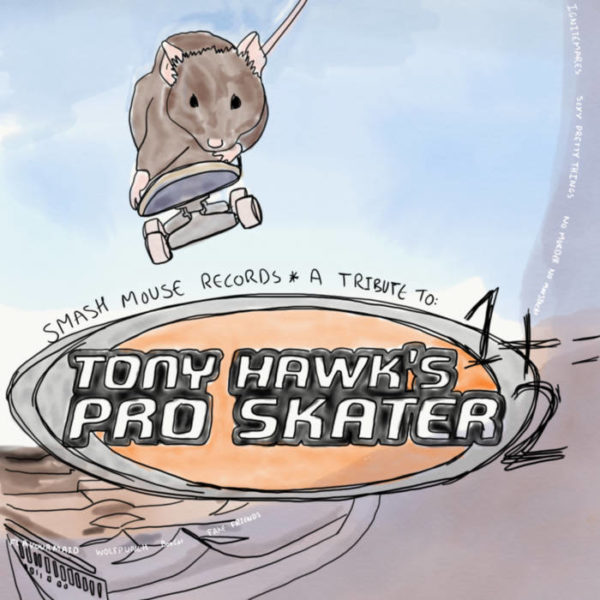 Smash Mouse Records and A Tribute To Tony Hawk's Pro Skater 1 + 2. If I were to describe, recap or educate on what this forthcoming compilation is attempting, the only real result would be an abject fall into banality-ridden inertia. It is fair to assume that a considerable majority of people now aged between 20-45 have either some knowledge of, or at some point in their lives, have been in close proximity to the seminal audio-visual skating experience extravaganza that is, was, and always will be, Tony Hawk's Pro-Skater 1 and 2. You there, mired amongst the clouds of incredulity! Get at it! The secret tape won't find itself!
To be succinct, the franchise is a household name and this is something the Newport record label Smash Mouse Records know all too well.
We have ascertained the "what" but what of the "why"? Well, that's holier that's a 'Christ-Air'. The soundtracks of these games especially (although THPS3 was a-time) were seminal influences upon those who then fell wholly for Punk and Alternative music. In fact, you'd be hard-pressed to find many within the Punk-a-sphere that didn't in some way, find their musical direction as a result of these games. This is exactly the "why". Smash Mouse Records and their roster are amongst these very people and have forthwith made a compilation. EN had it early and this is how it went.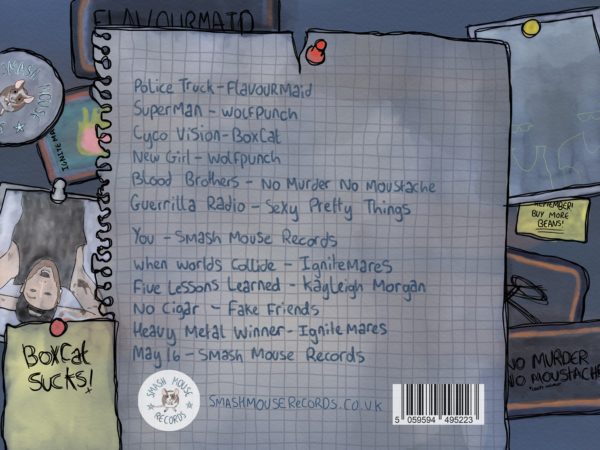 'Police Truck' a song that's of eerie topical relevancy, is captured in a charming, low-ridden, gloom-trodden rendition via Flavourmaid in a manner hard to criticise. The blatant disdain of the Dead Kennedys is captured in a pure-to-form tribute with the layered vocals standing in particular prominence. WolfPunch then alter-proceedings. As is the norm, covers either need to be "done well" or break the mould entirely. In the case of 'Superman' via Goldfinger, WolfPunch, notably approach the track in manner of The Suicide Machines rather the OG purveyors crossed with an arguable penchant for Black Flag. 'Superman' takes a new flight in a potential opinion dividing fuck you. BoxCat crash through 'Cyco Vision' by Suicidal Tendencies and not only match the ferocity of the track overall but specifically within its vocal approach, trump it with ease.
'WolfPunch' return, this time sounding like The Suicide Machines in a cover of 'New Girl'. Fancy that. 'Blood Brothers' couldn't be further from its Papa Roach origins via the melodic, sombre, yet anthemic rendition by No Murder No Moustache that although surprising, gives more credit to this projects tribute. Now, Rage Against The Machine. A band that needs no introduction. A legendary act indeed. These are unambiguously indisputable truths that are well, as thus. Sexy Pretty Things take up the precarious mantle of covering not only the band but the indomitable 'Guerilla Radio'. Now, you'll have to take my word for it, and that isn't worth much, but post-COVID, I owe them all pat on their respective backs.
Ah, yes, 'You' by Bad Religion. The band currently occupy the most air-time on THPS soundtracks as a whole and 'You' is a certifiable fan favourite. No Control was markedly rougher around the edges than Suffer and that is very much the mantra of which Smash Mouse Records have captured in a united cover of 'You'. Check it below.
Personally, I am still rather new to Ignitemares, so hearing their cover of the writhing mass of Post-Industrial Dance-Metal that is 'When Worlds Collide' by Powerman 5000 was an ear-opener. Kayleigh Morgan then takes the fast '90s Skate Punk of Swingin' Utters further away from her work in Ignitemares. Track nine changes pace yet again, doing so in the same lovable manner of the venerated soundtracks themselves. I may appear to be clutching at the straws of complimentary statements, but I can assure you I'm wholeheartedly not. The franchises soundtracks were a bonafide stepping stone, not a straight-running manual. Pun. Sort of.
Fake Friends provide the strangest entry on Smash Mouse Records and A Tribute to Tony Hawk's Pro Skater 1 + 2. 'No Cigar' although sitting at a time where Millencolin were progressively leaving Skate Punk behind, is considered a classic. The track is tirelessly and obsequiously covered at live-shows and often-so to the note. Fake Friends had other ideas, however. In fact, so much so, that I'm not even going to pass comment on its stylistic. Rather, I will say but one thing. Fair play, Fake Friends, fair play. This Smash Mouse Records tribute to these generation-defining soundtracks was ambitious unto its very nature prior to execution. Post-execution? Well, you'll just have to trust my goofy-stance perspective.
And so, Track eleven. Ignitemares return with what is vastly considered a British Skate and melodic Punk classic. 'Heavy Metal Winner' via Consumed is a track that I was personally more than happy to see included so lovingly on this compilation. Ignitemares, to be concise and topically unfunny, couldn't spell H O R S E even if they tried.
Have you ever wondered what would happen if the rise of the machines took place on Lagwagon Day? Have you ever pictured humanity promptly terrorised by homicidal Skate Punk androids resigned to shred society to death? I honestly hadn't. For reasons that I'm sure are enveloped in a layer of viscous humour, the label was sick to the "backdoor" of this lack of (clearly) reasonable questioning. So, they united again for a closing cover of 'May 16th'. A rendition that marks the unholy but infectious union of 8-bit and Skate Punk that absolutely no one asked for. However, the current survey has as of yet not reached either Sarah or John Connor. Minor digression aside, the unexpected nature of this cover left me smiling more than I thought possible.
And so 'May 16th' closes a project that could have gone two ways. The DIY label and their roster set out to pay tribute to a key part of their own musical journies and quite frankly, annihilated the task and likely Chad Muska's boombox along with it.
Smash Mouse Records: A Tribute to Tony Hawk's Pro Skater 1 + 2 can be pre-ordered – Here and Here.