Seized Up – Santa Cruz, California, USA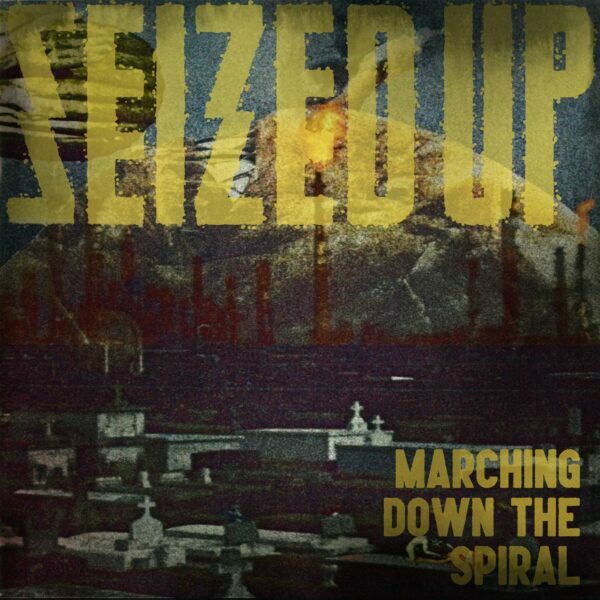 Seized Up and Marching Down The Spiral enter into a time where the "side-project" is now so much more. The DIY and underground Punk scene may well be rife with new talent, with some refining and refreshing the known and others breaking new ground but there's also one more component to it all. Those that inspired these contemporary noisemakers and who are now occupying the previous sentence. Well, somewhat anyway. What am I talking about? Supergroups of course! Though I find the term tiresome, it is the easiest way to articulate what I'm driving at. Seized Up are one of these bands and for their latest, have teamed up with Cursed Blessings Records of Ontario via Santa Cruz.
In an age now where many seminal records and bands are approaching anywhere from twenty-to-forty years in the game, bonds have been made and new bands and projects formed. In this case, current and ex-members of The Distillers, BL'AST, All You Can Eat & Good Riddance have been busy. The band's debut Brace Yourself quite naturally blasted a period in Hardcore where the chaos of Black Flag and Circle Jerks frantically drove noise into the ground running and simply kept going. Brace Yourself imbued such with the streamlined trends Cali-Punk and Hardcore are so synonymous with and finished it with a clarity in production that allowed you to feel every punch. Now, in 2021 they are back with a three-track 7″.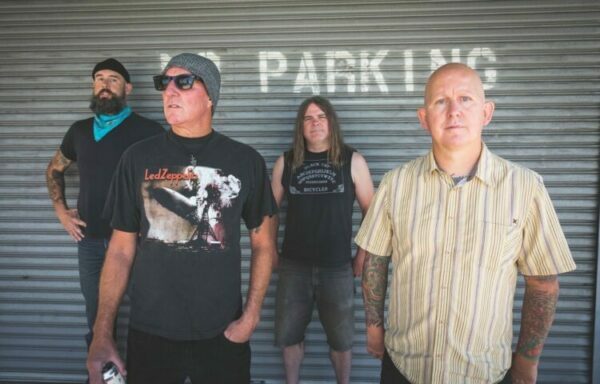 'Forum of Decay' is vitriolic before it even passes the three-second mark. The band's Hardcore rage exists within and feeds on a confusing, unsettling Noise and Post-Hardcore-esque maelstrom of whirling guitar strings echoing the lyrical frustration. Seized Up examine the phone-screen social media age that has become all the more obvious since the pandemic period began. It's no replica of "real life" and yet were are enthralled by it inescapably. The band's whirling lead feels as if it is, on the one hand, tendrils of this power over a decaying society and on the other hand, the violent reaction to it. Chuck Platt and Andy Granelli provide the foundational, robust yet complex unpredictability at which Danny B and Clifford crash against. 'Forum Of Decay' is the decay it sings of as it goes necrotic in a terrifyingly harrowing display of violent Hardcore.
'Deadzone Denied' allows no rest. A cycling intro hits two rotations before falling into a rhythmic chug and then a constant, quick-fire tempo deviation. The band's debut combined the violent combustive nature of early Hardcore and its own chaotic stop-starts, but here combined with an arguable Post-Hardcore kick, it's fully realised. That said, overall, track two is a return to the form of the debut and a wrangler for those who dug into how low the band's rhythms dig into the dark. The band's melodic (within context) leads are more subtle on track two but their contrast is just as maniacally present and threatens to rip through at a moments notice.
Seized Up as a band have no love for the world they inhabit and nothing of the sort for anything dogmatic. The eponymous 'Marching Down The Spiral' hurtles through a determined tempo of west-coast spun classic DC-core of defiantly shameless repetition before slipping seamlessly into the rhythmic metallic groove that came from the east later on. For those who adhere to various schools of Hardcore more specifically, Seized Up are the "across the board" box-ticker that can't be denied.
But what of the criticisms? Well, initially, the difference in production and clarity is stark in contrast but as track one progresses, it makes resoundingly more sense. It is true that the band's debut had a fuller, more crisp and rounded sound. However, intentionally or not, the Marching Down The Spiral sound is rougher, considerably more abrasive and serrated, owning itself within seconds of track one. Its only real crime objectively is its three-track stature and even within that, the EP unleashes a welcome variety. I'd be lying if I wasn't yearning for more the spun-out "progressive" jolts of track one but despite that, Seized Up are Marching Down The Spiral in quite the five minutes and forty-one seconds.
Seized Up and Marching Down The Spiral can be found digitally and on vinyl via Cursed Blessings Records.
Updates:
Music
Cursed Blessings Records: