Resuscitators – London, England, United Kingdom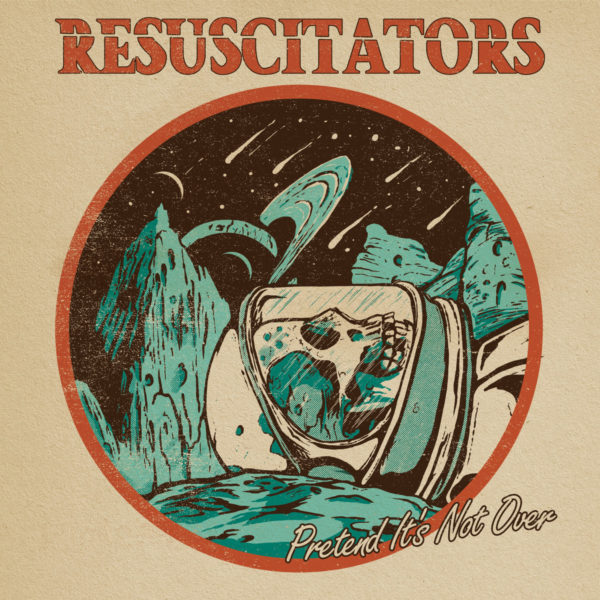 After a two-year wait, the word "Resuscitators" was placed in front of another set of words denoting to an EP release. Resuscitators – Pretend It's Not Over has landed in 2020. Notably, it's also the band's debut EP following their double-single release from distant 2018. Said initial debut tracks saw contemporary and introspective emotional Punk paired the lineage of the fast melodic '90s jetting off equally in each direction.
It's now 2020 however and with a joint charity release via CPRW Records and Back From The Dead Records that sees Pretend It's Not Over and it's bandcamp proceeds donated to UK homeless charity Crisis, the band have returned. And so, to London.
'The Ron Swansong' is more Hot Water Music than it is Pulley or Cigar. That said, the anthemic tone of the intro strings still elude to '90s Punk influence before British-Gruff-Punk goes full-honesty via that warm water sound comparison above. In regard to the contemporary UK bands that this emotive opener would appeal to fans of; the Burnt Tapes and Uniforms are absolutely up there. You can find all three as well as Resuscitators-brand warming H2O sonics in an EN house playlist – Here.
Don't fret now, fast-Punk cultists! 'Every Party Needs A Healer' is excellent advice that us gamers will know as much as house party frequenters. We're nothing without our or the party after all. I digress, the second track may shred-its way into prominence via stellar jagged riff-work but past its pace, settles into a hybridised Gruff-Skate Punk again sat somewhere between HWM and their Post-Hardcore-tinge and the need to just exude playful and choppy fast-Punk. – 'Place your weight on me, let your expectations crush me'.
'At The Bottom Mix' echoes the band's earlier work in the 'The River'. Emotive and contrastingly aggressive, low-ridden, jagged Punk-Rock bursts through confines that couldn't keep them anyway. 'At The Bottom Mix' is loud, and I don't mean that's because I have it blasting, but rather loud in the sense that dodgy shirt is, shameless in its need to be heard. After the brooding intro teeters over the cusp of perhaps pursuing all-out rage, the verses are based and anchored around drumming that the rest of the track entirely depends on outside of musical logistics. The skins tolerate the anchoring archetypal bass rumble as layer after layer of grit battles Resuscitators apparent need for melody.
'Sleepless Nights' glides by unlike its irritatingly apt namesake. The tracks lighter aesthetic and threading lead guitar marks it as instantly memorable from the latter part of its two-stage into. Resuscitators have released an EP of heart-on-sleeve crafted "Life-Punk" on Pretend It's Not Over and the two-year gap makes more sense per-track. 'Disappointment Reigns' is the booze-soaked mental health spiral that I predict will become the live show sing-a-long favourite and will likely resonate with many.
Resuscitators close with 'Drowning By Days' via a little existential crisis following on from the intentional isolationism of the previous. 'Drowning By Days' is the slowest offering on EP and yet, would be ruined if it was anything else. As much as the band's faster-side is considerably underrepresented on Pretend It's Not Over, it overall doesn't negate what constitutes the EPs intrinsic nature. Ageing is shit, and Resuscitators are more than aware.
Find it via the band and both labels below.
Updates:
Music:
CPRW Records:
Back From The Dead Records: