The Unicorn – Camden, London, United Kingdom.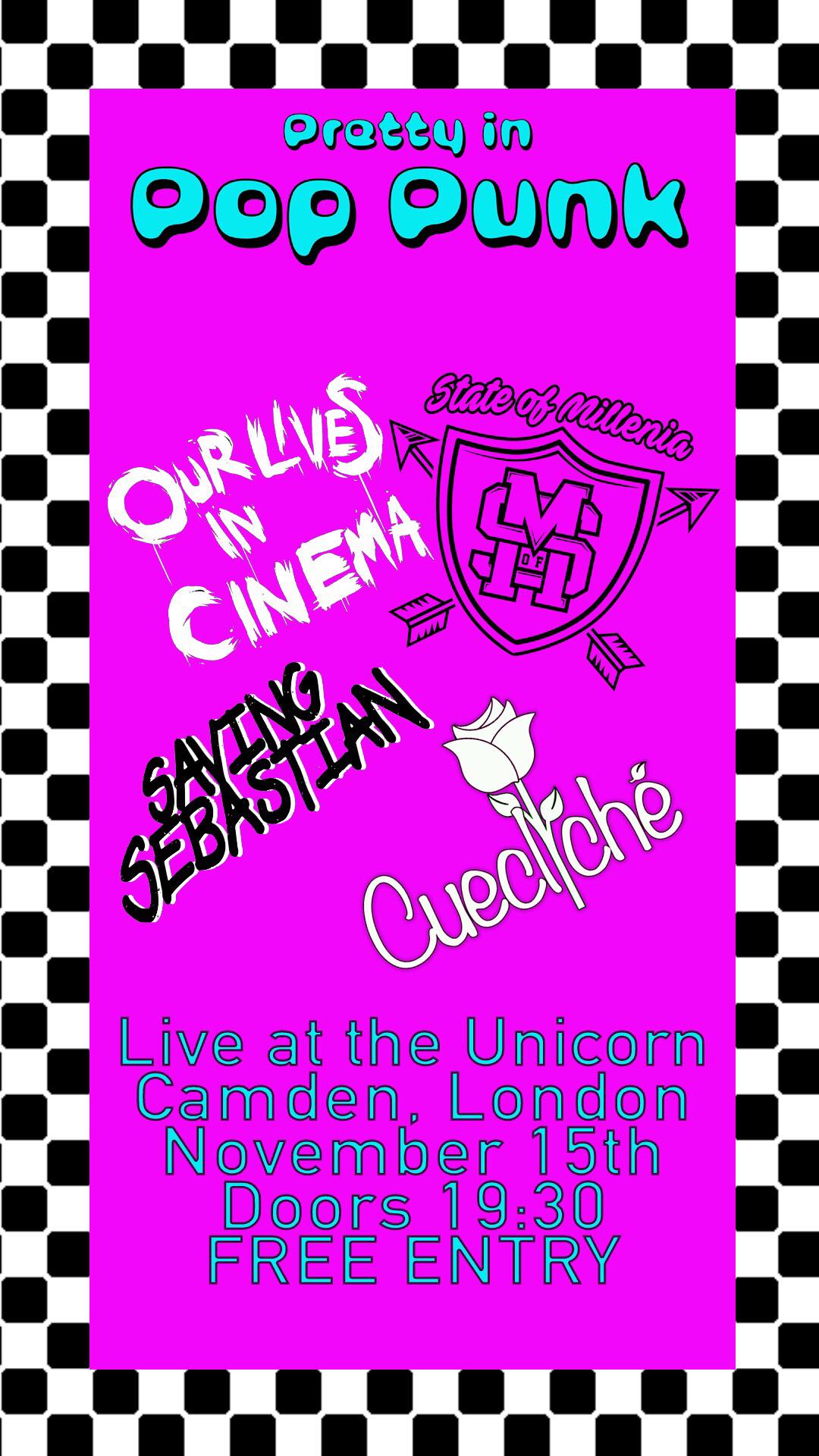 Cover photo – Saving Sebastian.
A London Pop-Punk band by the name of Cuecliché are preparing to release their follow-up EP this coming January, which read more about – Here. The band releasing their second EP is excellent news don't get me wrong! They may even show off a few of the tracks at this forthcoming event in Camden, one they are putting on in the meantime to celebrate some of the Pop-Punk scenes underground and local gems.
And that is the real reason why where are here, for a line-up decidedly Pop-Punk, strongly representing different eras and echelons of the scene's ever-changing stylistics. Oh and it's free, just so you know.
Local Skate-infused, Emo and Post-Hardcore appreciating and classic Pop-Punk adoring five-piece Our Lives In Cinema will be joining proceedings after a year of steady shows and a stellar second EP release via Umlaut Records (make a note), in the form of the three-track All Talk. The band are adept at crooning bittersweet Pop-Punk as much as they are fast Skate Punk and are known to put on quite the show!
On the other end of the heavier end. Good English there. State Of Millenia yearn for and shamelessly emulate to their own ends, the riff-driven Easycore popularised by Four Year Strong in a flurry of strings and beards back in the day. State Of Millenia's brand of heavy rumbling riffs edged in the Pop-sensibilities and fitting amounts of tribute to the genres roots caught the eye of the hosts for good reason. State Of Millenia are excited to be on this bill to say the least, think of it as a Pop-Punk scene band-Tinder date with absolutely no ambiguity to the question of whether they are spending the night or not.
Saving Sebastian are a band perhaps as close to family as they can be to Cuecliché, they have shared multiple stages together and with their classic, driven and gritty Pop-Punk sound of buzzsaw guitars and snotty Punk disaffection, will be completely complementary to this forthcoming night to remember. The band's debut EP Cookie is as pure and as classic to the Pop-Punk history books as you could possibly get with it's Skate Punk roots showing clear but with the love of heart-to-sleeve melody first and foremost! I sincerely hope they have something in the pipe-line.
And what of Cuecliché now we have come full circle. The band's debut EP One Last Chance is well grounded and established in such a way that is now becoming irritating, for having heard the forthcoming Look At Pictures, the band's previous work although good, has nothing on what's to come next!
With the Punk scene in London doing insanely well, Cuecliché want to strengthen the scene's poppier playful cousin and with shows like this, that is well more than certifiably doable!
Find the event below and all of the stellar line-up on all good music platforms!