This Is Hell – Long Island, New York, USA
Ripcord Records – Scotland, United Kingdom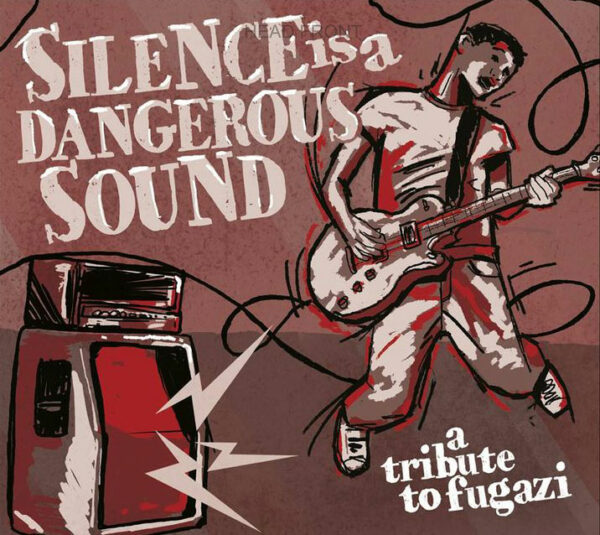 Today, I am pleased to be a part of the premiere of This Is Hell and 'Sieve-Fisted Find' (Fugazi) via Ripcord Records. Ripcord Records are yet another tenacious record label and distro based in Scotland fighting the DIY fight. Ripcord compile, release and inform on the warped, progressive and often unyieldingly heavy and beautiful artistry that progressive guitar music offers among other noise. It makes resounding sense then that they would, to benefit a good cause I might add, release a tribute to one of the most important bands in Punk and DIY culture and sonic output.
That band is the unequivocally seminal Fugazi. From Punk to Hardcore and then to onward the emergence of both Post-Hardcore and Alternative Rock and beyond the use of the word beyond, the DC band's influence is one of unambiguous ubiquity.
Silence Is A Dangerous Sound releases on the 1st of October via Ripcord Records with all proceeds being donated to a cause close to them in that of Tribe Animal Sanctuary Scotland. All pertaining links will be left at the end. But what of This Is Hell? To Long Island.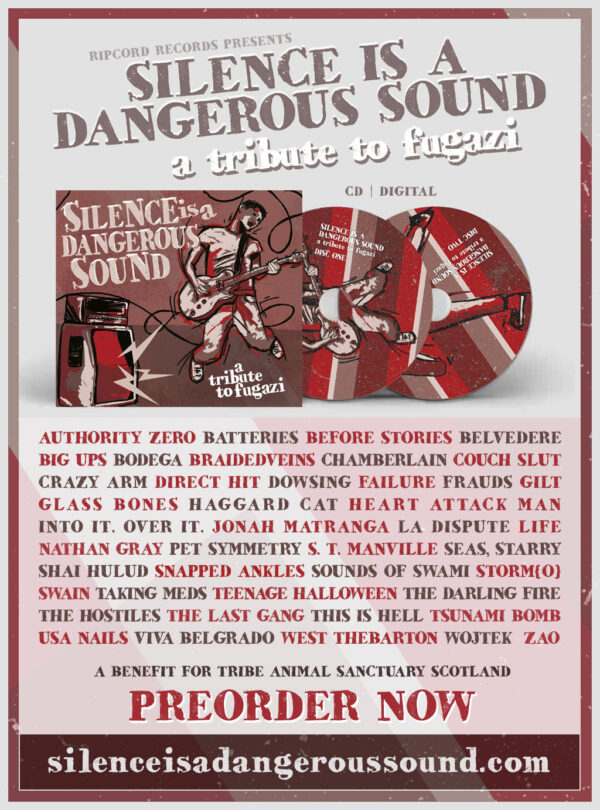 Well! The Long Island Metal-spun Hardcore Punks have been cascading through the Hardcore spectrum and releasing their journal since 2004. The band are easily described as unrelenting pertaining to their brand of Hardcore. From meandering melodic leads juxtaposing the aggravated early 2000's Hardcore sound, to tributes to the stripped-back '80s and of course, crossover and then full, unadulterated, unfettered Thrash, the band have quite the discography. On a personal note, the band were a huge milestone through my own journey through Hardcore discovery so if they are new or perhaps only partially known to you, I implore you to start from the beginning.
But, enough of that. This Is Hell guitarist Rick Jimenez has some words on their cover of the Repeater classic and spasmodic Post-Hardcore Punk powerhouse that is 'Sieve-Fisted Find'.
'Repeater wasn't the first Fugazi record I got but it was the one that made me turn the corner on the band and appreciate them as more than just "Ian from Minor Threats other band". Choosing a song for This Is Hell to cover was seemingly difficult because musically we are so different, but imagining what we could translate to our style without completely bastardizing it turned out to be a shit load of fun. With 'Sieve-Fisted Find', it fit the energy, had the dual vocals and had a lot that we were able to mould into our sound without losing the essence of the original track.'
I suppose you'd like to hear it now, then?
'Here comes another problem, all wrapped up in solution'
Though as Rick himself notes the difference between the bands, This Is Hell's nuances land naturally. That said, the NYC bands warped love of Thrash and own unbridled energy do leave their own imprint as they run parallel to the original. It is fitting then, that a band that took and repurposed the catharsis of Hardcore Punk, are covered by a Hardcore band from later in the timeline. This Is Hell supplements 'Sieve-Fisted Find' with their own urgency and much like Fugazi, spasmodically rock on the precipice of combustion with a maniacal smile ahead of the final blast of buoyant Punk.
Silence Is A Dangerous Sound releases on double CD and digital download on the 1st October. The album contains FORTY-THREE tributes to the DC band including Punk, Skate Punk, Hardcore, Emo and Post-Hardcore bands from across the contemporary scene. So, it goes without too much more utterance how monumental it is going to be come the 1st of October. Pre-order it – Here and play it to your animals upon release. Beasts like Punk too.
That was the premiere of This Is Hell and 'Sieve-Fisted Find' (Fugazi) via Ripcord Records. Check out all of those involved below and keep an eye out for more premieres ahead of release. They may be here and will certainly be elsewhere. Nice.
Ripcord Records:
This Is Hell:
Tribe Animal Sanctuary Scotland: