On A Hiding To Nothing – Portsmouth, England, United (lol) Kingdom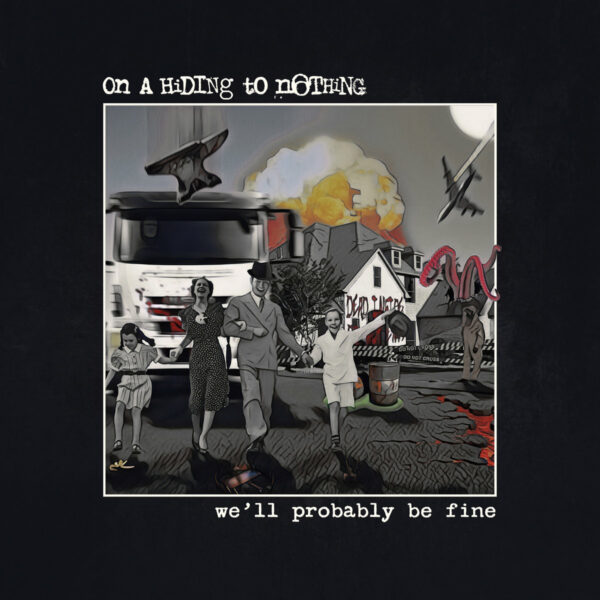 On A Hiding To Nothing and We'll Probably Be Fine abruptly entered into 2021 and I don't think their entrance can really be described as any different. Well, unless you add any comment pertaining to their BPM, but that's as far as I'll allow. Although my accent has been forcefully contorted between posh on the one hand and gruff-west-country twangs on the other, I grew up on the Isle Of Wight. So it goes with saying that whenever I hear of fast-Punk noise happening on the south-coast, my increasingly volumising eyebrows (ah yes, the approach to 30) raise promptly. Shall we?
The band even more so abruptly reemerged into 2020 after some time away with a single concerning a paradoxically obsequious man named 'Dave'. So, truthfully we knew what would be On A Hiding To Nothing and We'll Probably Be Fine was coming but it was still a surprise nonetheless. Shall we? No, really this time.
UK-centric Epi-Fat-style '90s Skate Punk is something the UK Punk scene unquestionably needs more of to compliment the tech-Punk proficiency it's currently known for. Consumed, Phinius Gage, 4Ft Fingers and the like are excellent callbacks to this but what about now? Well, 'Sack It Off' is the mainline, foremost answer. Track one of OAHTN's return is quickfire, wound tighter than a Tory's purse facing the prospect of doing anything useful and a masterful display of gritty-Skate Punk facing quite the ordeal – 'Inertia interferes, inclination disappears. doubt anyone there will notice or care. Fuck it, let's just stay here.'
'Dave' then follows on with his exceptional incredulity riding upon an angular, stripped-back almost OG Melodic Hardcore punch. OAHTN despite then falling into their melodic and harmonic go-tos are as deceptively heavy as they are quotable. The time away from it all as benefited the band to the highest degree. 'Try Not To Worry' encapsulates the contemporary UK, its place in the world and all the evidence of the inertia-drenched attitude plastered over the top. "Try not to worry", "life isn't that bad", "try to ignore it". Track three is a madness sponsored, sardonic sad smile. We'll Probably Be Fine is upbeat, bolstered by a rhythm section that doesn't quit and is utterly fed-up beyond the sentiments known reach. 'No Filter' is another excellent display from the band's drummer as they hurtle away from social-media comment sections.
'No Filter' also pushes towards the meandering, lead-heavy sound many Skate Punk-devotees subsist on in teasing, precision-placed cuts into 'Sunday'. 'Surely a bit of blue sky makes that go away?' How many times have we all heard that? Does such a sentiment, heaped in the wake of the British stiff-upper-lip, enrage you so? Well, track six, 'Enough Rope', in its thick Hardcore riffs onward to soaring, harmonic Bad Religion-on-steroids approach and repeat provides the cathartic blast while it lambasts the misinformed echo-chambers of anti-intellectualism. 'Don't Make Eye Contact' takes the Bad Religion blueprint, samples an almost (dare-I-say) Pennywise-esque abrasion as OAHTN cleverly show and juxtapose their heavier-to-melodic sound. Seven is the highpoint on a release of seemingly inexhaustible punches. It's amazing what a society spiralling into the abyss can solicit.
On A Hiding To Nothing and We'll Probably Be Fine may not be twisting the sound-barrier akin to many in the UK fast-Punk scene but they operate to same gapless-refinement. 'Stella' takes a break from the seemingly inexhaustible tempo over rumbling, reverberating and cycling '90s Punk. Even at their most intentionally upbeat and harmonic displays, OAHTN endlessly tease and juxtapose their brooding heavy-set alter ego. At thirty-eight minutes, the band's latest sits precariously toward the longer wing of albums in this vein. It is obvious, however, that when you think back to 'Stella', that the band anticipated this. In short, 'Stella' is key to staving off the omnipresent risk of complacency. That and it has a standout solo.
'Slack' takes the rumbling, low-ridding bouncing exuberant bass rumble of its predecessor and charges it with a topically ironic urgency. 'Slack' is lyrically stand-out but otherwise crashes through the consistent benchmark of the band's same old. There's nothing "wrong" but it is what it is. That is of course until after the ripping solo, where OAHTN alternate. The band flawlessly employ a tempo deviation in a bonafide move substantiating the fact that fast bands don't have to play fast ALL the time. Starting at 2:51 until the end of the track, OAHTN push one of the records best moments. Change my mind.
You may be tired, but We'll Probably Be Fine isn't. It is important to note that the production on the release captures the Britsh-Epi-Fat-sound with ease. On A Hiding To Nothing are as raw as they are refined. After repeated listens on a multitude of speakers, in a multitude of environments, their latest sounds as indomitable and as intrinsically huge as it should. 'Time Thief' is another that calls back to bands like Consumed whilst employing key deviations in pace as the band's bubbling Melodic Hardcore surfaces to let off some steam for but a few, key moments. "I'm here, notice me!"
'R.T.S' is definitively the best on the record. The band capture, contort and conquer the crooning, evocative catharsis of contemporary Skate Punk through their anthemic, fist-pump inducing leads. OAHTN still push their staple, sardonically upbeat approach in good continuity. However, it is this overhauled, emotionally-drenched guitar-work and stark individual layering combined with the enthralling lyrical poignancy that really makes 'R.T.S'.
Post-'Don't Make Eye Contact' We'll Probably Be Fine is at its strongest. The gleaming melodies of 'R.T.S' gave-way naturally to the near-classic Pop-Punk-isms that existed in its fantastic guitars and bass contrast and in 'Last Train' it is put to even better use. 'Last Train' is as rife with writhing energy as track one was thirty-four minutes before. The Portsmouth Punks are at their fastest, keenly-serrated and yet their most gleaming and anthemic selves. 'Last Train' captures everything strong about this album as it makes its last journey and it's utterly fantastic across the carriage. From its harmonic everything to its grounded, resolute bass and relentless drumming, I cannot find fault.
I am well aware that is only Spring. Believe me. However, We'll Probably Be Fine is a masterpiece that gets better each time. Album of the year contender? I think so.
On A Hiding To Nothing and We'll Probably Be Fine. Find all you need below.