Melodic Disaster – Sunderland, England, United Kingdom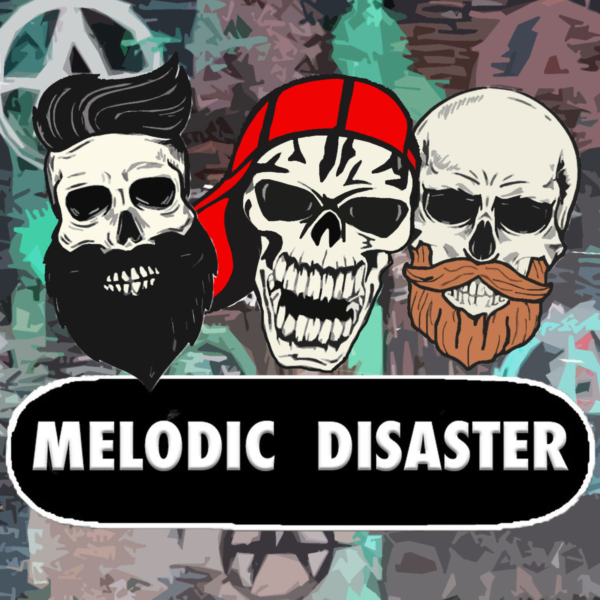 Melodic Disaster – Melodic Disaster. Four words that elude to exactly what you would expect them to from the very moment you saw them and connected the dots. '90s Punk, it's a '90s Punk release.
A three-piece from Sunderland, the band released their debut EP in October of 2019 via love and appreciation for the seminal and everlasting legacy of '90s Punk music, from the snotty Pop-Punk of the early Descendents and NOFX to the regular riff-heavy work of Pennywise.
The band's vintage, early-to-mid '90s grit is obviously instantaneous, especially within the bass-tone opening 'Suic-idol'. The opener ponders whether the Punk-Rock game will take any more lives through living fast and dying young. 'Suic-idol' is far from the fastest but its blatant heart-on-sleeve, back-to-basics '90s variant of classic Punk is solid enough provided that's what you're into. I feel I must commend the infectious chorus though, as although the track is of middling impact, the point and its hammering-home are infectious.
'R.I.P' echoes those earlier Descendents records with their gritty, playful, pop-tones repetitively cementing themselves into your music tastes. Find it in one of our house playlists – Here. 'R.I.P' is the snotty anti-mainstream Punk song looking back at the band's younger years where they looked to the underground for their audio-awakening. Again, the band continues on the road to perfecting their simplicity and natural approach to what they love.
'If Only Johnny Could See Us Now…' is a track lambasting the theatrics of the scene and a lament to Johnny Cash the man in black. And that's all I have to say about that really, the three-piece are firmly set in their raw ways.
Ageing is a thing, sadly, and 'Never Gonna Change' concerns very much that. Kids, jobs, backache, living for the weekend, more backache – you know the drill. MD are singing about why they do it. The band lives and loves their craft you can't fault that.
Plus, outside of this obvious conviction, 'Never Give Up' is a stronger track, FINALLY plied with more tempo to assist the scrappy Punk on offer. The band captures what made some of those early '90s Punk bands so applicable, their cathartic rough and ready "anyone can play" attitude that allowed Punk music to exponentially grow once more after the lull of Hardcore.
The band closes with the best track on this debut, one precariously titled 'Fuck The Scene'. Much like the rest of the EP, the lyrical content is still very much all about the scene. The Pulley-esque track is of an archetype that populated more than one '90s Punk and Pop-Punk release concerning scene elitism. Much of the newer wave of fast yet fuzzed-pop and melodically infused Punk-Rock was and is still is, albeit less so, lambasted for being far from Punk and a sellout against the strict cult-like adherence to the dinosaur Punk of yesteryear! Its all music, you like what you like! And the band are clearly speaking from experience.
I'll admit, initially, I was disappointed that I wasn't being strung-along at breakneck pace after reading such a chosen moniker but then I took a step back, in time, where MD had me by the arm showing me a time that, sadly, being in my first few years of existence at the time, passed me by. True, they could be faster, they could be harder, but they aren't. However, they are graduates of a simpler time, a time that would eventually lead to all the fast techy Punk so popular now.