Lollygagger – Chicago, Illinois, USA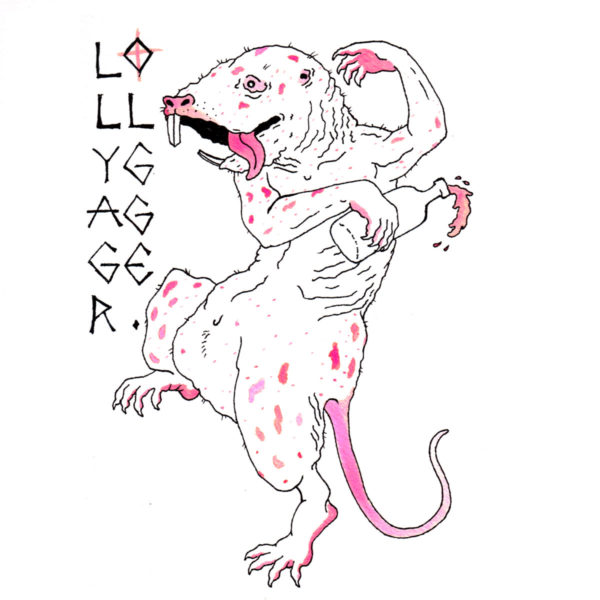 Lollygagger and their self-titled, where to start? Well, the band are from the great musical city of Chicago for one. A city steeped and Punk-Rock history and eclecticism towards musical output in general. Remember that, that's important.
The band's second and longest release surfaced in October 2019. From its opening feedback and a bass rumble to its flirtatious Rock n' Roll crooning and snarl, you just know this isn't your usual Punk record. 'White Line Fever' is taken for a ride through the band's onset Rock n' Roll twang set over Garage Punk that clearly has a thing for classic Hardcore.
Although only showing such an affiliation sparingly, Lollygagger's swagger makes all the more sense once it's considered, especially when you hear 'Mighty Methuselah's Salami'. Fans of the Garage-'core of The Bronx will appreciate the cutting Punk on offer. This second track samples the aggression of its predecessor and bar an obvious penchant for groove, it disregards all else.
'Mighty Methuselah's Salami' actually marks one of the better on the release with its faster, noticeably melodic sound. However, instead of ploughing through more of it, the band opt for the bluesy 'John Q. Publick'. Lollygagger approaches the serious with the ferocity you'd expect yet filter it through the sardonic filter of their frontal lobes.
'What A Croc' tackles a maxim I wish was used more – 'Well you don't know love if you never made a mixtape […]'. The track is your short, fast, Punk n'Roll party tune. That may seem cliche but in all good literary conscience, I can't overstate how fun the track is. Lollygagger are sardonic in their Punk and playful in their Rock n' Roll but with a clear penchant '80s British Metal. See 'A.C Ripple' and listen for it, as it's not initially that obvious but when it is, it's intrinsic.
'Microcosm' makes some interesting societal-observations over the rumbling Metal and Punk-quirks so suited to Lollygagger. 'Captain Chuckles Vs The Multiverse' revives the self-titles drive. The bass-guitar and its prominence over-all but the frantic and hyperactive vocals carry you through this penultimate track. The melodic guitar fights to be heard yet still acts as the missing link between the two. Lollygagger adds the danger back into classic Rock n' Roll on their self-titled. Their Punk streak observation marks their intelligence yet sees them still plagued by our good friend nihilism.
Lollygagger are overtly attention grabbling at first but once they have you, simply wish to show what else they can do and that means breaking the flow where necessary. Although to be honest, you have no choice in the matter, as you can't really leave. 'Stone' knows that you're ensnared and it knows that its time is almost up, which likely why its one of the best on the release and sees the band at their heaviest, most "Punk" and most "Metal" simultaneously.
Below you can find the release played in full below, albeit in a slightly altered track order.
Lollygagger and their Self-Titled, a collection of words denoting to some noise that you should indulge in. The band's abstract approach is circling the Punk box but aware enough of other boxes which is their real appeal. Lyrically, Lollygagger are cathartic and playful, expertly placing their points within such swagger and pseudo-piss-taking, ultimately allowing them to hit all the harder.
Lollygagger making Rock Roll Again! or Lollygagger making Punk fun again! or I can just shut up now.
I think the latter, find all you need below.