Stegasaurus Sex Party – Coventry, England, United Kingdom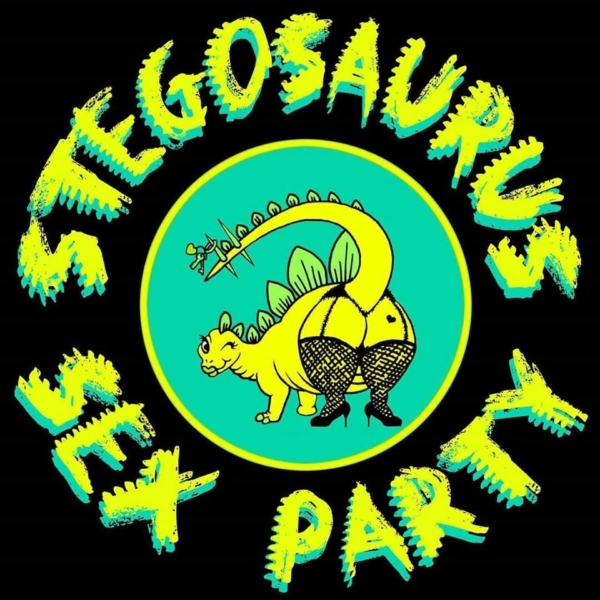 Introducing Stegosaurus Sex Party is quite the task. That's it, feature over! We can all go home! If only it was that easy! The band hail from Coventry and by their own admission play a mix of "trash punk", "party grunge" and "PARTYSEXMUSIC FOR ADULT DINOSAURS".
Yep, you guessed it, you're about to find out what that means.
The band's July 2019 debut EP of the same not-remotely-serious moniker opens with 'Cunt Licker'. The track tells the story of a man whose life sounds interesting, to say the least on the matter. Musically, the band's party-whatever sound is in truth some sort of Grunge-filtered rumbling Post-Hardcore Punk that drags itself across the floor loosely drawn-together by some semblance of timing. It's actually quite fun.
Across their repertoire, vocals a mixture of Hardcore screams and Post-Hardcore wails match with Matt Freeman-esque grunts into something oddly symbiotic. This is exactly where tracks such as 'Get Dirty' shine, the band's odd-rhythmic-Grunge is accompanied by Stegosaurus Sex Party-brand socio-political commentary juxtaposed by confusing nihilism.
The manner of said commentary reaches its absolute peak in 'Small Town Massive', which in its foreboding tone is near the point of hilarity if you're from a small town massive of your own, which, unfortunately, I am. It still manages to make a serious point or two, however, so listen carefully and absorb.
Despite the occasional semblance of seriousness that is shredded but just about whole, some of SSP's work needs but a few words in the description of its confusing existence. 'Reckless Diet' is an excellent example and it's, excellent. No more needs to be said.
Returning to seriousness for a second, it musically is where you'd be a fool to ignore the band. Despite the chaotic and apparently insanity-fuelled approach, the band's rumbling Post-Hardcore, Grunge and dirge are still played-well and tightly knit. Non-serious and or comedically-fuelled bands are what they are but binning them off after you've laughed is a mistake.
The duration of 'Get Dirty' and the EP closer, 'Ain't No Man' see the band have fun outside of their obscurely entertaining lyricisms and embracing their "trash punk" and the like to the fullest!
Only the dinosaurs know what they will do next, and the dinosaurs; are extinct.