PLAY DEAD – London, England, United Kingdom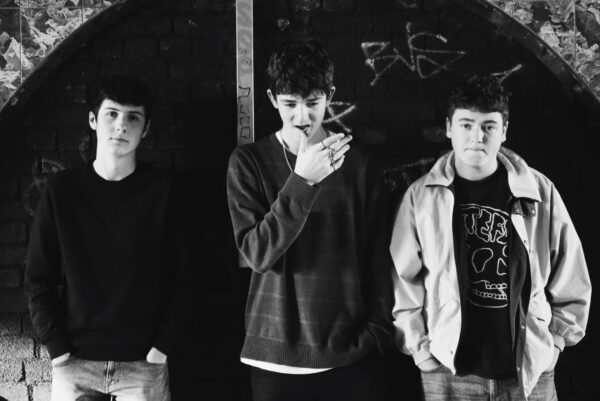 Introducing PLAY DEAD is very much necessary when speaking of, typing about or absorbing the seemingly indomitable recent advance of Garage Punk-Rock. This event, revival or whatever you wish to quantify this happening as, has yielded much in the way of enthrallingly rambunctious noise from across the underground music scene. If you're interested in such and what EN has covered regarding this, go – Here.
However, today, minor-digression aside, we are here to focus on introducing PLAY DEAD via Blitzcat Records. The London three-piece chose 2020 to embark on their disgruntled sardonic journey. PLAY DEAD chose to move through the realm of underground Punk-Rock drenched in the very obnoxious yet witty charm of Garage Rock. The three-piece will release their debut EP via the label above very soon in this year of 2020.1 but for now and for good reason, here is my attempt at introducing PLAY DEAD.
'Whistable' opens ridden low on a determined drum-beat. The band follow on and pair this with an energetic but smirking guitar tone and vintage Garage-bass fuzz. The very word "fuzz" is one inherent to Garage Rock and its comparatively more brash little brother Punk-Rock.
Garage Punk is by nature, somewhat limited stylistically but that doesn't mean that subtle infusions and deviations can't make that fundamental difference. This is something the sentient sardonic sarcastic content of 'Whistable' knows well. The band are themselves on the right side of 25 and yet their youthful exuberance edged in a contrasting melodic finish is by no means juvenile. Ah, the great British holiday. The weather isn't great but the band have their booze, fags, sea breeze and the acceptance that a break is infact a break.
'Shaun' according to Spotify, is the band's highest played track yet and with good reason. Again, the band's youthful-fuck-it-never-growing-up-good-time is emphatically intrinsic to itself. I would even wager, that if PLAY DEAD were ten years senior, that really wouldn't be any different. 'Shaun' writhes uncontrollably through his night via a soundtrack that develops the band's sound further. The contrasting melodic drive this time charges ahead of a more recognisably Punk-Rock sound. One that while moving forth, subsists off the inherent traits of the stickler that is Garage Rock. Punk-Rock developed from such and yet struggles to relinquish its charm. 'Shaun' is heavy-set, crashing and indicative, despite its playful London Punk, of a band not afraid to push their sound into the aggy and increasingly abrasive realms of the genre.
Despite the band's care-free aesthetic thus far, it isn't their whole bag. 'Six Hours Later' regales a dark tail of a friend that had a run-in with prescription medication. Now, Punk is know to be "fuck this and fuck that". Moreover, much of this stereotype is usually attached to the stark London accents of bands like PLAY DEAD. However, Punk-Rock is never that simple and 'Six Hours' is a reactive tale from the perspective of the troubled mind itself. Never mistake upbeat bravado for a lack of conscience or seriousness.
Stylistically, 'Six Hours Later' is the hybridised love-child of the former two blasts from the trio. 'Six Hours Later' takes the forward-facing drive of 'Shaun', infuses the subtle melodic contrast of the debut and introduces a notably suiting and harder vocal tone. PLAY DEAD are again hinting at where any future work will go. 'Shaun' was over-driven and gallivanted in the same self-destructive manner of its protagonist. 'Six Hours Later' in an adjacent fashion, makes its own progress toward this end but does so more cohesively, without losing the unpolished raw-cut nature of  PLAY DEAD.
And that is where I'll leave you. Indulge in PLAY DEAD, Blitzcat Records and support the scene in all its facets, forms and fundamental contributions to our culture.
Updates:
Music:
Blitzcat Records: