Hallan – Portsmouth, England, United Kingdom.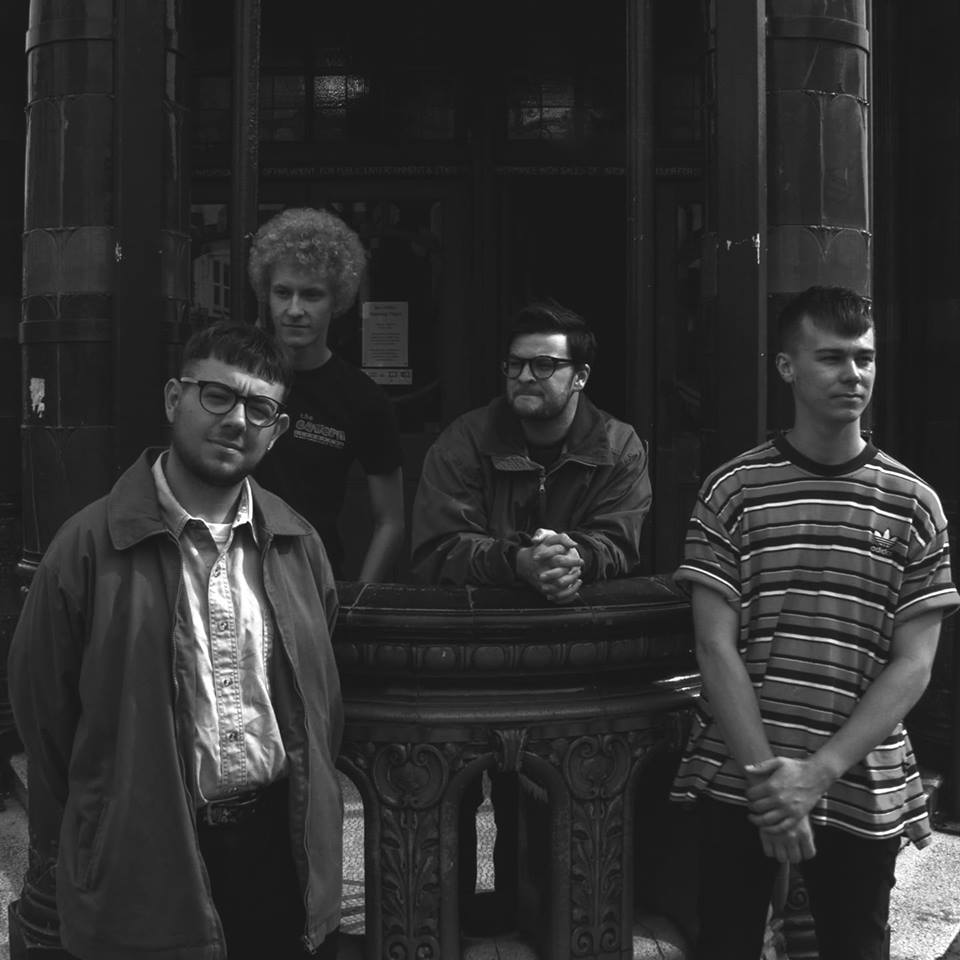 Photography credit: Tom Westwell.
The world of Post-Punk and it's presence in the underground UK music has grown exponentially in recent years. You'd be hard pressed in your journeys throughout underground gigs, playlists and compilations not to find either bands wholly embracing the moody genre entirely or witnessing it as a simple but clear influence on bands playing any number of alternative sounds.
This is very much where we find Hallan. With three singles to their name, the Portsmouth natives bridge the worlds of contemporary or at least recent Indie-Rock and much of the dated and unambiguously influential Post-Punk of back in the day via the very same but of this time we now inhabit.
'Descent' takes a low-ridden mid-tempo Punk bass-line propelled by a very much the same style via it's drummed counterpart. Hallan capture the very roots the genre has in classic Punk while adding the token but by no means poorly executed or unwelcome intricate guitar, sporadic in intensity but consistently ear-worming in it's down-trodden, melancholy tone that ironically sits very playfully.
Hallan's storytelling is also quite intricate, subtle displays of catharsis that wouldn't present themselves quite so well as they do with this sombre instrumental backing. The band's songs are very heart-on-their-sleeve in a manner no real modern Pop-song would be able to achieve because said Pop songs have already been done, and done well by a band called Hallan.
'Descent' is song of tragedy, romance and unwanted or rather lack-lustre revelation with a tone of growing pains and it's very much a track you won't forget.
This is actually something 'You Don't Know Me' does very well. Beginning with guitar work that is again a ironic combination of sombre, ear-worming, flirtatious, playful yet brooding tones, the band prove their versatility, merging Indie-Pop and Post-Punk warped Surf-Rock with vintage vocals. 'You Don't Know Me' is very enveloping as it slowly but very much coaxes you towards a very warming albeit sad and reflective fire.
This is where we find the band's latest effort, 'Fish Frenzy' where they show yet another side to themselves but this time two-fold. One of these being the tight, well produced, intricate layers of their expertise at it's best and secondly the very reasoning for the prior fold, that the track is far more representative of their emulation, appreciation and penchant for Punk.
This penchant is as obvious as it isn't. The infusions added to 'Descent' are stronger and far more present but not overly so, rather this Punk penchant is very much in the manner in which the band present themselves here with defiant attitude, something unambiguously required in these dark (shit) social times. The words, 'we're the generation that survives' are haunting just about any way you interpret it. We live in a time where you are judged more than ever by whatever social-media comment, fashion choice, lifestyle and a myriad of other pointless reasons by those whom are always eventually seen to not be your friend in actuality.
'Fish Frenzy' is an Indie-Punk track unequivocally a product of it's time, as are Hallan.