Disstraxx – Leeds, England, United Kingdom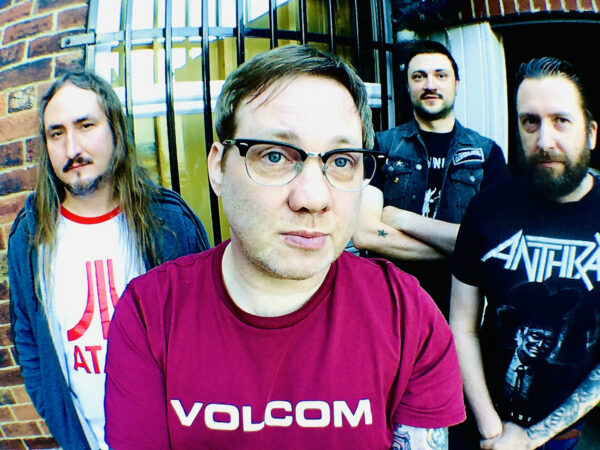 2020. Wasn't that a year?! Despite what you'd expect, it was still a time for new bands, hence why I am here introducing Disstraxx to you now. Hailing from Leeds and genealogically comprised from ex-members of The Plight and Autopsy Boys, Disstraxx first began to produce 'Punk-Rock you'll hate to love' at the end of 2020. Will we hate it? Will we love to hate it? Who knows, but here we go!
'Pieces' and 'Slow Motion Car Crash' appeared at the beginning of 2020.1 as the year that made the word "unprecedented" as much of a taboo to utter as it is to run through fields of wheat ticked over into new levels of sardonic dystopian hilarity. Disstraxx are a Punk-Rock band and less than amused.
'Pieces' charges away from those who aim to complicate and contrive and just wants to go home. There is an urgency to 'Pieces' in a driven, unrestrained yet far from contrived itself Hardcore assault. The cutting and reverberating rhythm section echoes the brash nature of early Black Flag whilst the faster opposite coast hurtles forth seeking further catharsis on light but by no means reserved guitar strings. Disstraxx constantly juxtaposes these two early schools of Hardcore whilst their ties to The Plight are notably infused on the one hand whilst a likeness for The Bronx bleeds through the palm of the other. There is a hidden power in this streamlined classic drive, however. 'Pieces' teases a constantly lurking harder display.
'Slow Motion Car Crash' pushes this Garage 'core (the) Bronx-esque Punk even further. The twisted classic Punk of early Hardcore is renditioned in a pure to form tirade as it's cut with playful but determined cycling drums and leads as maniacal and grinning as the vocals. The second half of the double AA-side though inclined to all the bands mentioned is easily digestible for those whose taste for DIY Hardcore Punk in the UK is never satiated for long. On that note, I thoroughly recommend the likes of Brasher, Ghost Of The Avalanche and Kicked In The Teeth. You have your homework! Digression aside, post-1:17, track two unleashes the lurking beast beneath the Disstraxx MO. The core deepens.
Though the band can be compared to the Hardcore Punk of the early '80s, they are equally sonically inclined to the latter part of that decade. There was more to it by then. The sheer and abject rage had been applied to other avenues and supplemented by tighter arrangements and skill without losing its punch. 'The Fix' captures a refined Hardcore-leaning sound but still finds itself as brash and energised as the January release. A whirling, ripping and discordant lead tears through the mid-point of 'The Fix' as the June single extends its tenacious tendrils into your ear canal.
'Obnoxiously Perfect' is the b-side to the June release. That which lurks beneath the Disstraxx grinning yet amped up satirical disdain rears its head once again. This time, however, Disstraxx describe a high plane of existence and those who dwell within, mired in their own superiority. The band's soundtrack to this wonderfully descriptive depiction of incredulity, hubris, materialism and snobbery is one of their best. The band's brash-Punk rescinds its tempo in favour of a thundering, heavy-set jaunt of thick, low-ridden rhythms lovingly devoid of all thrills. Disstraxx are people watchers and it is thus that feeds their humourous, yet arguably quite sardonically depressing observations as they are repurposed into a Punk-Rock hoot.
Seriously-unserious and pissed off. That would be the Disstraxx way. Who said you can't laugh and be in a socially propagated despair simultaneously?  'The Fix' and its corresponding b-side is to be pressed as a 7″ vinyl later this year, with the debut Disstraxx full-length to follow. Introducing Disstraxx, that'll do it.