Deux Furieuses – London/Glasgow, United Kingdom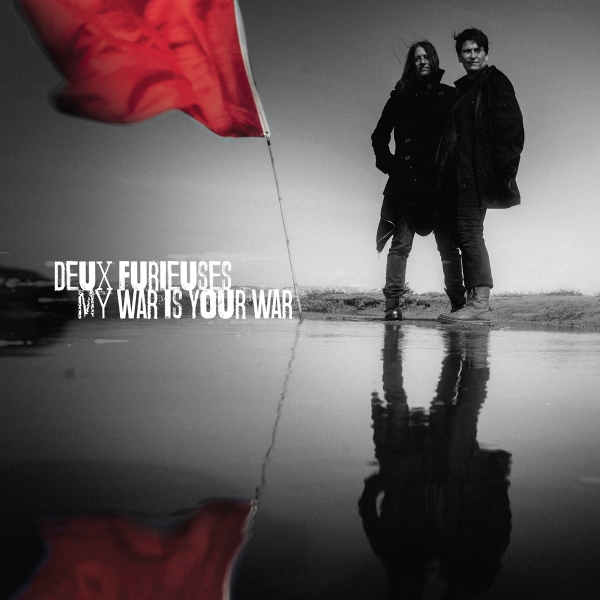 It's been a while since I've written one of these introductory pieces designed to send your ears off toward sonic exploration. So, upon sifting through the cavernous inbox of what can only really be described collectively as hard-working people, I came across some chatter on Deux Furieuses. Shall we?
2019 has seen an exponential rise in protest and campaigns against more than one type of malignant injustice. To no surprise, much of this has been driven by those in the vibrant Punk music scene. Within which, said timely challenge has been championed by the scenes' female and non-male members which is a much-needed move forward in itself. Anyway, this is where Deux Furieuses come in, via stripped-down political Punk music taking cues from the genres sonic and cultural legacy.
The two-piece's second record – My War Is Your War – was released via Xtra Mile Recordings earlier this year, comprised of eleven stripped-down yet intense socio-political tracks that began with the aptly written Post-Punk/Indie Rumble of 'Year Of Rage'.
A lot of what makes this two-piece so appealing is the bare-honesty that at absolutely no point is over-accentuated. In other words, Deux Furieuses are as intrinsic and natural to themselves as they can be. This isn't just regarding their lyrical output, but also their diverse and unquestionably robust blend of Punk-Rock, Post-Punk, Grunge and Indie-Rock supplemented by Post-Hardcore awareness. Just while we are here, the band's debut from 2016 – Tracks Of Wire – is absolutely worth your time, especially if fuzzed-Grunge-Punk and Riot Grrrl is the sticky viscous adhesive keeping you rebellious sonic sandwich together.
Tracks such as the middling 'Thorns' from the band's latest offering sees an accosting mix of Punk aggression, inviting melody and biting lyricism via an approach bridging the gap between itself and Grunge. The conviction on-offer is nothing short of impressive but surely considering the times we live in, it's hardly surprising in the best possible way.
Deux Furieuses are playful and inviting despite this onset gloom, however. 'Let Them Burn' is very much a song sat well within the description that my mind has provided. Just because you have a serious point to make, why should you not have some fun articulating it? 'Let Them Burn' is enthralling in its Post-Punk-esque fuzz contrasting brilliantly with the melodic vocal interplay.
Much of the early Punk movement and music scene was populated and propagated by women and it's about time the scene was as inclusive as it has always championed itself as in these proto-new dark ages.
But that's enough from me, go do a listen.
'This worlds a mess and we're paralyzed'
Updates:
Music:
Xtra Mile Recordings: