Cuffs – Bristol, England, United Kingdom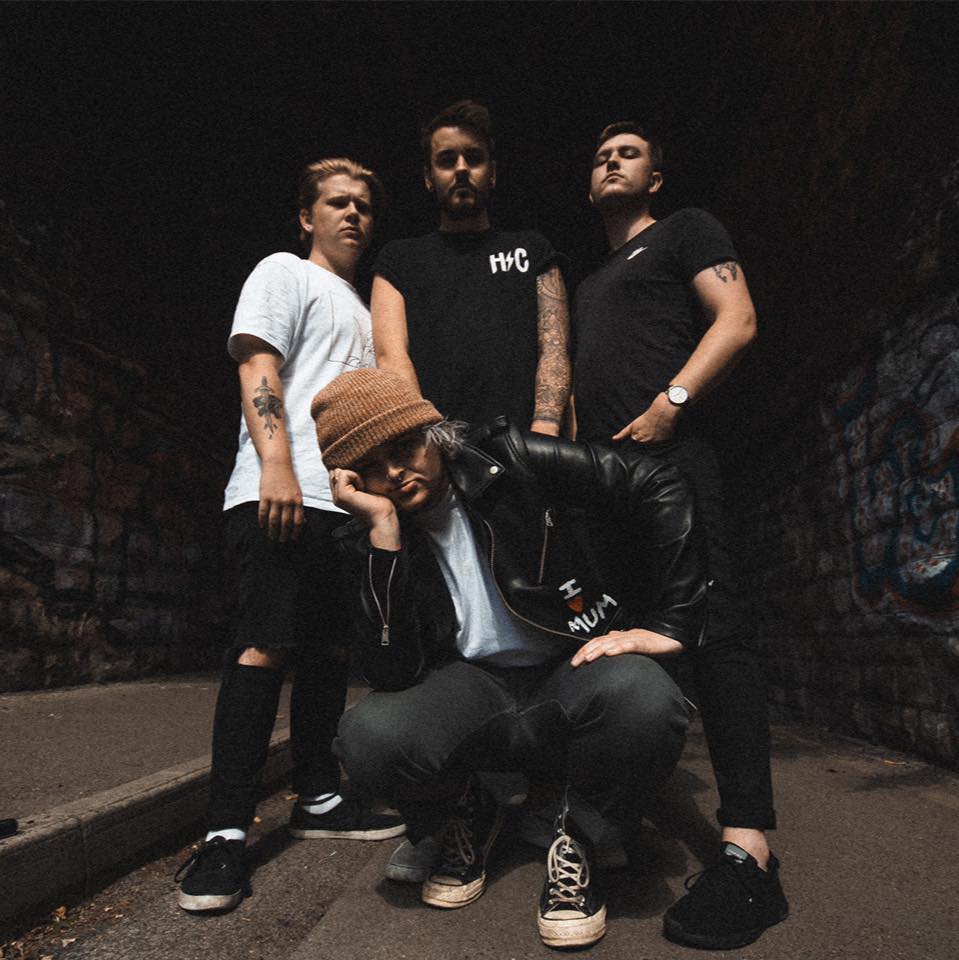 Introducing Cuffs is something I have been meaning to get done (successfully, not in a Brexit-way because fuck that shit) for quite some time now. I shan't bore you with some grandiose reasoning unto why because it can easily be encapsulated with the word "time". However, the Bristol four-piece and their self-monikered – 'Angst & Social Frustration – Heavy AF Bristol Punk'  like many, chose 2020 to push forth with their noise. So, now, at the end of the year of "oh my god, what now" and the beginning of another, Cuffs have accumulatively debuted and totalled their warped, eclectic combustive tirade of socio-political Hardcore in four individual microcosmic cataclysms of their own.
'To The Bone' was technically 2019 but that is but a detail. Single #1 reverberates into spasmodic energy only really quantifiable as what Black Flag would sound like had they formed after Fugazi. The band's Hardcore, topped with Post-Hardcore definition, is also mildly metallic before toasting the Hip-Hop influence passed down through the east-coast US-centric wing of the genre. This is then finally finished with playful melodic guitar work and harsh anglicised vocals. 'To The Bone' is the "death and taxes" tirade of a worn-down voice. Cuffs for all their bravado and energetic Hardcore, hammer their point home well sung and melodic. The genre has moved past the need to simply be fast and heavy.
The year of "oh my god, what now" then began with 'Scandals and Vandals'. The Black Flag-isms continue until 1:18, this time drawn from the Spoken Word found on the likes of Slip It In, Loose Nut and further. However, the band then morph again. Cuffs keep this era of the seminals in mind as they embody the heavy-set metallic Sludge Rollin's and co fucked with but simply as a stepping stone. Cuffs then gravitate toward the riff-heavy legacy of NYC-led 'core before skillfully and seamlessly shuffling into the yet another legacy. That of Rage Against The Machine, in both sound and in continuity with the band's poignant leftist politics. 'Scandals and Vandals' totals an ambitious five-minutes and yet is nowhere near tedium.
'You Make Me Sick' is rife with playful spars of groove, warped dated guitars and a quintessentially British Punk-exuberance. It is needless to say that Cuffs live their craft and emphatically bare all. 'You Make Me Sick' is proof of this in its accosting blast of classic Punk vs classic Hardcore finished with a gratuitous latter-timeline explosion adorned with a maniacal melodic edge.
Throughout their work, the band's resident skin beater is one of note. From their choppy, dated chaos, powerful fills and brash yet complex patterns, the ubiquitous Post-Hardcore drive of Cuffs is completely indebted. 'You Make Me Sick' is again another robust example of this facet of the band's quality. The track is perhaps one of the best candidates for introducing Cuffs as a whole.
'Get Up Get On' closed 2020 for the fledgeling Bristol band. Cuffs are only four public tracks into their career and 'Get Up Get On' is indicative of increased comfort. The band's most recent is stripped back without losing the inherent '[…] Heavy AF Bristol Punk' and Hardcore. 'Get Up Get On' is mired in a repetitive battle of motivation, mental health and the perpetual banality of life. This is the case from its opening begrudging riff onward to its successor, that is itself finally stood up and over the bed of reviled, monotonous, complacency. Cuffs again shamelessly show the influence of the heavy set Hardcore they hold so crucial. Moreover, the band do this while capturing the very fine line between early Hardcore and its Punk-Rock parent of determined disdain.
Introducing Cuffs is also quite simple. But, that would be no fun for me now would it? Hence the above. However, here we go anyway. Cuffs are a band who have unambiguously ear-wormed the trajectory of their chosen Punk noise. Find them below.