Crum! – London, England, United Kingdom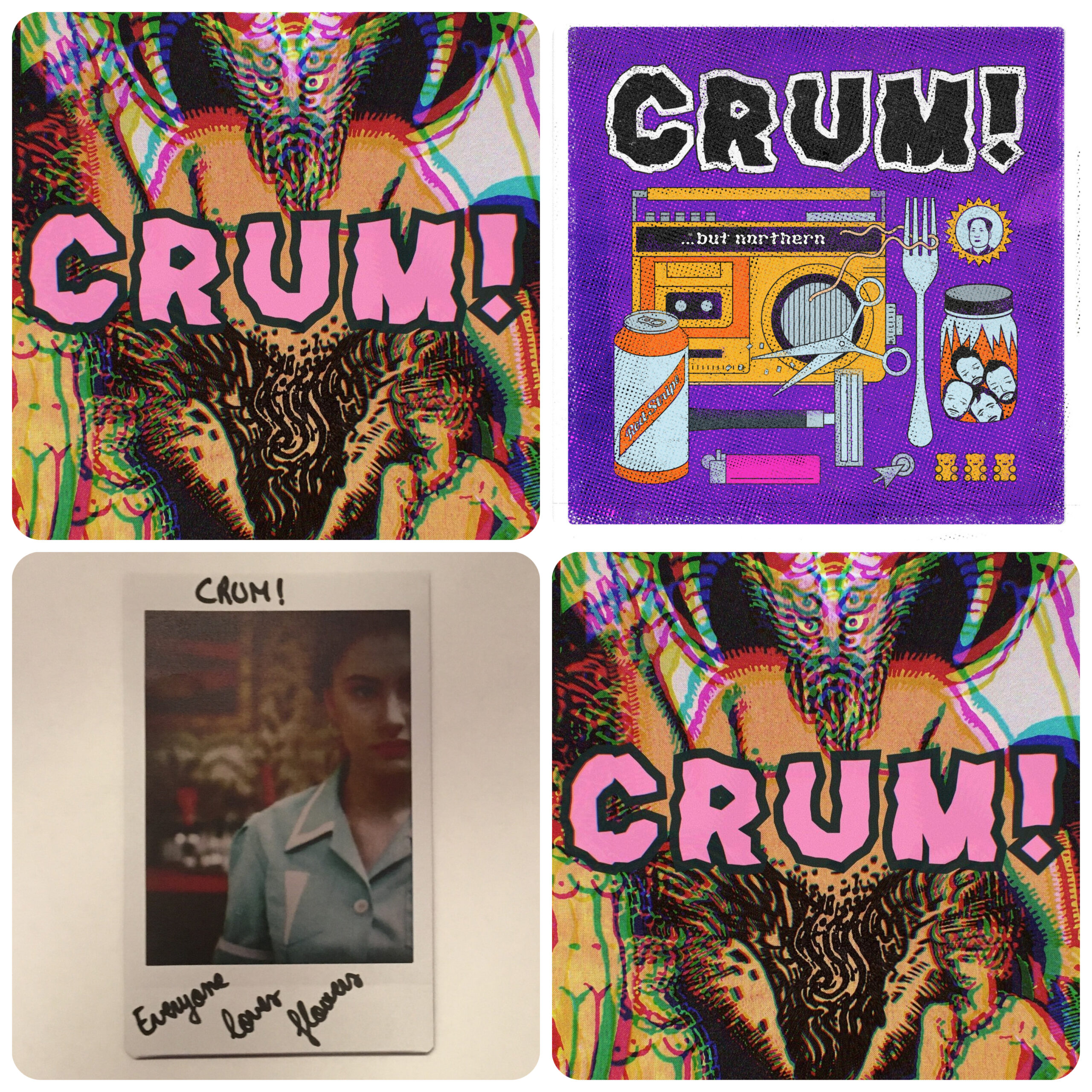 And so, introducing Crum! How to go about it? Well, firstly the noisey not so little three-piece hail from London-town and that should at least go as afar as to suggest that their "sound", considering the precursor description of "noisey", could be anything. It indeed could be anything but in truth, its a rambunctious, chaotic mix of some Punk-scene deviates and notables, the Crum! way.
Crum! it is (un)safe to say, embody the exuberant unrestrained and indomitably timely rage of Hardcore Punk. The band, propelled by this combustion, jet off, causing havoc amongst the OG-Post-Punk and Post-Hardcore scenes after finding themselves warped and entwined amongst them, using them, and then swiftly buggering off. On this second stage of their journey, now desperately trying to find their homely padded room, Crum! crash headfirst into psychedelic-Garage Rock and then settle. Their journey's end sees them settling into something new. In a fashion.
And that is how I would introduce Crum! Sonically, anyway.
Everyone Loves Flowers imbued the former Proto-Punk chaos of Garage Rock with this unquestionably driven classic Hardcore penchant. 'Human Is Human', however, pairing with this, Crum! employ Post-Punk-esque refrains and almost ethereal psychedelia and gritty anglicised-harmonies. 'Human Is Human' is a socio-political jibe, cleverly alluring and evocative in its confidence. Crum! may be ridiculous but that doesn't negate their occupancy of this shit-show and their thoughts on it. 'Human Is Human' turns in its last forty-seconds into violently raucous Garage Punk, ridden low but just as volatile.
'Etta James' overhauled the band's Garage'core with the onset Crum! stamped warped psychedelia, itself just as pissed off as the recognisable Punk-Rock. Crum! closed their debut with the 8:16 of 'Gotta Light'. The three-piece capture the thin-line middle ground of Post-Punk and Post-Hardcore chaos respectively, amongst a lumbering groove of a warped and confused psyche. 'Gotta Light' in its abject departure, to date, was arguably the band's best work. The grit of Garage Rock and Garage Punk has had something of a revival on the underground scene in recent years but here the band push it to and beyond its percieved limit.
But what of 2020? What of the year of "what"? Well, it seems that to 'Eat Your Greens' is the best advice, even if the sound of the ensuing chewing is a cacophonic and discordant mass, inexorably moving down your gullet. 'Flight To Lahore' creates a hybridised discordant mass that is now known as Rock n' Roll-Post-Hardcore ala the band's sardonic displays of frustration. Crum! are not a band to give you an easy ride. On both …But Northern and Everyone Loves Flowers, no matter what facet of their sound they are currently exploring, Crum! leave you uneasily pondering their unpredictability.
'No Prog' is the antithesis of itself but also leans toward a prevailing band-wide Fugazi influence before eventually pushing towards the Garage-Crum-core you know. This is a band chaotic by design, discordant by nature and determined by operation. Crum! are pigeon-hole resistant and constantly cycle their sonic abode to their liking. This being the very essence that is unambiguously captured in the live-tracked …But Northern.
That was introducing Crum but just remember now, not all crums are an irritant or spelled correctly for that matter. Unplug the hoover and plug-in 'yer lugholes!