SUE – West Midlands, England, United Kingdom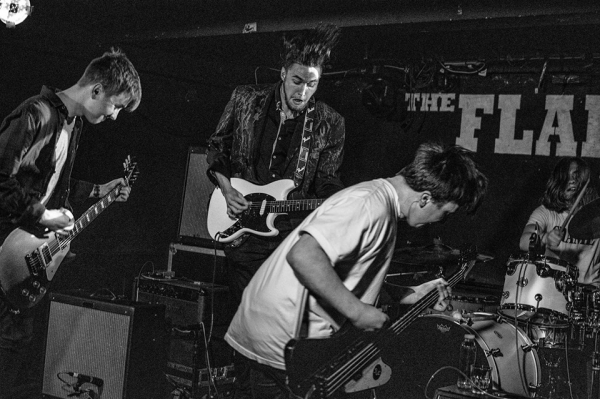 There was once a song about a boy name SUE that I'm sure you all know. Now, however, I am introducing a band named SUE and they are quite likely to irreparably alter those little ears of yours. How do you ask? Well…
Hardcore Punk and it's often more-so uncontrollable cousin Noise Rock have a family connection. Describing the pair as loud, abrasive, accosting yet functional and robust, is to say the least on the matter. They share genealogy and love for brashness and that is exactly where upstarts SUE are relevant. Now, I can't say how they feel exactly about being named SUE or if that is the catalyst to their rage-incarnate but whatever the causation of their noise, you need to hear it.
The band's last three years have been nothing short of loud. Their first EPs Faceless and Melting saw their Noise-Punk raucous and writhing yet warped with gloomy, unstable and haunting Post-Punk melody. Much of these would be repurposed, shuffled and altered but it's still a must listen to know the band fully.
It Will Never End is an increasingly heavy, distorted and sonically unfriendly output that despite its pummelling nature, is actually quite inviting. Notwithstanding the deranged sounds of a mind fighting itself that is. See 'Hate My Face'. Despite the in-your-face sonics that have only been enhanced since the debut, the band have not forgotten their Post-Punk wails and gloom-ridden demeanour.
'Stranged and Derranged' pushes classic Hardcore Punk through SUE's noisy credentials via subtle but expertly placed melodic strings. Tracks like 'I'm A Fucking Alien' on one hand negate any melody at all and on the other embrace and twist it into something else entirely. Find 'Strange and Derranged' – Here.
The level of sonic chaos that is controlled but only in a fashion would be nothing without the wild introspective maelstrom of thoughts put to words. In music, symbiosis is often a virtue but its one SUE has down well and truly.
Dark and damp Post-Punk via Noise-Punk corruption and dark Blues-Rock n' Roll are your dread-filled guides in the haunting 'Put Me To Sleep', where SUE rest from their chaotic speed and apply their energy into a foreboding groove. Find it – Here.
The band also experiment with outside influences themselves variants of Punk. 'Medicine' is akin to the wild Hardcore Punk ramblings from various stages of Nirvana's career, while you find the complete opposite in stylistics tuned far more towards Garage Rock and Rock n' Roll in tracks like 'Thirst'. SUE may use distorted Punk as a base but prove to be more than capable at twisting such simple beginnings.
SUE are a band you need to hear, not just because they are fighting the good fight in the underground music scene but because they are genuinely brilliant. Noise, Punk, Grunge, Hardcore, Blues, Rock n' Roll – the band amalgamate all of these. Their sound is dark and threaded in the most bare-all cathartic way that is only enhanced by the chaotic delivery and distorted production.
"Noise" as a prefix in the stylistic description of music doesn't mean wanton undisciplined chaos. You just need to remove the "un" in that sentence and you're golden.
I never did find out if they were happy about being named SUE…
Do write in humans!