Grand Collapse – Bristol, England, United Kingdom (Again, please?)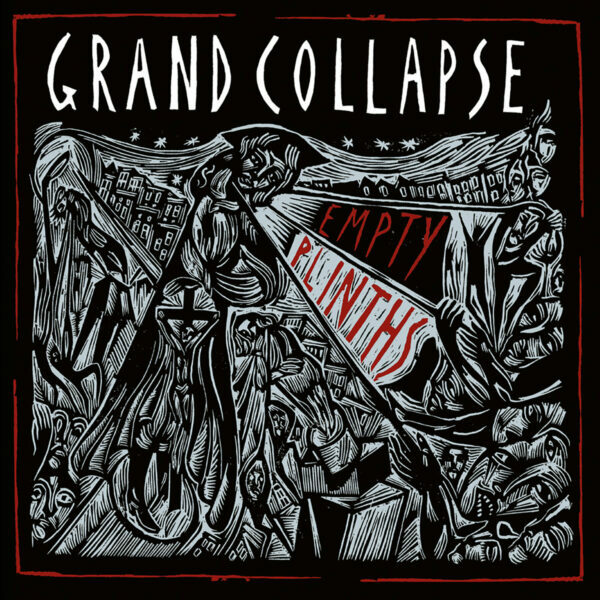 Grand Collapse and Empty Plinths. These are words that many have been waiting for. Well, the former followed by something in full-length form to be more precise. Grand Collapse are infamous, notorious and have now returned via the likes of TNSrecords in the UK, Epidemic Records in Italy, Mass Prod in Brittany and Don't Trust The Hype in France. More information on that will follow later but before we begin, a brief few words on the predominantly Welsh and one part Bulgarian four-piece residing in Bristol. It's almost as if people should be able to live anywhere. Moving on.
Grand Collapse are known for their live shows. That much is obvious but it's the skill at which they play their craft that should be stated first. For those who don't know, the band's Hardcore Punk is a well-researched, veritable and voracious variant of the forty-year-old art. Though based in such, since 2013, Grand Collapse have been enriching their sound with so much more. Thrash-infusions tear precision and razor-sharp lacerations in their foundation as streamlined technical Skate Punk and Melodic Hardcore earnestly dash through, narrowingly avoiding tearing their own flesh in the process. If not this, then the band are equally capable of bludgeoning riffs and techy-breakdowns laced with their own eviscerating refrains set to hew chunks of their own. But that's all prior to Empty Plinths. Shall we?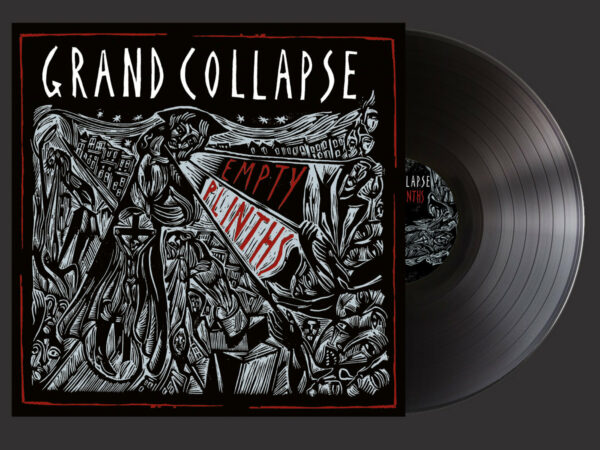 In 'Waves', the band's aggravated Post-Hardcore-esque riffs and warped melodic path-finding lead meanders through what feels like all the not-so-subtle nuances the band intrinsically muster. Melodic Hardcore, Thrash, the above, Grand Collapse in a pure to form successor to the layered melodically-inclined and considerably refined sound of Along The Dew, utterly release. 'Waves' however, is never far from the permeating Thrash of the Grand Collapse tirade and thus leads us to it in 'Pontificus 23:7'.
Track two boasts a nothing but impressive performance from drummer Glenn. Grand Collapse take a derivative of Hardcore so synonymous with the US – give or take Rash Decision – and force a grand collapse before rebuilding it in their image. It is here that with the following and seamless transition into the Skate-Thrash of 'Sullen Fever' that the track arrangement is to be commended. Two and three are like power-chords in a pod. Or on a fretboard. You know what I mean.
Now, chances are, if you are reading this, then you've already used the lead single 'Panic Room' to systematically deconstruct your ear canal. Given that the band's melodious spin on Hardcore was so (enthrallingly) present on Along The Dew, releasing the grooved Thrash adoration of 'Panic Room' as the first single, was both a subtle tease and thoughtful decision. 'Pouring Scorn' then crashes through the GC we know in 1:10 lambasting time spent on hate.
'Amygdala' then deviates again. Empty Plinths, though in succession to Along The Dew beyond that of simply being sequential, is in a strong continuity to harder, rougher-cut Hardcore and Thrash of Far From The Callous Crowd. Empty Plinths cuts across the Grand Collapse school of Hardcore but those who enjoy anything from Rash Decision onward to NYC's This Is Hell, are bound to revel in the Crossover and straight-Thrash GC effortlessly exude.
'National Detective Programme' cleverly positions itself between the metallic mid-piece of Empty Plinths and the raw Hardcore resurgence from further back in the band's timeline. At this stage, Grand Collapse have carved their own spectrum. 'Dock' is a deep cut of sorts I'm personally over the plinth to see. 'Dock' first appeared on the Hardkore Dokument split in 2019 and provides the aggravated, adrenalised, yet streamlined assault the band epitomise. Grand Collapse are a band that across all their releases, juxtapose themselves near-constantly and yet never lose continuity. Whether they favour their melodic leads, vicious Thrash or pummeling Hardcore, each of the less obvious aspects are traceable and unquestionably crucial.
'Claret Thrist' crashes through riding an updated, gleaming version of the sound that gave the band prominence initially. Grand Collapse have only increased in speed. They have grown more frustrated and the ferocity of their music is the raging grin of their reflection. The 1:18 of 'Claret Thrist' pushes a lower-tempo-relenting Hardcore but it doesn't last. Glenn the catapult then hurtles Calvin, Jon and Blag forth and then periodically back to the riff-heavy intro now existing as a repurposed refrain. For all their technical ability, Grand Collapse are just as captivating when pushing the classics. That said, the band's almost mischievous melodic licks are never distant.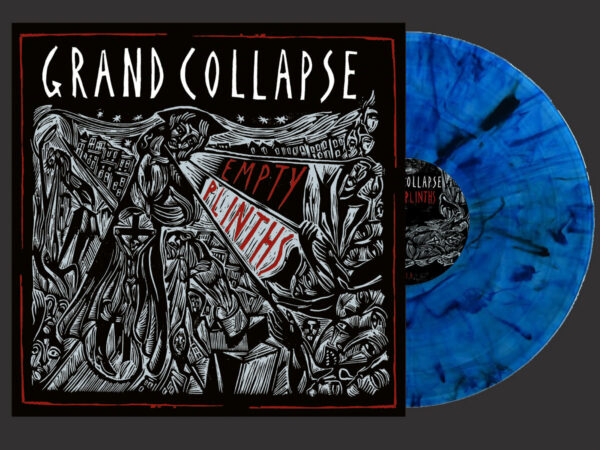 In a way that is a little jarring, but also to a huge advantage, Empty Plinths alternates almost spasmodically through its tracklisting. Album three navigates the spectrum the band have carved from Hardcore per-track but also through an almost themed tracklisting. However, quite ironically having said that, the album is also capable of doing whatever the fuck it wants. This is what ultimately leaves you completely on edge. Track ten attacks the forlorn grip of delusional societal antiquation to a beat impossible to knock. Ten is simply what Grand Collapse do best, enriched with a heavier focus on the Thrash-conditioned Metallic Hardcore more prevalent on this latest. It is important to state how all these nuances Grand Collapse bring to their rendition of Hardcore are as loud and proud as they should have always been with the gleaming but by no means over-produced finish of Empty Plinths.
The eponymous 'Empty Plinths' enters upon an NYC-esque stomp. Though their tempo is tenacious, throughout Empty Plinths the band smash any semblance of complacency with refrains, bludgeoning riffs and breakdowns and on the final blast, this no different. Again, the band motion through their stylistic catalogue as Calvin Sewell's urgency runs unopposed. 'Empty Plinths', in a nutshell, is the perfect end to the macro of itself and one of the best of it. The plinths are empty, both literally and metaphorically and Empty Plinths is the combustive soundtrack.
Grand Collapse and Empty Plinths. That'll do. I'll shut up now. Find all you need below.
Updates:
Music:
Pre-Orders: