GagReflex – Cheltenham, England, United Kingdom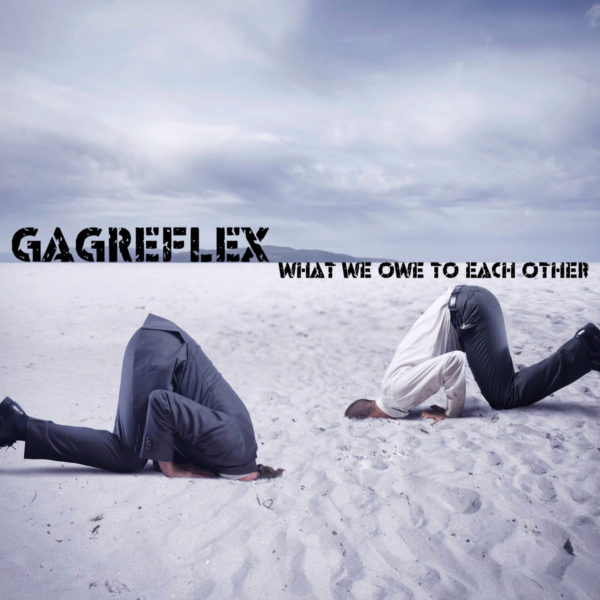 The bass and drums approach to Punk music is one more common than you'd think. GagReflex and their What We Owe To Each Other EP enter into 2020 via a blast of societal disdain that not only pertains to the wealth of this aspect of the Punk-scene but is also the first of such from the band since distant 2018. Ah yes, 2018, a simpler time.
Moving on! GagReflex, for those who don't know, are a "Two-Headed Punk-Rock Machine" amongst a sea of lumbering bass-riffs, spasmodic time changes and the consistent dirge of the Post-Hardcore and Post-Industrial world of underground Punk. Speaking of "posts", it would be unfair not to mention the band's mild-infusion of gloom-trodden Post-Punk into their already ironically expansive sound.
'No War But The Class War' opens this latest effort from GagReflex. Despite the band's socio-political jibes and onset, foreboding and developing dirge, the band forget-not the playful nature of genre-spanning Punk music. GagReflex enter via 5:13 of reverberating attitude toned somewhere between Punk and its future prefix "Post". Said reverberation will entice you to gyrate enjoyably but alongside a juxtaposing vocal-tone and the grim reality of the oppressor's perspective of our political system. The Cheltenham band are refined and less aggressive here but only so this clear, harrowing and undeniably true sentiment and state of mind that successfully leaves us so indentured is communicated emphatically.
GagReflex then pushes this refined sound further but considerably more in line with their previous work. 'The Love Lost Between Planes and Guns', despite including two appearances of from considerably more melodic line, is a purer-to-form display of what GagReflex have built their sound upon. This second track cleverly eludes to a faster, vintage Punk-Rock approach as a lingering Fugazi-ism looms. The band's inclusion of short-durational driven melodic lines is not only welcome but adds a middling layer to the biting Post-Hardcore Punk the band are known for. GagReflex capture the importance of the Punk-Rock rhythm section as they move toward a Big Black-esque contrastingly down-tuned approach as complacency is lambasted no-end.
GagReflex on What We Owe To Each Other, are constantly and consistently on the verge of cathartic outbursts even when they aren't. This is very much down to the ever-changing rhythmic plod of Seb Goffe's drumming and is paramount in the groove-laden 'Facedown'. The middling number of What We Owe To Each Other markedly sits within the band's comfort. Despite playful inclinations up until an eventual outburst at 1:03, the subtly deceptive heaviness of GagReflex embodies a very low key and warped Hardcore Punk foundation. Post-1:03, 'Facedown' takes on charged tempos and complete with Stu Hawkins contrastingly soaring vocal tones and ever-changing bass-dynamics, brings a level of layering seldom scene within the confines of the Punk-Rock two-piece. Who said pedal-boards were for nerds? 'Facedown' is the product of GagReflex pushing their confines to the point of inflexibility and it works resoundingly.
After the melodic approach that no one will have expected, the band heft their ironic gargantuan limbs forward similarly. GagReflex are no stranger to fringe-Hardcore Punk and raucous up-tempo bridges and such, but this latest release pushes on all of the above exponentially. Coupled with the better production and a clear refinement, this layered, organised-chaos GagReflex-patch is the best yet. 'Death Means Less Paperwork' combined with 'Facedown' provides some of the band's best work to date.
After the this larger, considerably more encompassing effort from the two-piece, their approach shifts once again. GagReflex revisits the terrifyingly apt altruism of 'No War But The Class War'. However, this second round certifiably codifies its point to the highest meaning of itself. After a release that can quite reasonably be hereby described as chaotic, the band retreat to a slow, sad ebb. The same lines are repeated into abject defeat as 'How The North Was Lost' slowly builds an equally downtrodden instrumental accompaniment. The inclusion of further harmonious sadness, again, somehow, despite its limited output, stands this closing number as perhaps the best of What We Owe To Each Other altogether.
That was GagReflex and What We Owe To Each Other. But what do I know eh? "Politics has no place in Punk" *shudder*.