Foreign Bier – Norwich, England, United Kingdom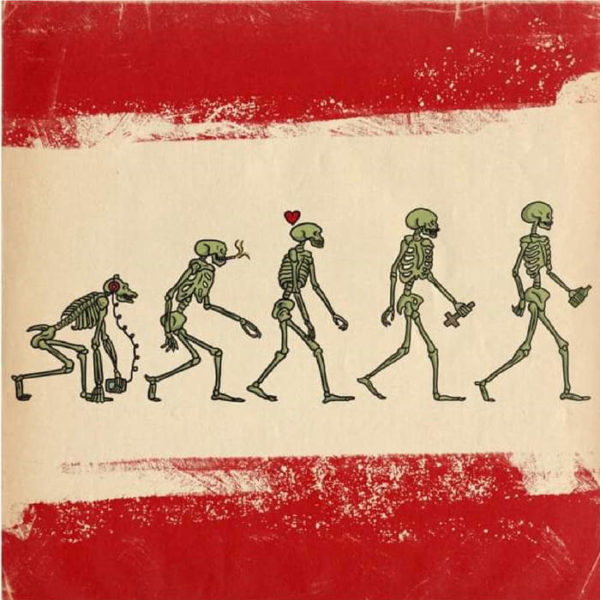 Punk music is a cathartic medium and with Foreign Bier – I Don't Believe In Anything, Anymore! 2020 sees more credit given unto such a statement. If you mosey on over – Here – you can see our 2019 dissection of the Norwich band's debut, where sounds aware of melodic '90s Punk but very inline with the likes of Hot Water Music, The Lawrence Arms, Burnt Tapes and The Menzingers were given a UK paint-job.
I Don't Believe In Anything Anymore doubles-up on tracks up to eight and opens with short scrappy Punk that echoes the good production of the debut and suits its simple point. Why do we really need to impress everyone? Find it in the EN playlist 'PunkDayEvery' – Here.
Although the initial intro is eerily close to a Rock song we all know, 'Who Cares About Metaphors?' quickly moves into poppy and crisp '90s Skate Punk with sing-a-long glory borrowed from their "Life-Punk" influences. – 'I don't believe – I don't believe in anything anymore, these metaphors, just die, just die'
'Do You Ever Talk Back To Yourself?' is a worthy question yet also a truth not needing a verbal answer. Apparently, it doesn't need much of a track length either. Foreign Bier-brand introspective existentialism is quite ironically content via fast, stripped-back fast-Punk. Again, I feel the production requires more praise and it couldn't suit the band's sound any more than it does. The band dart-along on buzzsaw rhythms with just enough onset melody surfacing when required. Is it samey? Arguably, but is it a problem? Considerably less arguably. I Don't Believe In Anything Anymore lives up to its moniker as release about life.
'The Proverbial, Can't Get Out Of Your Head!' is one for the Moonraker fans – go Here – and it's also a welcome melodic edge to the Foreign Bier repertoire. The fourth of eight is as sharp as parts of its lyrical accompaniment and as tight as the spots we all get ourselves into daily. 'Our Father Where Art Thou And Silence' is another highlight and an absolute testament to the band's ability to paint a picture, no matter how unfortunate.
The vintage Skate Punk returns in 'What's In A Gene?'. The track is nihilistic and questions what really is in a gene and also debates our adherence to whatever sense of belonging we may feel. 'Bitter and Tired' is more of the same. That's not a criticism either, the band's sound is one they find themselves comfortable in. They are clearly aware of the limitations they have chosen and yet, effortlessly wear them on their sleeves. Which is all well and good, but only if it's done well, which it more than is. Don't we all get a little bitter and tired of the finite yet seemingly ever-going grind?
'The Good, The Bad And The Dead! & It's Just A Wet Dream You Dope!' are stark in their double-barrelled the duration after a release clocking in between 1:38 and 2:42 per-blast. The raspy-Punk takes a step back from faster tempos in the first of its two-parts and tells a morbid tale in a juxtaposing positive tone. Why? Because it's easier to accept that way isn't it? Mortality?
After a few seconds, the tone continues, sardonically put-forth in a manner only Punk can really get away with, this time with a sole-acoustic guitar. Foreign Bier aren't ashamed to sing about the deep-dark reaches of their minds, so why are many of us so ashamed to do so?
Foreign Bier do a "Punk" and simply get on with openly and I have nothing negative to say about them or it.