The Scuts – London, England, United Kingdom.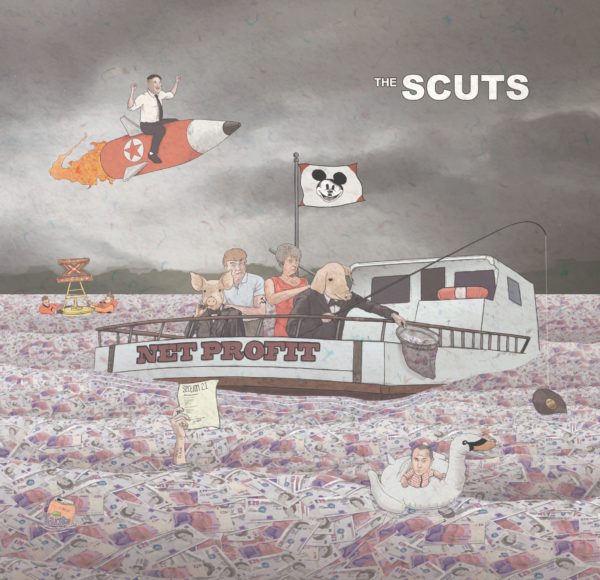 Arguably, there is nothing better than an underground band "getting back at it", which is entirely why the following early stream of The Scuts – Net Profit is relevant. I know, I know, my sheer and unrivalled prowess when it comes down to the nitty-gritties of an introductory a statement are bafflingly insurmountable!
Yes, I know what you're thinking. I have just literarily vomited all over your screen, but not all of what I said was superfluous! Because, outside of the bit that absolutely was, the above was actually quite informative. The Scuts have been on the quiet side of the studio since 2014. The year saw their second release, Gross Profit, which was a societally introspective look at the gloom of its day among other topical tunes. As you can imagine or at least deduce from the artwork, the band have transcended Gross Profit and entered the all-important stage of Net Profit. And it looks terrifying.
2020 is the year of this Net Profit declaration. After dancing around line-up changes, work on the follow-up began, ultimately taking two years. The band's own reasoning for this uses the word "divas" but in truth, The Scuts were simply unrelentingly tweaking Net Profit towards its best.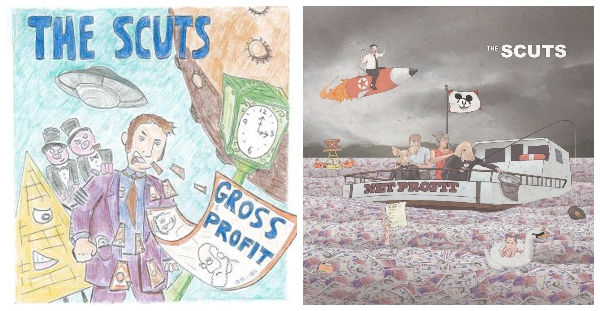 But what of their sonics? The band's choppy Punk is influenced by the seminal sound of US Skate Punk but cut with a witty, sarcastic and characteristically sardonic British edge. The Scuts may be light-hearted but they are also on the money regarding the contemporary life of an ordinary human being residing in the UK and are said to be notable experts on such a ventures' profitability.
Quips aside, The Scuts vent intelligent political frustration via their own brand '90s Punk music. Net Profit embodies the jagged and hard-edged Skate Punk sound of Gross Profit yet increasingly slathers on an overall more melodic, vintage and almost classic Pop-Punk lacquer.
But, that's just the gist of it! Find the full early stream of The Scuts – Net Profit, below.
The London based political theorists, prophets and or soothsayers will be releasing Net Profit on the 28/03/20 at the release show at The Beehive in Bow. The release will be available generally on the 29/03/20 digitally and on CD and Vinyl via the band, with pre-orders and such available below.