Botched Toe – Frank Reynolds, England, United Kingdom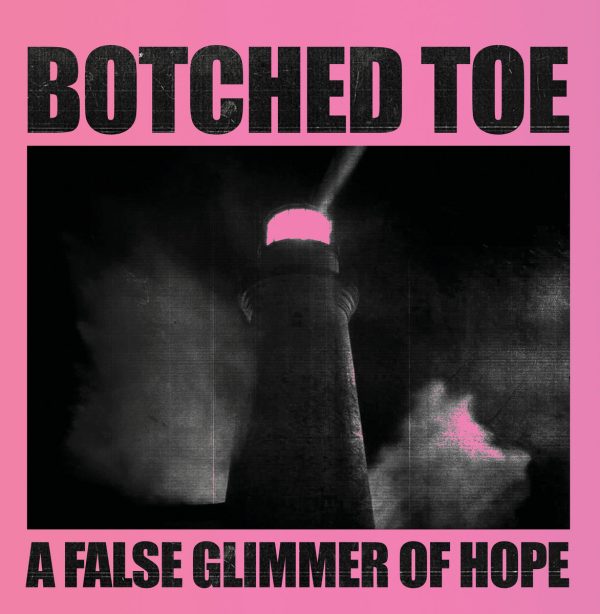 'Ohhhh, BOTCHED TOE'! Today, give or take a foot infection, we are present for Botched Toe and A False Glimmer Of Hope. Another architectural extension to Kibou Towers and their conjoined annex of aggravated affiliates, Botched Toe, as you'd expect, have quite the collective accolades. Members of The Domestics, PI$$ER, Tokyo Lungs, Körd Varld, Hazard Profile, Knife Club, Haest, Matilda's Scoundrels, Kittie Shitter and Feral State have gravitated toward each other amidst and unfortunately enthralled by the oppressive miasma of *DEEP BREATH* the COVID-sponsored, post-Brexit mess that is the Conservative-encumbered UK. Was that sentence an equation in length to the litany of Boris Johnson's lies? Not even fucking close.
Kibou's recent output has been either blisteringly fast, weird or weirder and faster. With 'Black Dog's angular riffs riding a cycling plod pace-setting an ode to vintage Hardcore Punk, itself amping up the blueprint of '77's legacy, Botched Toe mark themselves apart from other Kibou exports. It doesn't last, however, as the carnivorous canine chases Domestic's snarling, forcing the discordant, yet robust rhythm section to hurl itself into a slow(er) but no less frantic and energetic D-Beat.
'Third World War' aptly falls into place with further tightly knit and fluid displays from Dan Flanagan and the rumbling bass strings of James Baughurst. This second and fantastically cohesive blow is charged this time by the tempo you expect from Kibou bands. Green's displays are voracious, volatile and within the greater sound of the record's overall production, captured in their most organic form. However, despite such a robust depiction of our dire existence, the highlight of 'Third World War' is in fact its accosting pause. The band fall into a trudge, employ simple but bludgeoning riffs and saute it with the cold hard truth.
Botched Toe have clearly considered their debut. 'Useless Ammunition' employs a rumbling, reverberating, no-frills, raw and aggravated display with hypnotic chord progressions and back to basics vitriol over mid-pace catharsis. The lead single 'Government Schtich' playfully odes the off-piste cascades through Hardcore Punk "Kiboucore" is known for before the band's namesake 'Botched Toe' rides in off the back of "The Warthog" himself. 'Botched Toe' then further boasts a pummeling, barrage of rhythmic and caustic chord progressions. The band may not subscribe to as much of the assumed hyperactive tenacity and unbridled tempo but the level of power and rage against the incongruent societal cesspit they are narrating is felt on all levels regardless.
Botched Toe proper, again, is considered. The violent D-Beat and/or just "fast hardcore" is employed and arrives precisely when it means to, akin to some sort of Punk-Rock Gandalf. The seamless tempo-transition that 'Soul Mash' undertakes is very much the proof in the putrid pudding*. – 'But now even the good news feels like a set-up'. We can't even have a nice pudding now, apparently. *"Putrid Pudding" I'm told, fits in fantastically to any Hobbits' meal plan give or take some "black breath". Moving on.
'This Competition' legitimised by 'Soul Mash', is granted an increase in tempo. The former boasts bursts of searing existential pain, tedium and banality between bouts of reasonably more controlled societal criticism. However, it is fated not to last before the unhinged, intrinsic and reactive tempo is the only possible course. You can feel every note of scorn, vitriol, depression, anxiety and dread across the debut from Botched Toe. Every conjoined blow from Flanagan and Baughurst echoes, equates and runs parallel to the spits and snarls of Domestic's tortured mind and vocal cords. All the while, Marcus Green is unwavering. Like many of us, he reacts to these feelings, pacing them, himself and US buy simply "getting on with it".
'Cream' follows and despite sitting hunched over, rocking back and forth with bitter outward scorn, in an almost New York-grooved Hardcore-soundtracked slow drudgery, marks a high (or low Point?) on the debut. Botched Toe and A False Glimmer Of Hope total eighteen minutes. That said, time means nothing on this record. A False Glimmer Of Hope is a hypnotic eventuality. Lyrically, late-stage capitalism, mental strife, existentialism, the pandemic, all of it is laid bare. You're sat there in a chair, you're not confined at all and yet you cannot leave.
'Dead Persona' fires a salvo at the husk of your being. Again, you can just get up and leave A False Glimmer Of Hope but its rhythmic power is indomitable. Track nine injects an alternating pace between further bouts of angular hypnosis, or hypnotherapy, depending on where you stand. Ten then follows, furthers this pace with a final frenetic charge, bruising whatever resistance you have left. With, I might add, a (false) glimmer of hope against the inexorable backdrop of mortality.