BarCreeps – London, England, United Kingdom.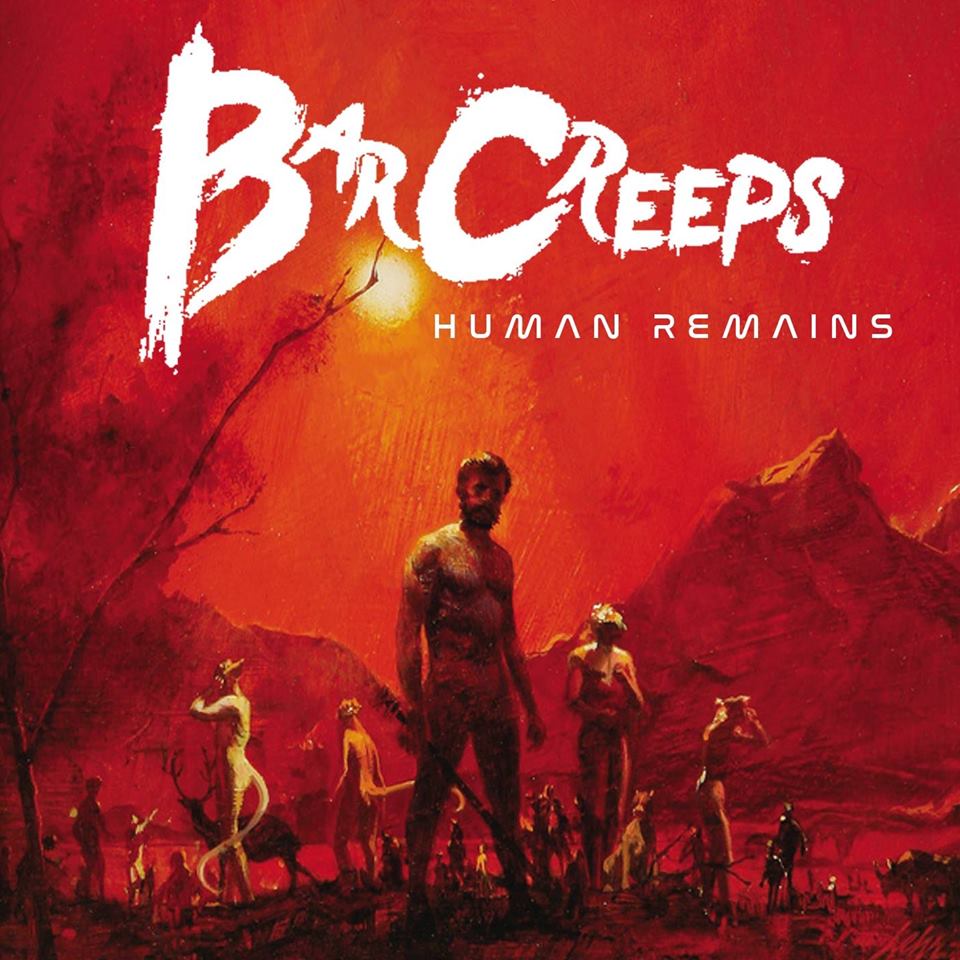 London is a city synonymous with Punk-Rock music and with it's music scene birthing a near-constant litter of bands and releases BarCreeps stand well in-amongst it all. The band are now on their third release and debut full-length ahead of previous releases on both Dirty Sushi Records for their first EP and Disconnect Disconnect Records for their stellar second, a review of which can be found – Here.
The band have split the release between Dirty Sushi Records and themselves for Human Remains and it all begins with 'On Dying' and it's sample lifted from Ray Kurzweil's performance in Transcendent Man – Here – before fast melodic UK-styled Skate Punk in the form of the hook-laden eponymous 'Human Remains'.
'Human Remains' may have the hooks but it also has the wording to cut to your core so pay attention. 'Girl Gone Missing' is what traditional Skate Punk would be if it had taken more cues from 80's Post-Hardcore and had hailed from the UK. In fact, this aesthetic is very much BarCreeps all over on this first full-length, they have done their Punk-centric homework from break-downs to tuneful Pop-(un)sensibilities and more.
'The Decline Of Middle Europe' is eerie in it's wording and insanely well executed sonically. Imagine Pulley crossed with Dag Nasty flirting with heavy-weights of the contemporary UK/European Punk scene and you have track four. Track five continues this layered and more progressive side to Skate Punk and you can't help but be impressed by the band's own take the popular Tech-Punk of the now.
'Superforeclosure' despite it's dodgy Sci-Fi sounding snappily executed break-down effects, whizzes by welcomely but memorably – 'You can tell me nothing lasts forever, I'd tell you our memories are long, I once thought this system was a just one, this fucked up system went and proved me wrong'.
'Jennifer Unit' plays with more of those Pop-(un)sensibilities while still being just as serious lyrically as it's predecessor. 'Unreasonable Man' is a slight move away from the more technically unpredictable and or complex side of Human Remains with a track reminiscent of The Decline if they had abandoned their Aussie quirks for southeast English. The track still has it's progressive tone but it is admittedly refreshing to hear a more traditional song from the band despite it's Hard Rock-esque closing string-work.
'Grey Goo' is the final track you needed (or I needed, whatever) to finally put your finger on a band whose fans BarCreeps could appeal too and that band would be Angel Du$t. 'Grey Goo' is jagged and frantic but also approachable and utterly hook-laden once again. BarCreeps have the Pop, the Skate, the Punk, the core and the weird and you can damn-near try and deprive them of that but you'll surely fail.
'Kill Chain' is the final track for the streamable version but more on that shortly. Again, the band play it a little more "normally" without forsaking the every so slightly abstract aesthetic shown-bare so far. The highlight of such being between 0:45 and 0:53 where a particular and possibly sentient guitar-line decides it's in an early 2000's Emo-Pop band lasting for about as long as said band's existed for.
Harsh? Perhaps but in the case of 'Kill Chain' it really works. In fact by the time it reappears at 1:39 it's grown-up a little and thinks it's now a Skate Punk latter-day Alkaline Trio but of course by then it's largely irrelevant because you're in love with it anyway.
If you choose to download the album you get three extra tracks that are only available if you do so and if that doesn't sweeten the deal (they're good) I don't know what will.