Adptd – Long Beach, California, USA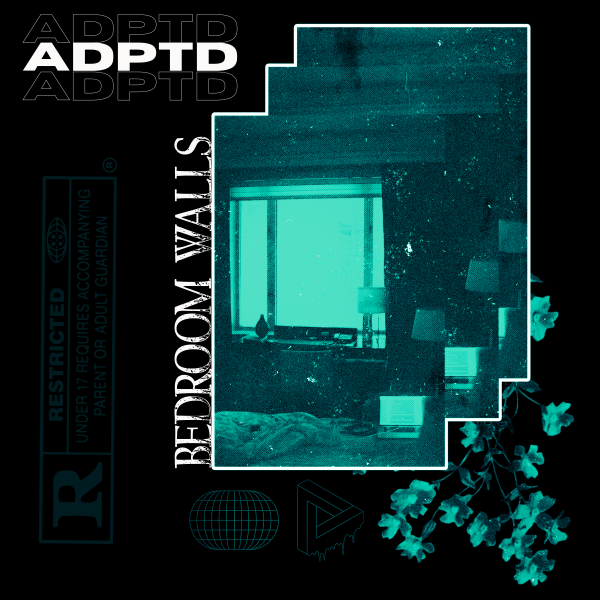 Adptd and The Bedroom Walls EP enter into a time where the legacy of both Post-Hardcore and many of its nuances and offshoots are coming full-circle. Yet again. Much like particular veins of politics (unfortunately), fashion (in the eyes of the beholder), music, art and History (unfortunately, but again), Emo in particular, though a broad and varied term and arguably an audible conglomerate at this stage, can be counted here quite prominently.
Enter, Adptd. Originally from Arizona but a long time resident of Long Beach, CA, Adptd and their new, forthcoming debut EP arrived in my inbox, mired in and amongst this influx and latest nuanced wave of Post-Hardcore and Emo music. Adptd and The Bedroom Walls EP release via rad-pop. records on the 25th of February. I was lucky enough to hear it early. Shall we?
'Coward' was the first single and tease of what was to come and within seconds of its rolling, sombre but driven melodic intro, shows Adptd's penchant for the early 2000s explosion of Emo-centric Post-Hardcore. Incrementally, though controlled, precise, mildly metallic drumming paces a tale of a failed relationship contemplatively. From 2:18 until 2:58, Adptd's contemplative twists and turns are represented by a meandering, technical and cutting but melodic lead prior to the final cathartic exclamation, matched all the way by further stellar drumming. 'Coward' makes a considerable entrance.
'Personal' follows. With harder, heavier and writhing but fluid layers, track two embodies the precision of Post-Hardcore's legacy ahead of soaring vocals chased by a guitar yearning to run parallel. Beneath, powerful cycling rhythms crucially cut this ease of sad and evocative melody with brooding anger. Though firmly in and beyond the Emo-spun Post-Hardcore of the early 2000s, Adptd's skill, reflection and knowledge of the genre's history in Hardcore is clear. Speaking of which, this is the line the standout and soulful 'Stay' takes. A case for the lingering but not less seminal charged Post-Hardcore of Alexisonfire, through tempo, intricate layering and stunning vocal harmonies make 'Stay' a huge aspect of this debut EP.
The eponymous 'Bedroom Walls' slows proceedings back to a heavy-set trudge through regret and realisation, anchoring the EPs mid-point on the one hand and experimenting at the fringes of Emo-Rock on the other. Adptd's metallic drumming further pervades the release on 'Bedroom Walls' and together with the floor dwelling hum, remind you of the aforementioned brooding power and anger lurking beneath an otherwise melodic display. This power and charge reasserts itself in the intense 'Scarred' where modern Post-Hardcore is fully embodied with its Pop-Punk and Emo-esque drives, contrasting heavy looming riffs, slithering leads and well-timed, fitting vocal screams. 'Scarred' is another where the intensity the Bedroom Walls EP overclocks and contrasts in an equal and well-arranged measure. Track four also marks another fantastic drumming display.
'Revive The Soul' screams, croons and yearns for escapism from its rabbit hole. Track six of seven experiments more so out of the box but also pushes more of the same. Grounded rhythms are at equal footing with Josie Randle (AKA Adptd) as they move through a flowing catharsis with interjections of cutting, dangerously sharp guitar strings. It is important to note that bar drums, Randle holds credit for everything from vocals, writing, guitars and production. The latter in particular being intrinsic in tone to each of the facets and derivatives of Adptd's sound.
It is truly hard to find anything less than contrived when criticising this EP. Though the more abrasive aspects are arguably stronger and there are moments where they could go on for longer, they are still crucial for the releases contrast. Moreover, the quality, thoughtful arrangement, skill and poignancy transcend the EP's entirety regardless.
The Bedroom Walls EP closes with the hopeful 'Believe It Or Not'. Further metallic drumming and a classic and spasmodic Post-Hardcore structure coalesce and meet with the latter timeline genre in fantastic synchronicity. My advice? Add the 25th of February into your diary.
Updates:
Music:
rad-pop. Records: