Mute – Québec City, Québec, Canada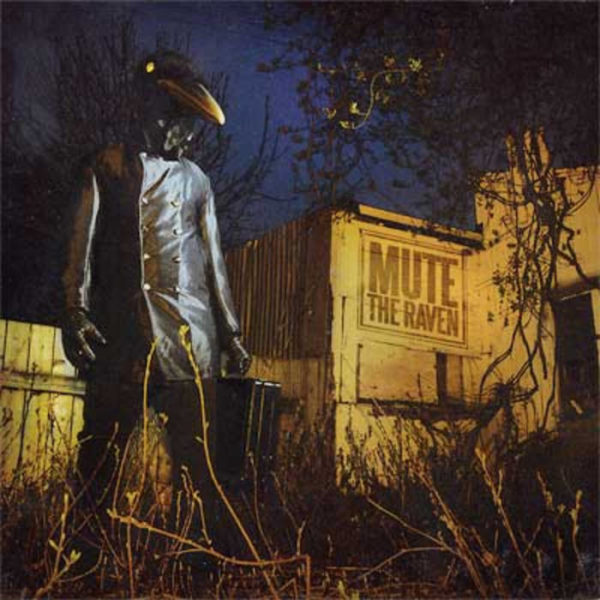 Despite the golden age of Skate Punk often being attributed to the '90s, it was only the beginning. "A Different Kind Of Show: Alex From Mute" is an interview title that exists wholly because of this. Although many of those seminal bands continued to speed-through the early 2000s and onward at a consistently high-bpm, the genre has had several huge stylistic stopping points along the way. These crucial time-stamps, looking back, are even more crucial to the contemporary genre now as they were in being notable at the time. The late '90s became the early 2000s. Double-time became double-time-plus, thick, jagged metallic riffs increased in their ability to lacerate the sound barrier and an already melodic genre sent harmonies and anthemic strings into overdrive soaring as high as a starkly silhouetted raven.
Although truthfully, you can name many from this era, I can safely guarantee that Mute will be a sizable fraction of the relevant discourse. And within that, The Raven. On August the 8th, the Québec City seminals will be celebrating twelve years since the release of the band's second album with a ticketed-live stream L'ANTI in Québec City. The event will shot to highest-quality with multiple cameras with a live Q&A session and competitions throughout. Even more notably, is that with the record being played front to back, for the band will be debuting tracks that have never seen the live-light of day. It's going to quite the event, one that I had to chance to discuss with one of the four horsemen of the Skate Punk-pocalypse. And so – A Different Kind Of Show: Alex From Mute.
So Alex, to start things off, please tell the people reading this who you are, what you do and why we are here in the style of Troy McClure from The Simpsons!
Hi! I'm Alex. You may remember me from such films as "I Can't Believe This Tour Made Money" and "The Bass Player's Neck Is Missing". I play guitar in the band Mute. We're a fast, melodic and technical Punk band in the style of the Epitaph/Fat Wreck Chords bands of the '90s, albeit with a more prevalent Metal edge. The band has been around since 1998 and has played over six hundred shows on several continents. We have released four full-length albums, the latest being 'Remember Death' from 2016. Funny you should ask me to start the interview with a Simpsons reference, I slipped a Simpsons reference at the end of the last interview I did. It may or may not have gone unnoticed. I also hate every ape I see, from chimpan-a to chimpan-z.
Ah, Alex! I remember you from such technical Punk albums such as Sleepers, Thunderblast and The Raven but also the never-ending tide of fast melodic Punk. Ha! I truly hope some people noticed, at the very least, Dr. Zayus…
So firstly, other than religiously watching The Simpsons as I have been (curse you Disney+!) 2020 has been a year of unprecedented changes. How have you been coping and keeping busy regarding being in a band? Was it tough to adjust to the temporary way of things?
​Disney+ you say? I hope you won't be wanting to watch the Michael Jackson episode anytime soon!
Regarding the band in these unusual times, we're sort of lucky in the sense that we didn't have a big year planned anyway. We had some shows in the Spring, but only the last one got cancelled when the shit hit the fan. A couple of outdoor festivals have been axed too and we had a tour of Japan in October. That's off the table. One more thing we had planned was the special 'The Raven' show. That was to be held in November, but when we realized that we were not going to play live for the rest of the year, we decided to do it as a live-stream instead. Of course, we fully intend to do a "real" show with that once the situation has reverted to normal.
Keeping with 'The Raven' theme, we also released a special edition Vinyl reprint of that album via the label People Of Punk-Rock Records and a very special Cassette tape edition on Milk & Cookies Records. Personally, it wasn't too hard to adapt. Our rehearsal space was closed for a few months but has since reopened last June. So aside from not being able to rehearse as a band for some time, nothing much changed.
I actually think we skipped that one. I have no memory of watching it! – The outdoor festivals in the UK and Europe have all been axed now too, which is a real shame as the summer festival circuit here is incredible. Was the move to cancel The Raven show a quick decision or were you hesitating around the cancellation? I've spoken to a lot of bands about their own cancellations and they've all said the anticipation on having to make the decision or not wasn't the least bit preferable.
Similarly with the decision to cancel, was it a clean-cut transition into the idea of a live-stream or did you ruminate on that for a while? Ah yes, the reprint, I'll get on to that in due course!
That's the point. You can't watch the Michael Jackson episode (Stark Raving Dad) on Disney+ because it isn't on Disney+. The whole episode is banned from the channel.
As for 'The Raven' show, we had planned it so far ahead in time that it hadn't even been announced yet. So, in reality, we were not cancelling anything. Not for the public anyway. We kept a hold on the venue for a few months, but we quickly came to realise that it was not going to happen in 2020. Originally, we never really considered getting into the live-stream business. But one day, our manager, who also owns the venue from where it'll be streamed from, proposed it to us. By that time, it was clear that it was probably the only occasion to play live we would have this year, so we decided to do it.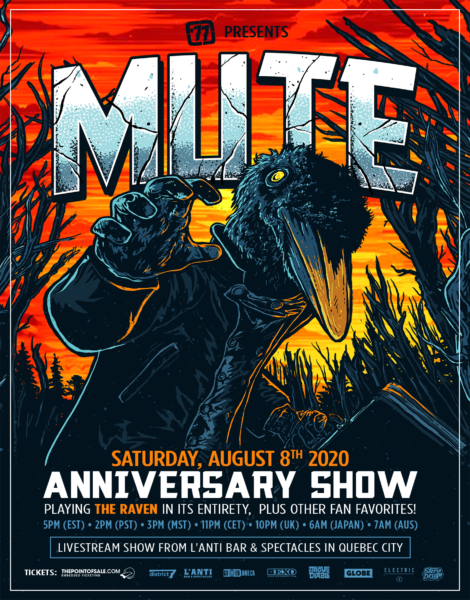 That would be why I don't remember it then! Much more memorable are the eerie predictions or "things The Simpsons got right". *shudder*.
Had you always decided on doing the show as a twelve year anniversary or was it something you had always wanted to do regardless for that album? What was the catalyst for the idea? – As an extension of sorts, do you think you'll celebrate anymore of the respective anniversaries?
No, not at all. Personally, I wouldn't even have marketed it as an anniversary show. Just a show where we play the whole album. I mean, every year is everything that is over a year old's anniversary, so it's a little bit silly if it isn't a tenth or fifteenth anniversary or some round number like that.
If I recall correctly, we started thinking about it around the time of the band's 20th-anniversary show, in 2018. By that time, the album was already ten years old. At first, we had wanted to do it last year, but the venue we wanted to use was undergoing renovation works so we decided to just wait until they were done. But the renovations went on and on and then COVID-19 happened. I think the reason we wanted to do a show like this was just to give added value to the fans. Not to play just a normal regular headlining show, to make it special so people have an extra incentive to be there. Next year will be 'Thunderblast's tenth anniversary. We have already started thinking about doing an anniversary show, but because of all that pandemic bullshit, it's hard to say for sure what will happen and when.
That's an interesting take. I think because a lot of the established names in the Skate Punk and adjacent scenes have jumped on the anniversary wagon, it's quite easy to assume that to be the reason for revisiting records in a live format.
Did you have any concerns or were you at all dubious about the live-stream format at all, either personally or as a band? Within the context of it being a more recent phenomenon that is. Have you watched many yourself?
Yeah well, bands don't make money out of record sales anymore, so they have to tour more to generate revenues, and anniversary shows are certainly a good way to get people hyped about a band that's coming to town every eighteen months. Whether a band jumps on the anniversary bandwagon to make more money or just to give something special to the fans, whatever the reason behind it is, it's irrelevant because, in the end, the result is the same. The fans get more, the band gets more. And both motivations are not mutually exclusive anyway.
When I think about it, it's a lot simpler for us to call it an anniversary show than "the show where we'll play that old whole album from start to end". That doesn't quite fit on a poster. A lot of effort has been going into educating the fans about this live-stream we're doing. That it is a live show, not pre-recorded. It's not a "band practice" as someone told us, it's a real show. It's a special show, we're playing a whole damn album, something we've never done before. We're giving away stuff to people who buy tickets early. All of that to persuade people that's it's something worth paying for. Because that's not something they're used to, paying to watch a concert online.
I admit that it is a concern… Will there be a lot of people that will want to pay for that? Time will tell. I did watch the Belvedere live-stream and also the Satanic Surfers one from a few weeks ago. They were fun to watch. Better than what I thought it was going to be. Both bands had a lot of energy. They didn't play like there was nobody in the crowd. That's something that concerns me too. How do we get pumped to play when the room is empty? I guess time will tell for this as well.
I think that's sadly true in many cases. I completely agree with you there, I've been to a few myself and the mutual gain, so to speak, on both sides is obvious. Ha! Yeah, I should think the poster would have been a little clustered. – Really? I'm surprised someone said it was "band practice". That's really quite insulting!
When you talk of Skate Punk and of the seminal bands, Mute always come up. I remember when I found my taste in Punk going that way back in the day and multiple people sent me your way as a band that not only pushed the genre on but also, to be blunt, gave a shit about the scene, which is something you've made very clear through your own words.
That's a fair point though, but knowing that you're reaching fans from a greater scope geographically and simultaneously more than in a "normal" setting must be exciting?
Yes, someone really said "band practice". But then again, many bands have done live stream from what appeared to be their rehearsal room. They were all free though, and ours costs money. That's why I say that people have to be educated about what we're doing. We have to make it as clear as possible that it's not just any live stream, that there's good value in it. It may be clear to us and some people I'm sure, but it's not obvious to some others.
It's amazing to hear that we get recommended by people as a band worth checking out. Complete strangers, no less. It's very flattering. When I joined the band, I thought only people we knew personally would listen to us. Now we've played all over the world. Yet, there are many places we've never been to. And that's the beauty of this live stream. Anyone anywhere can tune it and watch the show. I know there are a lot of people that have never been able to see us live that will get their chance now. That is very exciting indeed.
I would hazard a guess that these markedly more professional live-streams will increase in frequency so being all the more emphatic about it all is incredibly worth it.
So, The Raven, it is my understanding that through playing the album from front to back, as a band, you're dipping your toes in waters yet unexplored. In other words, there are tracks on the album that haven't seen the live-light of day as of yet. What has it been like preparing for this event? Are there any factors that people may not realise are a part of all this?
Yes, we are playing the whole album, from front to back, from top to bottom and everything in between.
There is one particularly devilish track that has never been performed live before. In fact, we never even had rehearsed it with vocals. That one was difficult. There are a couple of other songs that have been played just a handful of times in front of a live audience.
Preparing for this has meant a lot of practice, both as a band and personally. There are ways I used to play things that I gradually abandoned over the years, as some songs were dropped from the setlist. I had to re-learn and re-engineer part of my playing to be able to play some of these parts. That took a lot of time too. And to be honest, we played faster in those days, so it took quite a bit of time to get back up to that speed. That was probably the most challenging aspect.
People may not realise this, but Matt, our other guitar player, doesn't live in the same city as us. That means we can't rehearse as a full band until about a week or so before the show when he'll fly over here. That, of course, adds an extra level of difficulty, but it's nothing new because it's been like this ever since he joined the band in 2016. Moreover, obviously, he was not in the band when we recorded 'The Raven'. Therefore, he had to learn six or seven new songs just to be ready for this show. Almost half of the show is made of songs he has never played live before.
Having just *wowed"* audibly, I'm now even more anxious for the 8th. I was actually going ask you if there were any tracks or ways of playing that that took a little more time after the previous question so well done for anticipating that, you've done this before!
The whole endeavour, including all your prep, seems like quite the adventure! Are there any tracks that you yourself or even the four of you collectively are particularly looking forward to playing live?
I haven't really thought about it. It's going to sound pretty boring but I don't think so… I can't speak for the other guys in the band though. We've never had an overwhelming demand for any of the songs we don't play regularly. Otherwise, we would have worked them back in the setlist. Now that I think about it, there's the first song on the album, 'Apocalypse Soon', that we've barely played during the last five years, that gets the most request. I suppose that's one I'm happy to give to the fans. But as we're not playing in front of an audience, we're not going to get the immediate reaction from the crowd, unfortunately. We're also not going to know how well a crowd would react to those rare songs.
It seems as if it is indeed fair to say that this is going to as much of an eye-opener for you as it is for those watching.
You mentioned earlier about the repress of the album on People Of Punk-Rock Records and the tape on Milk & Cookies Records. How did come about? was it also decided a while ago? Did you know much about both labels beforehand?
For the Vinyl repress, it was first and foremost by necessity. We were out of copies. We would have done a repress regardless of if we had done a special 'The Raven' show.
I can't say for sure who got in touch with who in the beginning, but nevertheless, we were glad that People of Punk-Rock were interested in investing in this repress deluxe version. Anthony, the main man behind the label, is someone we've been familiar with since the early 2000s. He was booking shows in his hometown and that's how we got to meet him. Fast forward about fifteen years and there he is, putting out a ton of great releases.
For those who don't know, Milk & Cookies Records was the label that put out our first full-length album 'Sleepers' in 2004. One of the guys in the label recently decided to resurrect the label as a Cassette-only label, focusing on obscure stuff and albums that have never been released on Cassette. He's someone we know very well and he approached us with his idea of putting out 'The Raven' in Cassette format. We couldn't see why not.
In the end, I can't really say we had been planning all these releases to coincide with 'The Raven' show, but somehow, they all happened at the right time.
Well then, all you have to do now is to find the Jade Monkey before the next full moon…
People Of Punk-Rock have been gathering quite the stream of releases, so The Raven fits right in there! Just quickly, do you collect physical releases at all? Be it CD, or Vinyl.
So, while we are on the subject of releases, I want to ask you a question that I initially "tested" on Chris McGrath of Much The Same. If you had to compile an EP consisting of five-tracks from Mute's career to date, in order to depict the band's "sound" as a whole, what would you choose?
I don't collect physical releases. All the CDs I have are in a box from the last time I move; seven years ago. The only ones that got out of there were the ones I sold.
For the five-track EP, those are the ones I would choose: 'Bates Motel', 'Fill the Void', 'Fading Out', 'A Love Affair with Fire' and 'King Of Spades'
Finally, before we start to close off and I let you get back to prep for the show and such. Are there any bands your particularly taken with right now? Or rather any recent-ish releases you've got on with particularly?
Yes absolutely! Right now, I'm rocking the new Ensiferum album 'Thalassic'. Other albums that have come out since the beginning of the year that I like a lot are F.O.D.'s 'Sleepville', Ulcerate's 'Stare Into Death' and Be Still and Firewind's S/T. I still listen to Slick Shoes' live album that came out last year. I'm actually very excited about their upcoming album. It's their first in 17 years or something like that!
That's certainly not a bad list there, you've given me some to sample myself. May I recommend a band from Ontario named Motion Sickness while I have you. Their album 'Isolate' is very much the 2020 anthem.
Thanks for your time Alex, before we go, is there anything you'd like to say regarding the upcoming live show at all?
I'll check them out. That name sounds familiar.
Tickets for the live stream can be bought below! I say it again; this not just a regular show! There are going to be stage props made especially for this show, a Q&A video and much more.
Thanks, everybody for the support. Stay safe. We'll see you on the other side.
The full-album show for The Raven will be held at L'ANTI in Québec City this coming 8th August. For all things Mute, the trailer for the event and all ticket information, land below.