77 Spears – Northern England, United Kingdom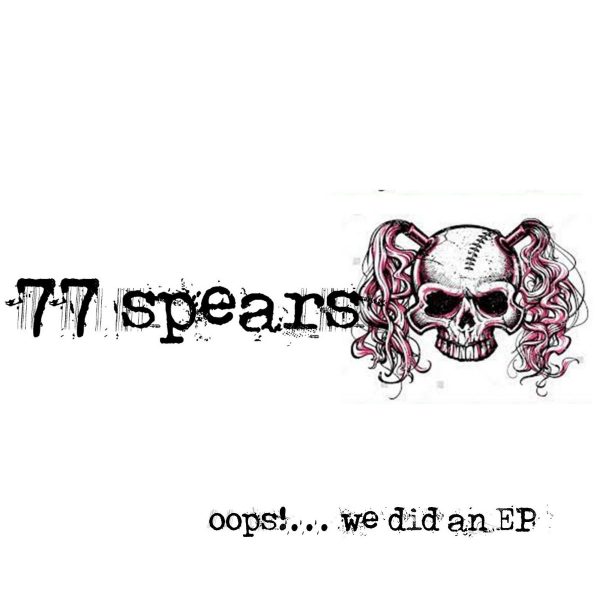 Today is all about 77 Spears and Oops​!​.​.​. We Did An EP. And don't worry, this debut EP from the Northern English four-piece is in no way another '77 Punk band vying for relevance as their politics age amongst hordes of buttery cash. No, 77 Spears are far more relevant, grounded and exploratory. 2022 marked the year the four-piece decided to unveil their foundational '80s Hardcore and resulting nuances charged by life's numerously pervading questions.
77 Spears and Oops​!​.​.​. We Did An EP then, yeah?
'Alone In My Thoughts' instantaneously echoes and accosts like a thumping hybrid of Kicked In The Teeth and Poison Idea. Track one is a blast of reverberating '80s Hardcore dirge permeated with a raw but gyrating groove that soundtracks the externally sponsored internal questions is presents.
On 'Vegas Baby', 77 Spears playfully further this inherent groove with a stoned nine seconds. However, dependent on opinion and taste, 77 Spears are either employing a latter timeline NYHC groove to their display as a nuance or that of Stoner Rock. It's up to you. Moving on, 'Vegas Baby' ups the ante, leaning on D-Beat drums heavily and only  really breaking from the line to crash through a flexing refrain. The band's whirling, distorted rhythm is owned by a classically low '80s core that through its powerful chord progression captures the reason why the decades variant of Punk has both endured and inspired.
With the band's teases, it is the timely 'Shouting Into The Abyss' where minimalist production aides the now more prevalent cycling Stoner-Punk on offer. A heavily subdued lead provides the intro before it goes on to struggle through and navigate the equally cumbersome distortion in the verses. The band's riffs though enveloped in this miasmic and particularly raw variant of reluctant Stoner-infused Hardcore, also tread on much of the bludgeoning proto-Sludge latter timeline Black Flag left to be developed. This is entirely why the middling 'Shouting Into The Abyss' marks itself as one of the best of this debut.
'Leave It All Behind' battles hindsight and its infectious and corrupting anti-vigour. Track four also verges on the Crossover Thrash sound itself now so irrevocably and arguably, symbiotically tied to the Punk and Hardcore machine. The band's minimalism yields a caustic Punk-Rock along with an aggravated and unapologetic D-Beat, imbued with minute but timely reductions in pace owed to their fellow inherent need for cycling, lethargic and corrupted groove. This then leads to an incendiary exit into the pure, jabbing majority of 'If I Could Only Get Some Sleep'. Cut with raw and brutally hacked edges, lacerating through the band's Punk with the violently raw and torn refrains, 77 Spears, quite frankly, show off.
This is a band that own who they are, on an EP very much as fun as it is a necessary existential release over-encumbered by the last three years. The warped, foreboding, dread-filled and comfortably complacent acclimated discomfort matches the title of the finalising blast. It is here that the aforementioned and staunchly robust Hardcore foundation can be seen for its full expansion. The rumbling, effervescent bubbling rage, barked lyrical vents and rough but deadly metallic accompaniment merge with this intrinsically and intentionally subdued Stoner aesthetic so crucial to it all at whatever increment.
Today was all about 77 Spears and Oops​!​.​.​. We Did An EP. Find all you need below. Get at it.