Zero Again – Bristol, England, United Kingdom (is it?)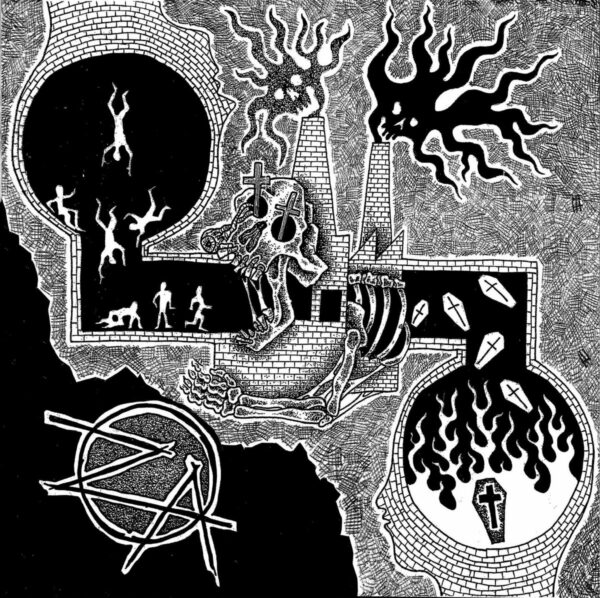 Ah, yes, the perpetual anger of Hardcore Punk. Can I keep up? No, not really. However, Zero Again and Revert To Nothing are an aggravated two-some of earnest Punk-Rock reverberating dirge that are very much apart of this hurtling and not-remotely bottled violence. Minor Threat pun side, I am not referring to any possible straight-edge inclinations but simply twisting the seminal statement somewhat. Zero Again do not for one semblance of a second, bottle or internalise anything. The band includes members and ex-members of Warwound, Grand Collapse, Regret, Flux Of Pink Indians, Decadence Within, Bring Ruin, Ephemeral Fetus and I'm told many more. One of these such humans also happens to be veteran Punk-author, Ian Glasper. A man who I'm told released a veritable tome recently. Read all about it and more in an interview – Here.
The band are dotted around the UK southwest and coagulated in Bristol to record with one Danny Guy of AlphaDelta Recording and Rehearsal and then had their efforts mastered by Daniel Husayn at North London Bomb Factory. This resulted in two EPs, one of which, Out of the Crooked Timber of Humanity​.​.​., was unveiled in February and the second being what I am about to dissect. Zero Again and Revert To Nothing, here we go.
The band's Mr Glasper once described the sound of Zero Again as '[…] dark, twisted Punk, very rhythmic and very heavy (without being Metal).' This very line is one tough to exist on within what is now a legacy of Hardcore and yet, 'My World' seems to stand tall with a gaze landing firmly upon much of that history. The band blast deep-cut tempo alternating 'core with marginal and whirling melodic leads acting as the perfect partner to the cycling drumming. Zero Again border the realm of Metal-infused Hardcore culminating their plethora of past experience into an aggravated groove not adverse to a good old stomp. 'My World' produces and then subsists on its own vitriol. Track one opens the EP well and yet leaves no bonafide blueprint.
'My World' is tightly serrated without being Metal and spasmodic without treading on Post-Hardcore overtly. 'Not As I Do' follows on and rages against hypocrisy in a pure-to-form reaction to the past near-year and half of governmental twattery. To put it lightly that is. Stylistically, however, the structural abrasion of the former is present but instead catapults itself through a meandering, classically satisfying Hardcore bass-line amongst a unified cathartic rage of 0:56. Zero Again are a Hardcore band with a multi-faceted appeal and track two is the statement of this sequential run. Track three, 'Tomorrow Disappears', reinvigorates the band's groove, their notable warped melodic leads and their kit-residing spasmodic displays. Three also makes a case for the power of the contrasting and interchanging vocal interplay, leaving it as a resounding highlight.
'Angry Corpses' whirls in an early-Hardcore distortion rife with a proto-NYC 'core stature. The band's penultimate is another that unrelentingly cycles and maintains the momentum of the lyrical disdain it is fueling itself with. This is a band that could easily eviscerate the personified sound-barrier with speed. It is also a band that could seamlessly do the same with a barrage of bludgeoning breakdowns. However, instead, Zero Again combine the two in their own way as the persistent jabbing and again, notably melodic sonic lacerations of this track epitomise aggression incarnate. Zero Again's Hardcore doesn't sit still and combines what it wants when it wishes.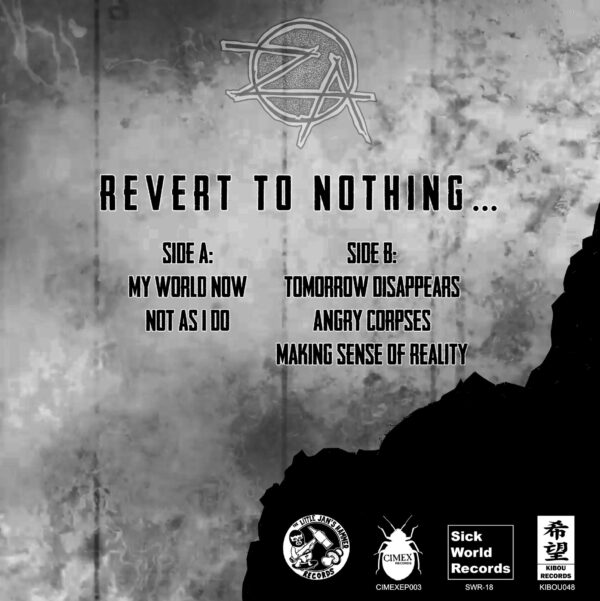 'Making Sense Of Reality' is lost within the contemporary maelstrom of very much that. There is little to say on the band's final blast and there is also little room for any founded criticism. Track five closes a masterful blend of Hardcore. Moreover, one that sentiently cascades its appeal across the spectrum in an unquestionably natural manner.
Zero Again and Revert To Nothing release on the 19th March digitally (bandcamp) and physically via Kibou Records (UK), Sick World Records (New Zealand), Cimex Records (Sweden) and Little Jan's Hammer Records (Spain).
Updates:
Music:
Kibou Records:
Cimex Records:
Sick World Records:
Little Jan's Hammer Records: