Winning Streak – Texas, USA
Winning Streak and their 'Stop Screaming' single marks another prominent waypoint in the microcosm that is the band's 2020. However, before that, some context is required. 2018 saw a debut album that witnessed the Texas-founded band soar over melodic Punk-Rock and technical Skate Punk that saw more harmonies that you can Pop-a-Punk at and a strong embodiment of both '90s Punk as a whole and it's legacy forthwith. Winning Streak took influences from a crop of bands that juxtaposed their technical grit with soaring and again, harmonic melodies. Whichever Path You Take spoke of the potential of Punk to ear-worm outside of being simply abrasive. In fact, you'd be hard-pressed not to throw the band's lot in with the likes of Heartsounds, Belvedere, This Is A Standoff, Mute, Much The Same and MxPx. The latter two, perhaps, are a little more relevant.
With that out of the literary way, back to 2020. This year has not only seen the band writing but recruit both Chris McGrath from Much The Same and Davey Knight from Debt Cemetary into the fold. Furthermore, Whichever Path You Take, will also be releasing remixed and remastered this coming September on digital and vinyl. Finally, Winning Streak 2.0 will be releasing their follow-up, We Need A Plan, in the not too distant future and THAT has been mastered by the absolute name that is John Harcus of Pmx and John Harcus Audio production, who you can find – Here.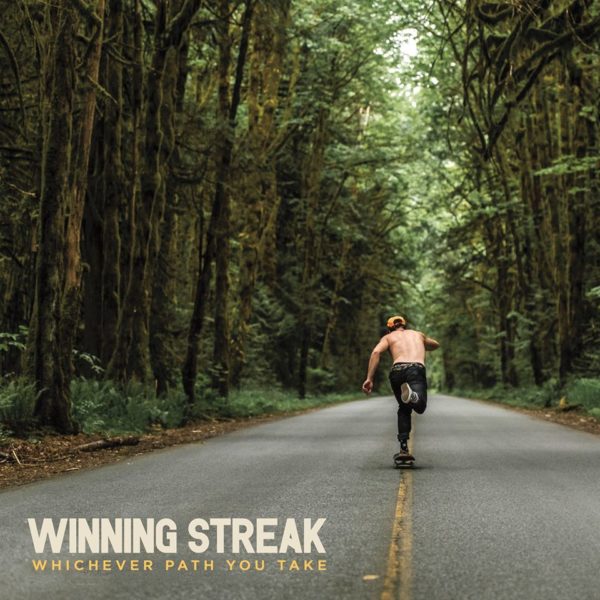 But enough of that, Ear Nutrition had 'Stop Screaming' early and this is how it went…
'Stop Screaming' opens with the brooding hallmark that markets much of the pull of contemporary Skate Punk via a gentle to progressively less gentle ebb of melodic and anthemic layering. The band then, when they feel it necessary, catapult through an aggressive but melodically-led outburst that finds itself somewhere between both the classic technical sound of the late '90s and that of the now. Post-abrasion, Winning Streak maintain the gritty charm of their debut but push further their juxtaposing need to soar above the tightly-wound, cutting and attitude-rich rhythm section. The band employ regimented yet spasmodic tempo changes and dynamic layering that not only keeps you firmly on your toes but speaks volumes of the skill of Winning Streak 2.0.
Winning Streak are arguably amongst the upper-end of the harmonised wing of contemporary Punk and they know it. Whichever Path You Take emphatically debuted this to the world. 'Stop Screaming' within this is a definitive return to form but via a production that aids the rough-cut-to-melodic dichotomy stand stark in definitive contrast. Said contrast, as you likely expected, isn't that simple but also sees said dichotomy exist symbiotically. 'Stop Screaming' is a mission statement musically that tells of a different interpretation of good and evil that is then overruled by reality dependant hope. Vocally, Andrew Palmer's cathartic, convicted and emotive tones are at their best and with the inclusion of Chris McGrath, allows Winning Streak to sound as they were always supposed to. 'Stop Screaming' bridges the band's roots with their ambition ahead of a full-length you'd be an idiot not to sample. – 'We grow more healthy in reality'.
Well, that was my take Winning Streak and the 'Stop Screaming' single. Although I can't show you as of now, I can say that on good authority, that there will be teases coming soon. For now, however, here is a sneak peek of Chris 'Gunner' McGrath pitching in on vocal duties.
Thousand Islands Records will be handing We Need A Plan, alongside further distribution worldwide, so keep your eyes peeled. For now, you can pre-save 'Stop Screaming' on Spotify – Here.
Updates:
Music:
Thousand Islands Records: