Stay Out – Oakland, California, USA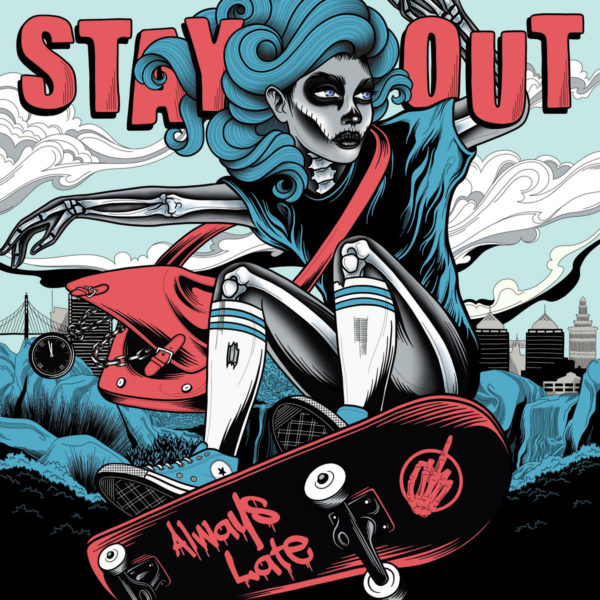 Green Day, Operation Ivy, Rancid, Descendents, Lagwagon, NOFX and countless more. Such household names are the very reason for Stay Out and Always Late coming into play in late 2019. Such seminal names, resulted in the rejuvenation of US and then global Punk music, and ultimately got it where it stands strongly today.
Stay Out are completely indebted to such stalwarts for their Cali-Punk sound. The band hail from in and around Oakland, CA, so it goes without saying that fans of the Epi-Fat schools will likely want to read on.
Entering on 'High and Dry', the and straddle the crucial historical line that set across the fret-board as Hardcore began to foster what would become Skate Punk. You can find it in the EN Skate Punk playlist – Here. 'Existentialist' takes a leap forward into what was OG Skate Punk in a vintage melodic yet snotty anthem of '90s rebellion.
If you were to epitomise mid-'90s melodic Cali-Pop-Punk then 'Carnegie' would be it despite existing nearly thirty years later. Stay Out are three tracks in and both their refinement of their previous work and tributary mantra is here. 'Berkley Nights' echoes that initial Operation Ivy-esque American-Ska with the gentle flowing juxtaposition of the upbeat verses and a moody, melodic Punk chorus.
'Distraught' crosses dated Lagwagon with equally dated Green Day and arguably Blink-182 in the back to basics societal observation so typical to this era of Punk. 'Distraught' maintains momentum but is unfortunately nowhere near as youthfully exuberant as what preceded it. 'Howling At The Moon' however, ups the ante. The band both redeem and propel themselves down your ear-canal via an almost MxPx-esque Pop-Punk/Skate Punk hybrid. Drummer Nate and his performance mark this as an absolute highlight.
From Lycanthropy to Vampirism, 'Banshee' furthers the Pop-Skate-Punk offer, again, in a track that will be pleasing to MxPx fans. Although it suits Stay Out overall, 'Banshee' is a track that suffers from its subdued vocals as the release has in general. Thankfully, as stated, this is something that is soon pushed to the side. 'Broken Hourglass' jumps the Pop-Punk barrier onto faster inclines. Stay Out contrast their snotty, subdued vocal style with harmonies from the school of NOFX and Bad Religion in another intrinsically suiting blast of Skate Punk.
'Mad At The World' offers another slice of rebellious sun-soaked Cali-Punk. The track offers another timely change in tempo ala thickly set, mid-paced Pennywise-esque riffs and a generally more gritty approach. Unfortunately, much like the Ska-elements on Always Late, this welcome change populates the release less than it should. That said, 'Mad At The World' stands more prominently amidst the routine segue between Pop and Skate Punk. – 'You say you wanna build a wall, if you do, I'll make sure you fall!'
I had initially expected to be bombarded by the same old tunes and enjoy them no more than in general passing. However, Always Late, despite its characteristic formula, doesn't disappoint. This is a record the band clearly had fun creating. Stay Out close in a manner that only furthers this. The band's majoritively seriously-unserious outlook merges with Sci-Fi escapism in 'E.T' and back to basics Pop-Punk defiance in 'Not My Day'.
The final foray is given to the notes of 'Sleepy Floyd', where, surprisingly, you are serenaded with a far more explosive escapism with onset, mischievous Ska-infused verses. The band may have underused such a stylistic but make it count and infuse it well into what Always Late is about.
Always Late may not be perfect, but it's youthful and energetic exuberance is infectious, upbeat and something else you can soundtrack these socially-distanced times with.