Saginaw – Minneapolis, Minnesota, USA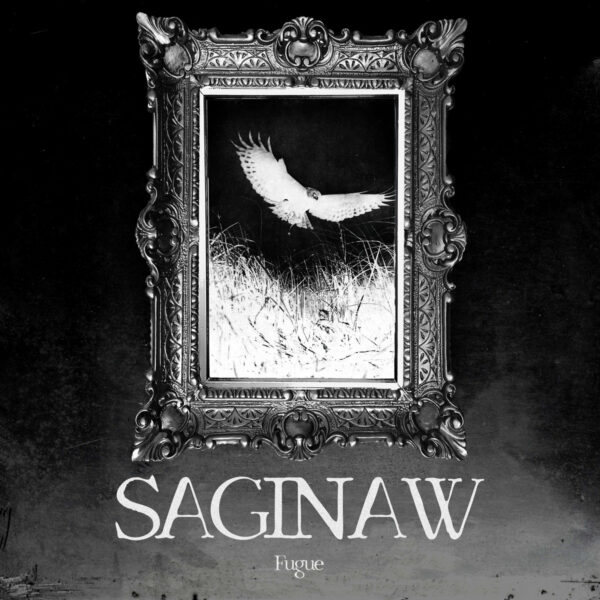 Will there ever be a lack of fast, loud, heavy and cathartic music? Saginaw and Fugue I would argue, are a clear example of that being a resounding no. The Minneapolis band formed in 2018 when the world was marginally more normal (what is normal?) and since then, have released three EPs in three years respectively. In that time, the band's beyond-abrasive shamelessly metallic, Noise-infused, Post-Hardcore-adjacent Hardcore Punk has climbed the ladder of refinement. Now, you can go into this review completely green and focus on the two-track EP I am about to break down, or you can visit the band's previous work before we rendevous below.
Ah, you're here. Shall we?
'Curse My Name' instantly pushes the band's tendency to contrast their serrated-norm with eerie melodic leads. However, it doesn't last long. Saginaw's drumbeat battles earnestly to get back to their lumbering riffs and by 0:14 it has victory. Vocally you are met with pure vitriol with Saginaw at their most terrifying as vocal cords tear across a lumbering, reverberating and cycling set of Hardcore riffs. Saginaw, ala their Post-Hardcore tendencies, cannot sit still. The band's drummer breaks into another forward-facing refrain before the cycle repeats its rhythmic, spasmodic self.
Saginaw still employs much of what made Hardcore so powerful in its full-throttle tempo but recycle and repurpose the energy to their liking. In fact, in these repeated refrains and regular, refined yet dangerous tempo deviations, Saginaw are enthralling. This is especially the case considering the brilliantly contrasting guitar-work meandering through the incessant vocal rage.
Saginaw are defiantly a Metallic Hardcore band and yet up until 2:50, it is relatively in check. That's not to say the band's angular controlled chaos isn't filled with nods to their Metal-inclinations but it is post-2:50 that Saginaw progressively build toward them. The band's energetic Post-Hardcore subsides into a cycle of drawn-out lines to hard and fast breakdowns and repeat. The band then, in a sharp manner natural unto themselves, see the teasing of said breakdowns into a six-second blast of metallic laceration. It is then, that the band pull the plug. Saginaw relinquishes their aggression and glide into a beautiful ambience that does nothing but accentuate what came before it. 'Curse My Name' and its more energised Post-Hardcore-led melodic sound is nothing new to the band. However, in this 2021 release, it is resoundingly more comfortable.
The shorter 'Tired Eyes' returns to the band's staple Metallic Hardcore but again, specifically via this 2021 variant of their sound. The sound of Saginaw is amalgamative at its purest and none of what Fugue is showcasing is necessarily new. However, again, I can't express how comfortable it feels. 'Tired Eyes' has a keen Metal edge, energetic Post-Hardcore-warped riffs and that Saginaw "house-style". A style that can only be described as the catalytic impact-point between Hardcore Punk and Metal.
Despite an obviously strong performance all around on Fugue, I can't stress enough how the band's drummer maintains their assault. Despite an increased convulsion toward Post-Hardcore, through fills and raw patterns, you are constantly reminded of how important Metal is to the band's repertoire.
After thick, indulgent-chugging, 'Tired Eyes' roll-calls its second event. The band's brooding trudge pulls from its darkest reaches into a drawn-out display of slow yet cumbersome power. It is at this stage that the band could easily jet off in pursuit of whatever would break them from this brooding cycle. However, instead, the band's maniacal and warped 'core, now having you worn down takes its time in accosting what's left of you. The band edge their rage in discordant melody but it is only to lull you into a false sense of safety.
In fact, post-2:23 you're sat completely transfixed. You are powerless to stop the mesmerising maelstrom of sound enveloping your worn-out husk and you're completely fine with it.
Saginaw are a required band for heavy-music enthusiasts. Be that within Punk or Metal, passing on them would be a mistake.