Protected Left – Oakland, California, USA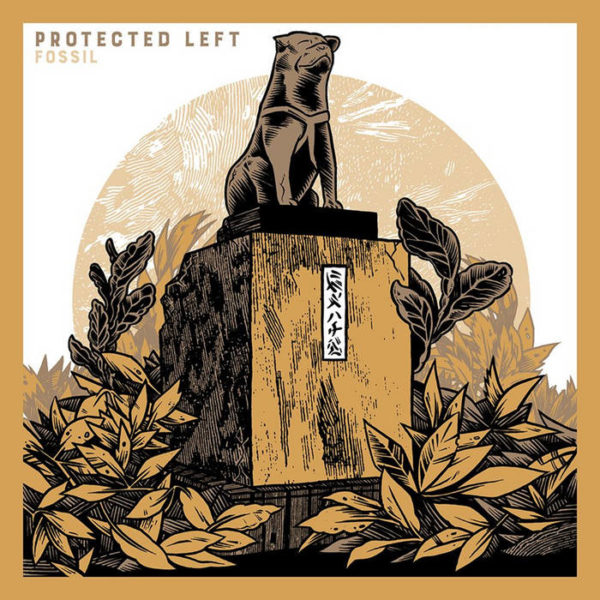 Skate Punk, Thrash, Oakland, California, Protected Left and The Fossil EP. I should think that's a direct and succinct enough way to introduce this clickable chunk of wordy words. Yes? No? Frankly; it matters not.
Why? Because this is a review and the above is but the introduction. Protected Left indeed hail from the above locale and in 2019, after two years off, continued their endeavour to infuse fast-Punk melody with grittily-thrashed edges. The band initially began in 2011 and under various personnel, have made it into 2020 riding off the back of their most recent 2019 line-up and the Fossil EP.
So, Fossil, is it a release set to gather dust? Seemingly, from the first few seconds of 'Never Know' at least, it isn't. 'Never Know' is a mental nightmare plagued with past faces. Its lyrical crisis is sung melodically and is the only real contrast towards the dominant two-thirds Thrash approach. Melodic Skate Punk constantly battles for more of a place amongst of tenacity of the Thrash on offer and has the vocals as its only true ally.
If any contemporary band monikers have come to mind, it absolutely should be the likes of Drunktank (Here), Class Of 86, Propagandhi, Blacked Out (Here) and Allout Helter. Clarity is somewhat of minor an issue but the visceral nature of the Thrash-Punk on offer and the subjugated melody are still matched well-enough. 'The Swell' allows brief respite after a stop-start intro noticeably favouring melodic licks. Protected Left dare-not not abandon their Thrash-obsessions but set their intensity is nearer to Skate Punk and Melodic Hardcore in this second track. Fans of A Wilhelm Scream will likely feel their ears-pricked at the marginal favouring of melody here.
Fun fact! Trevor Reilly of the very same band was responsible for the mixing stage of this release.
'Old Life' is where the band really settle. The constant battle between Punk and Thrash is far from tedious but in 'Old Life' the former is far and further favoured. The third of six is brooding, fast and sharp enough to maintain the accustomed flow of the EP. However, it also allows the emotional retrospect to land, hitting home far more openly atop marginally simpler and increasingly melodic and contemporary Skate Punk. You can find it in our house Skate Punk and Melodic Hardcore playlist – Here.
Fossil continues on its persistent push towards Punk-Rock with 'Worst Part'. The tracks 0:44 duration embodies hard-edged classic Skate Punk succinct in its cathartic burst. 'Reboot' embodies more of this openly. Protected Left have taken a seamless transition from tracks one to six. Although, admittedly, this could have been assisted by a slight rise in the production quality, as I've said before, underground music is what it is, and in that context, criticisms such as this are no less founded but understandable. In fact, the more you hit play, the frequency of which will more than likely increase, this issue ebbs away from importance.
Back to 'Reboot' however. The band's battle with the past reaches its end in the aptly titled closer. 'Reboot' is a blast of feeling that only but flirts with the Thrash-riffage so dominant at its origin point. Is this a disappointment? Well, that would be entirely down to taste, if the release all sounded the very same, wouldn't it be a little boring?
Protected Left and the Fossil EP is more than worth your time.