Light The Fire – Dallas, Texas, USA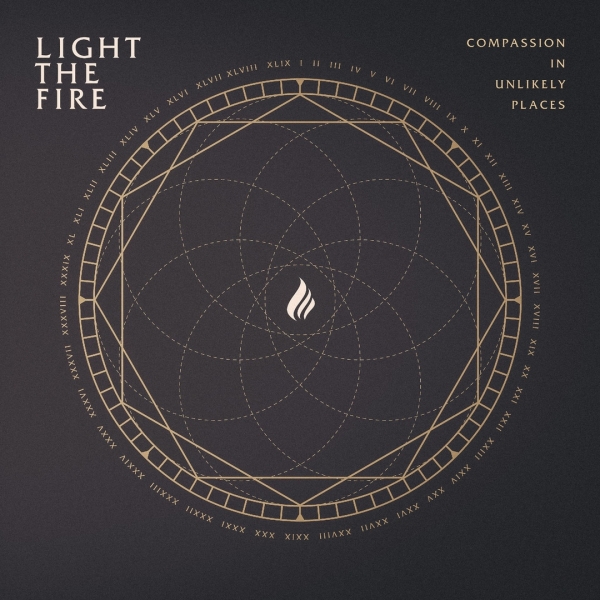 Cover photo: Nick Serian.
As a collective unit, the Dallas-based Light The Fire have three records comprised of thickly-riffed, unashamedly heavy and overtly gratuitous Post-Hardcore, standing entrenched as an unmoveable foundation from which the band expand into Metalcore and sharp crushing Metallic Hardcore. The band's first two records Lost At Sea and Ascension from 2015 and 2016 respectively are worth your exploration. However, it is this latest personnel-incarnation of Light The Fire and Compassion In Unlikely Places via Standby Records that warrants your attention now.
'Omega' opens over an eerie whirling-line that leads onto simple yet sharp layered Metalcore that is no more intense than it needs to be. This lumbering intro sets the scene and you've acclimatised well-enough before the band very much go "full-Metalcore" with an infectious groove expertly placed between bursts of deep-screams and depths-of-hell chugging, well-laced with a warped melodic line of Post-Hardcore conditioning. With the Metal fans satiated the band begin to emulate early 2000's Emo and Post-Hardcore in a melodic chorus shorter than I'd like but in perfect contrast between the groove, the dirge and itself. 'True North' battles destiny over metallic catharsis.
In 'Only The Broken Evolve', the band open with more vintage Metal riffage laden, albeit slightly, with worries of it going stagnant despite its sizeable presence. This is at least Before the band play their most melodic card yet, in the up-tempo Melodic Hardcore charge that allows the rest of the track to make more sense and rescue itself. Does anybody remember Still Remains?
'The Departed' (pardon the pun) departs damn-near entirely. Flawless and comparatively fluttering drumming entertains this newfound melodic non-cliche Emo sound, ahead of a huge chorus seeing the best and most emotive performance yet. Fear-not riff-fiends, Light The Fire despite all their soaring lines, layered vocals, added effects and crystal clear production haven't forgotten you, for contrasted shredding still permeates much of the track to make it hit that much harder.
'I don't want to show you who I am – because I know that you'll hate me' greets you in a Metalcore track more than favouring the Hardcore of its genealogy in the verses before abruptly juxtaposing itself with more gleamingly clean emotive vocal delivery. 'A Thousand Reasons' again falls back on the early 2000s for its Metalcore structure of hard-to-soft-and-repeat and makes for a good mid-album track, admittedly less standout, yet not negating the obvious skill at arms.
'Deceive' continues on with this characteristically Metalcore sound, not breaking ground but not doing anything necessarily bad either. The now at-home rustic Hardcore bass-tone is on form once more but again, the band try to match both sides of their sound too readily rather than naturally flow. That said, the melodic elements and parts of this sixth track are well crafted and superior, aided by the crisp production, itself in truth assisting both sides of the Light The Fire coin.
In the 'The Void', the band edge closer towards contemporary metallic Hardcore in their cumbersome verses before (this time a more fitting) melodic and contrasting chorus soars while the band try to make sense of it all. 'Autonomy' sees socio-political anger take hold of Light The Fire in an unsurprising manner considering their home nation's current climate. 'We only seek the truth, can we expect the same from you?' is a maxim running alongside Metalcore far more reminiscent of the genres early days as it began to grow from the then riff-heavy-chugging Hardcore scene and I have to say, within this album, stands the track in prominence.
Compassion In Unlikely Places is pushing internal boundaries with Light The Fire's new format, trying to find comfortability and in the albums second half, it really begins to achieve this. On the whole, Light The Fire feel more comfortable on this latter-half. See 'Nothing Left To Save'.
'Carry On' closes and channels the better of the difficult contrast the band tried to achieve mid-album, yet this time does so in far more comfortability with perhaps the most memorable chorus yet.
Light The Fire – 'Compassion In Unlikely Places' is out now via Standby Records.
Updates:
Music:
Standby Records: