Pest Control – Leeds, England, "United" Kingdom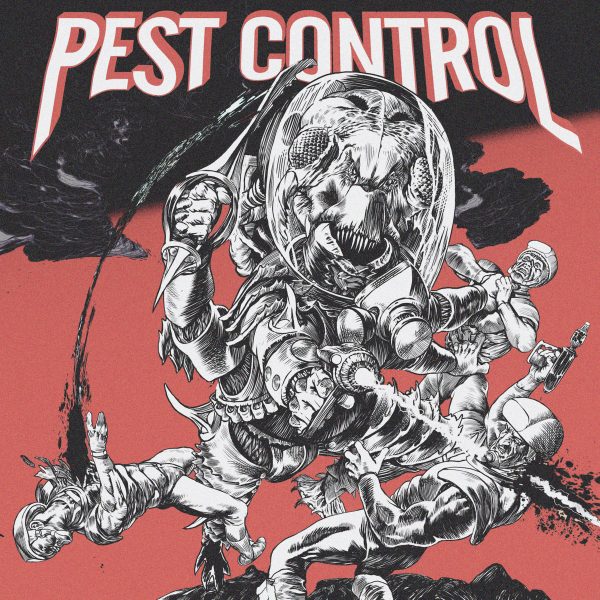 Introducing Pest Control, then. Outside of navigating my cavernous inbox for EN, sometimes, off the cuff, I will stumble across a band and feel compelled. "Introducing Pest Control", those very words and the forthcoming more are indicative of this casual, unexpected and catalytic inspirational syrette, providing me with some entertainment on this final day of COVID isolation. It's a time. *EDIT* As "future Matt", I can confirm it was indeed a time.
Hailing from Leeds, Pest Control champion the fantastical union that is Crossover Thrash. One comprised of and descending from both aggravated Hardcore Punk and the keenly precise and lacerating edges of Thrash Metal. Both of these seminal stylistics have only increased in intensity as they've matured, with now being a key point in the timeline. Especially in the UK.
I discovered the band on a recent post by Cold Front Photography of whom I shall link at the end. But fast. So, yes, Pest Control.
2020, otherwise known as the year that everything broke, not from confines but rather from a debatable working order, saw Pest Control unleash their Demo 2020. The band's eponymous 'Pest Control' looms with a slow lumbering NYHC groove ahead a ripping yet teasing vintage Thrash lick in a brooding repetition, before vicious, no-frills vocals front the by now intrinsic union of Punk and Thrash. Later, Pest Control's ripping lead, now fully-formed, brash, abrasive and confident plays its part between a stripped back and again no frills abrasion not fussed with theatrics.
'Punishment Times' furthers the comfortable Crossover Pest Control employ. Vocals firmly and resoundingly grounded in Hardcore and a rhythm section playing Thrash to the aggravated rage incarnate tempo of modern Hardcore, obliterate any obstacle. Such destruction is charged by a tempo made to look easy. The attitude of a wealth of historical Hardcore infuses this predominately Thrash-led Crossover, permeating it for all those who prefer the core. See the excellent bass-led interlude between 1:30-1:41 for where its attitude exudes itself freely, boasting how the band utterly have you.
Demo 2020 has two other tracks, however. 'The Fumigator' presents a marginally more melodic Crossover with jabbing refrains on either side of inherently rhythmic and unstoppable chugging, cut with brief bursts of guitar strings toying with going more Hardcore. 'Confused By Fear' closes their debut four-track demo with reverberating, cycling Hardcore breakdowns cut with and by, yep, you guessed it, keen, determined and no bull-Thrash edges.
And that is just their work from 2020. With 2021 and now the sequentially nerve-racking '22 allowing gigs again, Pest Control are now spreading their wrath where they're able. Including the voracious four-tracks discussed above, the band in 2021 released the 'Infestation/Rat Race' A/B single.
'Infestation', akin to the rest of their material and I can't stress this enough, is fantastically and confidently itself through and through. But fast. Ben's drumming is again made to look easy as it catapults the rest of the band forward, stopping only to wind the tension cogs for another salvo as you are tied over by sharp Metallic Hardcore refrains. Speaking of Hardcore, the band's attitude pervades their Thrash as much as the Thrash does their attitude. Again and always.
'Rat Race' then steals the show. An angular lead line meaders around brooding, floor-dragging and haunting bass work that underpins what I'd argue to be the band's most dangerous posture yet. Though Pest Control's sound is characterised by pure vitriol, rage, aggression and all other words I could quite seamlessly use to describe how I reacted to the PMQs recently, there is some sort of writhing, hypnotic, catalytic power about 'Rat Race' musically. Furthermore and symbiotically so, vocally, lyrically and throughout, Leah's displays accost you as they constantly segue and hybridise between contemporary throaty and scorn filled screams and the vintage shouted urgency of legacy Hardcore.
That was Introducing Pest Control. I'm now going to have a crisis after saying the word "pest" so much as I work in a bar.